Join us for a guided demo
We welcome you for a free interactive online demo with a machine of your choice! Our experts tell you everything you need to know about the machine and the benefits for your business.






SEE YOUR OWN PRODUCT CREATED ON OUR MACHINES

We would very much like to welcome you to our new Voortman Experience Center, full of the latest machines and technologies. But we also understand that not everyone is able to be physically present here.

That is why we simply bring the Voortman Experience Center to you! From this moment on it is possible to get an online session of machines of your choice and see your own product being produced. Just send us your product file and our experts will tell you everything you need to know and answer all your questions, while you're in control of our cameras!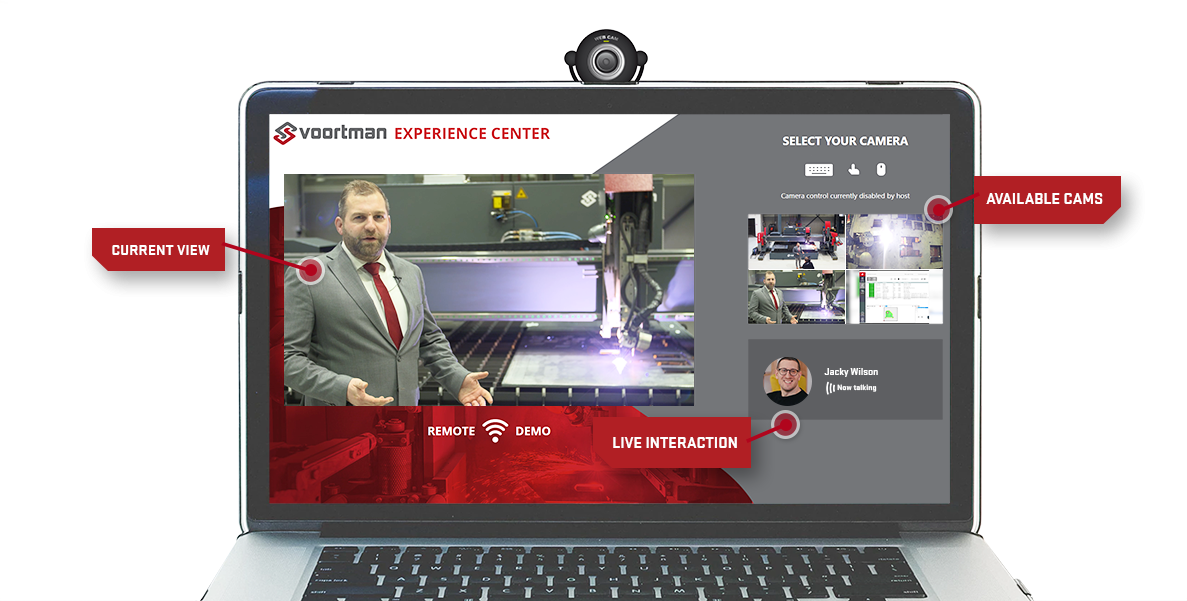 TAKE CONTROL OF YOUR OWN DEMO

Never seen before and unique at the Voortman remote demos is the possibility to choose your own camera views. While being guided by our specialists in an interactive face-to-face session, you are in control and able to direct your own demos. Interested in our VACAM control software? Just select the miniature view on the right to put it on the main screen.
Front row experiences
Every machine in our Experience Center is equipped with multiple camera's providing an extra dimension to our demos. These perspectives allow you to view the process from normally impossible angles. Even movements are captured to make you feel on top of the process.
Accessible to everyone
A proprietary platform has been developed especially for these demos that can be accessed via any browser on any operating system. The system works instantly, without any installation of additional software. Of course it is possible to participate in the session with several people from multiple locations. The more participants the better!
Make a choice for a preferred machine of which you want to see a demo and we will contact you to schedule the demo and discuss the possibilities.
Please enter a value