Process equipment manufacturers
Transform your business with Voortman
Are you a manufacturer of pressure vessels, storage tanks, heat transfer & cooling systems, process piping solutions, industrial boilers or process skids? In today's rapidly changing and competitive process equipment landscape, you know you need to be flexible, reduce welding volumes and find ways to efficiently meet the strict welding regulations to stay ahead of the curve and position yourself for long-term success. Take the journey with Voortman and trust in the array of reliable solutions to support you every step of the way.
Below you'll find more info on:
Reducing welding volume and hours while meeting strict welding standards.
Justifying your in-house production returns with enhanced flexibility and machine utilization.
Solutions for skids, cooling towers and pipe racks.
Read more
1. REDUCE WELDING VOLUME & HOURS

While meeting strict welding standards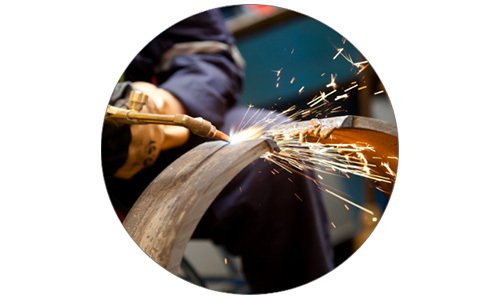 Is your business hampered by the expensive and time-consuming nature of welding?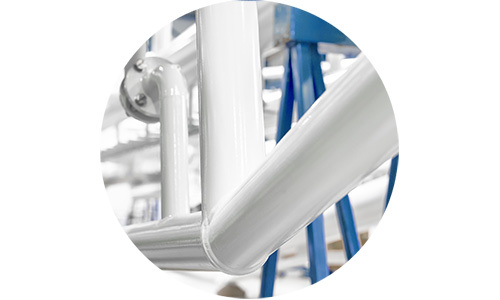 Are you struggling to keep up with the increasingly stringent welding regulations?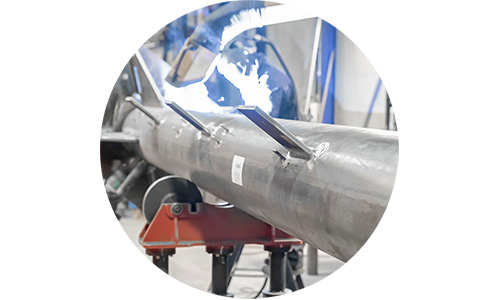 Are you also facing a shortage of skilled welders?
IN THESE CIRCUMSTANCES, IT'S PIVOTAL TO:

Reduce welding volume and welding hours without compromising quality


Comply designs with welding standards accurately and avoid weld preparation where it's not needed.


Make sure machines do the right thing when processing pipes, plates, and domes or dished ends, so they fit together properly.

WE KNOW
THIS IS EASIER SAID THAN DONE DUE TO:

1. Complex programming:
3D programs frequently lack the capability to create optimal weld preparation designs for complex objects like pipes, leading to oversized openings.

2. Variable shapes and tolerances:
Pipes are often slightly egg or banana-shaped with variations in thickness and diameter tolerances, further complicating the programming and preparation process.

3. Material tolerance sensitivity:
Plasma cutting is sensitive to variations in material tolerances, which can result in deviations from the desired weld preparations.

Voortman supports businesses in the process equipment industry tackle these challenges
by assisting in both the programming and actual machine processing phase

PROGRAMMING PHASE

Converting complex cuts into precise easy-to-handle programming tasks

If your manufacturing method revolves around cutting long plates with long bevels, rolling them, and welding them together, programming tends to be relatively straightforward compared to pipe processing.

With pipe processing as your main manufacturing method, cuts are often more complex due to variable bevels, and precision is key. This is where Voortman's software on the Voortman MO pipe processing machines steps in to make your life easier.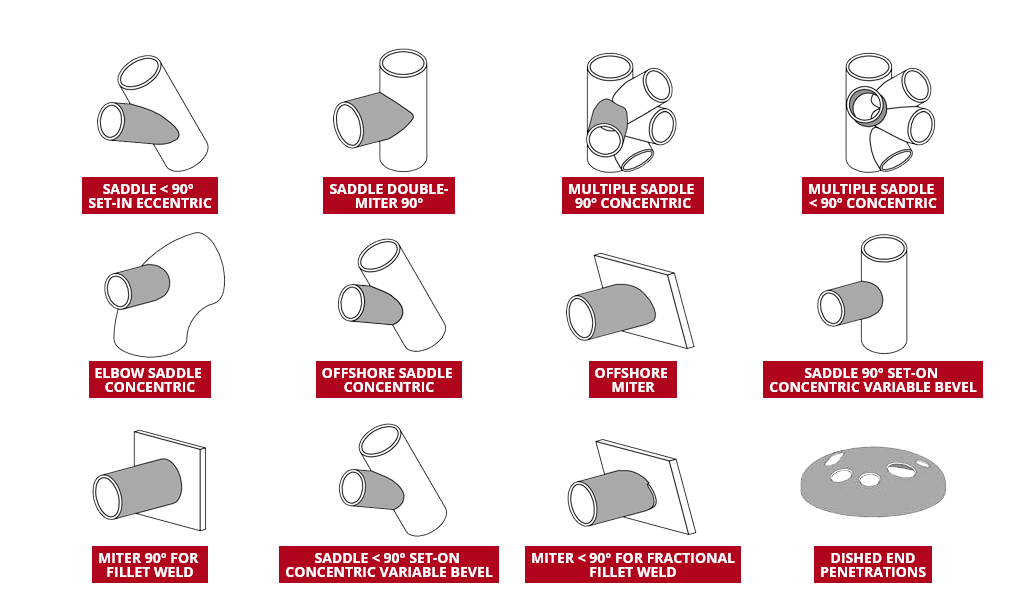 USE THE PREDEFINED MACROS
No more struggling with standard CAD packages - the software on the pipe processing machines handles the complexity for you. With easy-to-use wizards and predefined macros, you can create precise cuts that meet industry standards without any hassle.

Voortman even offers market-specific cutouts to ensure your programming aligns as closely as possible with these industry standards.

Make the transition from programming frustrations to seamless productivity.
MACHINE PROCESSING PHASE

Mastering precision and quality with Voortman's solutions for accurate bevel cutting

The regulations surrounding weld quality in your industry are no joke. You have to be on top of your game and spend extra time ensuring the quality is top notch. Your customers demand it, and with high-pressure products like boilers and pressure vessels, the consequences of a faulty weld can be catastrophic.

This underscores the need for a cutting process that is both accurate and adaptable to various materials. By enabling the cutting process to adapt to material variations, minimal deviation in weld preparation can be achieved, eliminating the need for additional grinding or corrective welding afterwards. It all comes down to maintaining a constant height control.

LASER SENSOR TECHNOLOGY FOR CONSISTENT PIPE BEVEL CUTS
In the previous examples, Voortman maintains a constant cutting height by automatically adjusting the plasma arc. While this approach is effective, there are alternative solutions worth considering.

For instance, Voortman's MO pipe processing machines employ laser sensor technology to scan and monitor irregularities in the pipe or dome. This information is then used to control the cut height, ensuring reliable bevel cuts. This video shows you how this works.

2. ACCELERATING YOUR IN-HOUSE PRODUCTION RETURNS

With enhanced flexibility and machine utilization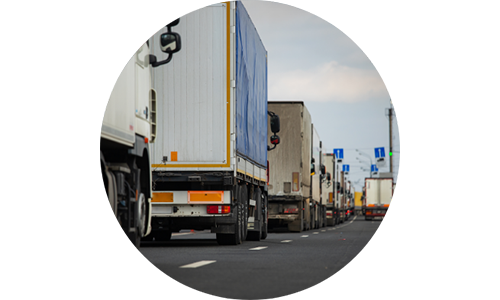 Are you tired of the risks and costs of outsourcing your plate and pipe processing?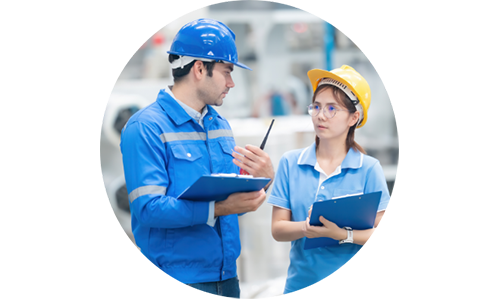 Not sure how to make a compelling business case for bringing the entire production process in-house?
WITH VOORTMAN'S FLEXIBLE MACHINES, YOU CAN:




TAKE FULL CONTROL OVER YOUR PRODUCTION


UTILIZE A RANGE OF MACHINE PROCESSES IN A COMPACT AREA


RESPONSIVELY ADDRESS CHANGING PRODUCTION REQUIREMENTS IN REAL-TIME





HANDLE VARIOUS TYPES OF PROFILES AND SIZES


MAXIMIZE MACHINE UTILIZATION, ALLOWING IN-HOUSE PRODUCTION TO PAY OFF SOONER


PUT AN END TO CONCERNS ABOUT YOUR WELDERS REMAINING IDLE

FLEXIBILITY WITHIN THE VOORTMAN MO PIPE PROCESSING RANGE
Looking at the Voortman MO pipe processing machine range, there are several aspects of flexibility that can be identified. Starting with the choice of three different machine types, each allowing for different profile types and pipe diameters that can be processed.

VOORTMAN MO CLASSIC
Round pipes with a maximum diameter of 2.000 mm/80" and a pipe weight limit of 30 tons. Also suitable for square, rectangular pipes and dished ends optionally.
Versatile and highly accurate Pipe Cutting Machine.
3D cutting performed with plasma and oxy-fuel.
Round pipes up to 2.000 mm / 80", square and rectangular pipes up to 640 x 640 mm, vessel heads up to 2.000 mm / 80".
Equipped with 6 or 7 CNC-controlled axes. Adding the optional 7th CNC axis allows you to cut squared & rectangular pipe.
VOORTMAN MO HEAVY-DUTY
The heavy-duty pipe cutter for large diameter pipes, pressure vessels and heat exchangers up to 4000 mm / 160".
Complex pipe cutting on large diameter pipes, pressure vessels, heat exchangers, boilers and tanks.
Round pipes and/or dished ends with a maximum diameter of up to 4.000 mm / 160" and up to a pipe weight of 45 metric tons.
Equipped with 6 CNC-controlled axes.
3D cutting performed with plasma and oxy-fuel.
Extreme solid design.
High-quality, reliable and accurate pipe profiling.
PROCESS PIPES, DOMES OR DISHED ENDS ON A SMALL FOOTPRINT
With unique patented rotary chuck
The Voortman MO Classic and MO Heavy-Duty pipe processing machines feature a unique and patented rotary chuck that can be flipped over, allowing you to process both large pipes, domes and dished ends on a compact footprint. This offers a distinct advantage compared to alternative machines that typically demand a more extensive footprint. It's a perfect and ideal all-in-one solution for the flexible production of pressure vessels.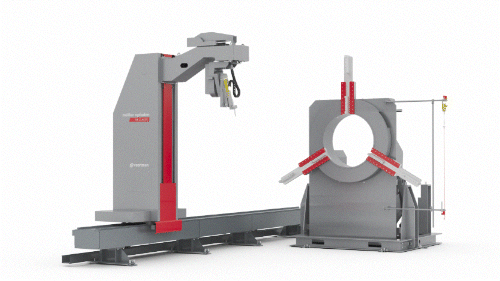 Easily switch from complex large pipes to small pipes
One notable enhancement to the flexibility of the MO pipe processing machines is the ability to effortlessly remove the supports for large pipes, square pipes, and domes, and replace them with a cutting conveyor. Herewith you can seamlessly transition between complex tasks on large round pipes and simpler projects on smaller pipes, essentially transforming the machine into a high-throughput workhorse. For companies in the process piping industry, switching to 50 mm diameter pipes is as simple as can be.
Supercharge your product tracking with needle marking
Eliminate the concern of losing track of your products during production or after installation. Needle marking is the ultimate solution. Using a super tough metal pen, needle marking creates a lasting imprint on your materials. This indentation not only identifies products and compositions but also serves as a guide for future part placements. Even after installation, pumps, flanges, and valves remain easily traceable thanks to the permanent needle marking.
LEAN ON THE HIGHLY FLEXIBLE VOORTMAN PLATE MACHINES
We're not just highlighting the versatility of our pipe processing machines; our plate machines are equally remarkable.
The Voortman V310 moving-gantry plate machine does it all. With a simple push of a button, you can achieve bevel cutting, drilling, milling, marking, tapping, and countersinking. Imagine creating beveled plates or connection plates, then seamlessly moving on to drilling and milling tube sheets and baffles, all using the same machine. However, plate cutting machines such as the Voortman V303 and V304 also offer a high degree of flexibility in your workflow with plasma, oxy-fuel, bevel cutting and marking options.

But it doesn't stop there. When you combine these moving gantry machines with a Voortman Pipe Cutting Unit, you can cut your pipes and plates on one station on a small footprint. This opens up a world of possibilities, allowing you to create flanges and pipe connections of the highest quality. Not only does this streamline your production, but it also simplifies the manufacturing process by eliminating the need for multiple machines. Say goodbye to complex routing and excessive inventory. Experience ultimate efficiency and flexibility with our cutting-edge plate processing machines.

GET THE JOB DONE!

Here's a glimpse of what these flexible machines can produce:
Pressure vessel

Heat exchanger

Piping connections or spools

Storage tank

3. PROFILE PROCESSING SOLUTIONS
FOR PROCESS SKIDS, UTILITY SKIDS, COOLING TOWERS AND PIPE RACKS
Voortman doesn't just specialize in pipe and plate processing solutions; we also excel in profile processing solutions that cater to the manufacturing of components for process skids, utility skids, cooling towers, and pipe racks as well.

Voortman V807 Robotic profile cutting machine

The Voortman V807, a robotic profile cutting machine, can cut profiles into any desired shape. Whether you need to process transverse beams for pipe racks, or beams for skids, this machine is equipped for the job. The V807 merges various functions yielding an economic edge over individual drilling, milling, sawing, punching, shearing, and layout marking systems. By integrating these processes into one machine, it facilitates a faster ROI while using minimal floor space.

>> EXPLORE THE V807
Voortman Drill Saw line

The advanced Voortman drill-saw lines are another viable solution. These can process profiles for structures such as pipe racks, cooling towers, or supports for heat exchangers. This compact system streamlines logistics by reducing the need for crane or forklift usage due to its single in- and outfeed. Simply measure the entire raw profile once, process it in a single run. The unique feeder rolls can handle materials of any length and support dual-side loading. Moreover, loading and unloading can be done even while the machine is in operation, thanks to the integrated light curtains.
Energy Weldfab
Energy Weldfab, a family-owned business based in the USA, specialized in fabricating massive pressure vessels for the oil and gas industry. The complexity of these vessels, which feature multiple connection points, necessitates extensive cutting and welding operations. Realizing that their traditional manual cutting method using an oxy-fuel torch was no longer sufficient to meet growing demands, they knew a change was needed. As a result, they invested in the advanced Voortman MO Heavy-Duty pipe profile cutting machine. While they considered various cutting machines available in the market, none matched the capabilities of the Voortman machine, particularly its capacity to handle larger cylinders. The company reports that the results have been outstanding, with a notable increase in precision and productivity. Tasks that previously required two people and six hours are now completed in just 18 minutes.
Eferest GmbH
Eferest GmbH, a globally renowned pressure vessel manufacturer situated in Germany, has made an investment in the Voortman MO Classic pipe processing machine. With a steadfast commitment to quality and efficiency, they continuously strive for modernization and process optimization. The Voortman MO Classic pipe cutting machine is integral to Eferest's operations, performing everything from length cutting to beveling and cutouts. Its sturdy frame and precise torch guidance ensure the accuracy of the cutting results. The extensive software library makes programming the machine straightforward and reliable for operators.
You may find this


interesting too