Hello plate processor!
Transform your business with Voortman
In today's rapidly changing and competitive manufacturing landscape, you know you need to be flexible, transparent and deliver quality on time to secure and win contracts, stay ahead of the curve and position yourself for long-term success. Take the journey with Voortman and trust in the array of reliable solutions to support you every step of the way.
Below you'll find more info on:
Becoming a value-adding one-stop-shop for your customers.
Transforming your value chain with Voortman's automation and digitization.
Reducing costs per part with innovative technologies and strategies.
Read more
1. BECOME AN EFFICIENT, COMPETITIVE ONE-STOP-SHOP

Imagine yourself: You get to the office, grab a cup of coffee, and see an incoming request from a company that you really want as a customer. However, the parts contain a lot of weld preparations and countersunk holes. Your current process limitations might drive them to look for another cutting company that offers a total package. That leads to your ultimate goal; deliver complete, high-quality products to your customers with short lead times.

To do so and become a trusted one-stop-shop for your customers, the first things you need to consider are:
Adding additional processes to your current production process
Find ways to increase your flexibility
Reduce manual handling and logistics.

This is where Voortman's high-end multi-processing plate machines come in, providing flexibility and high-quality parts. The Voortman V310 can cut with oxy-fuel, bevel cut, drill, mill, mark, thread-tap and countersink, all with the push of a button. But there's more to explore. Gain insights from our experts and watch the video to see how to become a highly efficient, competitive one-stop-shop or check out our 5-step roadmap!
2. TRANSFORM YOUR VALUE CHAIN WITH VOORTMAN'S
AUTOMATION AND DIGITIZATION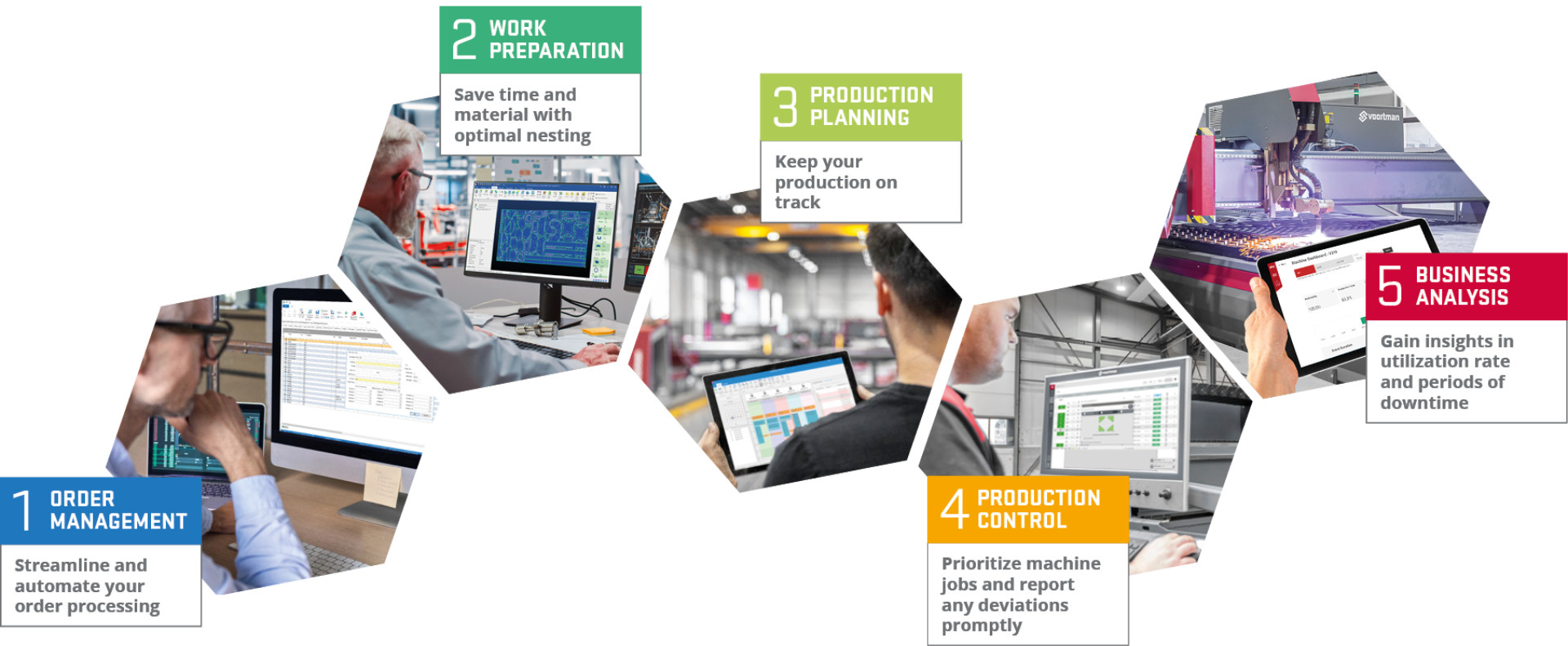 Although our plate processing machines already provide remarkable optimization, you can also make strides in other areas of your business. By implementing automation and digitization, you can optimize your entire production process from work preparation to finished product, eliminating unnecessary elements and bottlenecks. See how Voortman and SigmaNEST's digital solutions enable you to gather, connect and analyze real-time data effectively, so you can make powerful decisions leading your business forward with confidence.
Explore what we have to offer by checking out our brand new brochure today or watch the video below.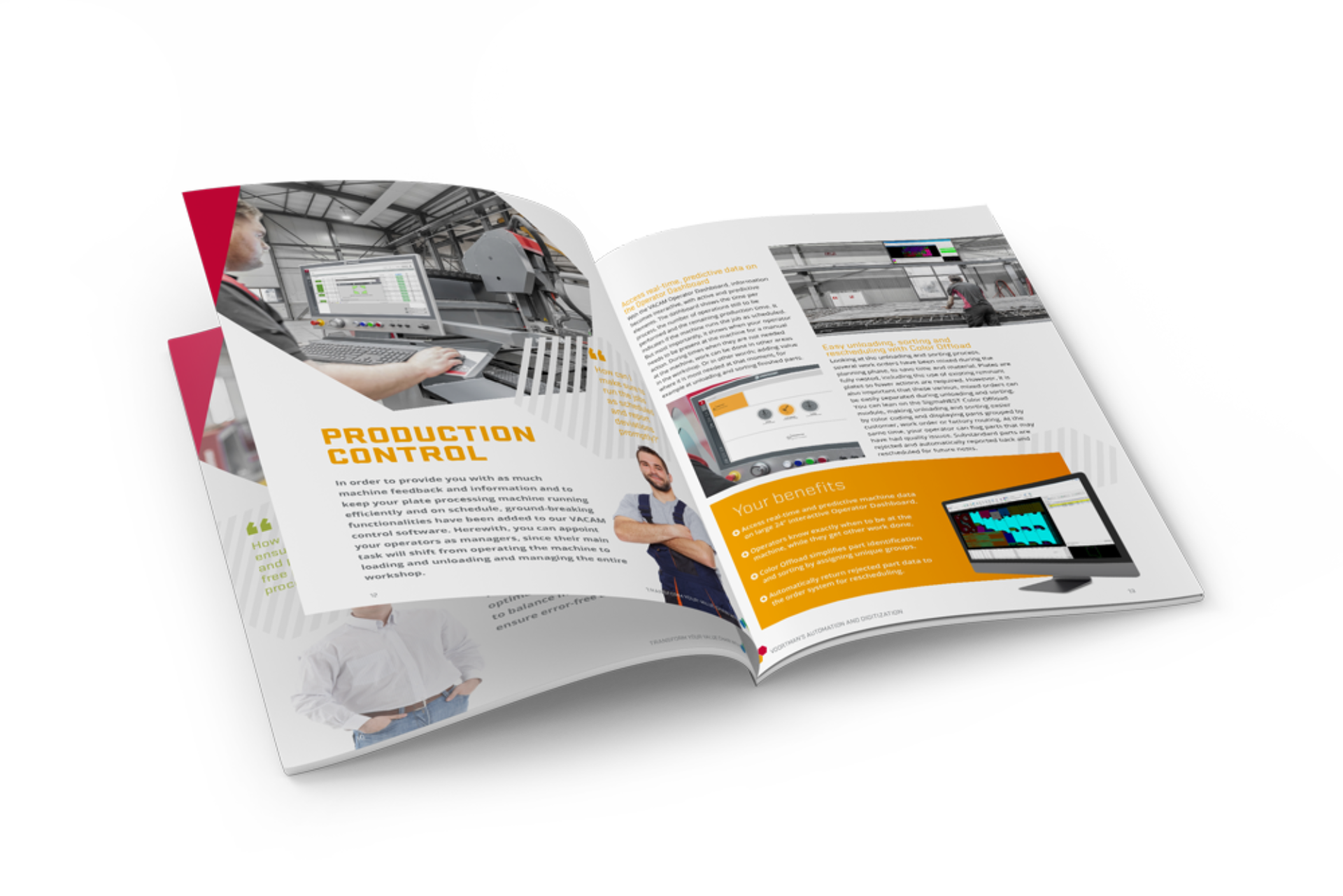 3. REDUCING COSTS PER PART
WITH INNOVATIVE TECHNOLOGIES & STRATEGIES

Serving customers with all manufacturing processes and acting as an extension of your customers through transparency in your value chain can certainly increase the value you offer. But it's important to remember that cost per part remains a key factor in determining customer loyalty and ultimately the success of your business.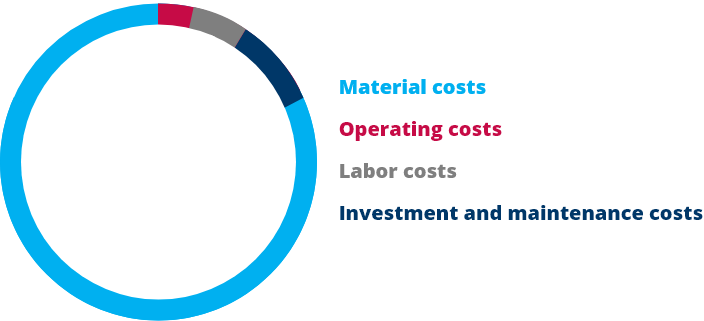 Do you struggle to decrease the cost per part, while still maintaining the high standard of quality that your customers expect and delivering on schedule? And do you actually know what drives up the costs of your plate processing?
Mostly, it's materials, with consumables and labor making up the rest. But here's the good news: focusing on material usage and consumables, and exploring ways to automate processes can reduce costs per part and increase efficiency. Check out the articles below for fresh insights into strategies for optimal material usage, waste reduction, consumable management, and automated running - all backed by Voortman's advanced machinery and software.
Our plate processing


machines