The Journey Towards Efficiency
Embracing Automated Coping and Blasting at Cahill Structures
Testimonial
Cahill Structures
Location:
Output:
Staff:
Founded:
Henstridge, UK
250 tonnes per week
90 employees
2002
IAN CAHILL

|

Managing Director
"We don't want to pay our top skilled men to stand around with a chipping iron, removing slag. Our process helps us avoid that, and it works brilliantly for us."
FROM SMALL BEGINNINGS TO STEEL GIANTS
Ian Cahill, the managing director of Cahill Structures, based in Dorset, England, is a testament to the transformative power of the right machinery in structural steel fabrication. The company, which he co-owns with his father, started with small building projects and farm work. "Like many other businesses, we started small, but we've grown steadily into a more commercial market," Ian shares. Today, they have been involved in large-scale projects, some exceeding 4000 tonnes.
Cahill shares, "The industry we're in is a very competitive industry. Everything's about being efficient." In the pursuit of efficiency, Cahill found himself on a quest for quality machinery to reduce man-hours and increase production capacity. This led him to Voortman, a company he initially thought was out of their range.

He recalls, "Joe [Cutmasters] kept popping up on LinkedIn. So I messaged him and said, 'How much is a Shotblaster?' He didn't even give me a price. He said, 'Why do you want to shotblast? Let me come and see you.' And we've become friends since then and been a massive help to us."
With Voortman's machinery, Cahill Structures has seen a significant reduction in man-hours by an average of 25 to 30% per ton. Cahill states, "We can run both machines load and unload and start the steel with two people." The company now handles projects well in excess of £7 million, a far cry from their early days of £50,000 projects.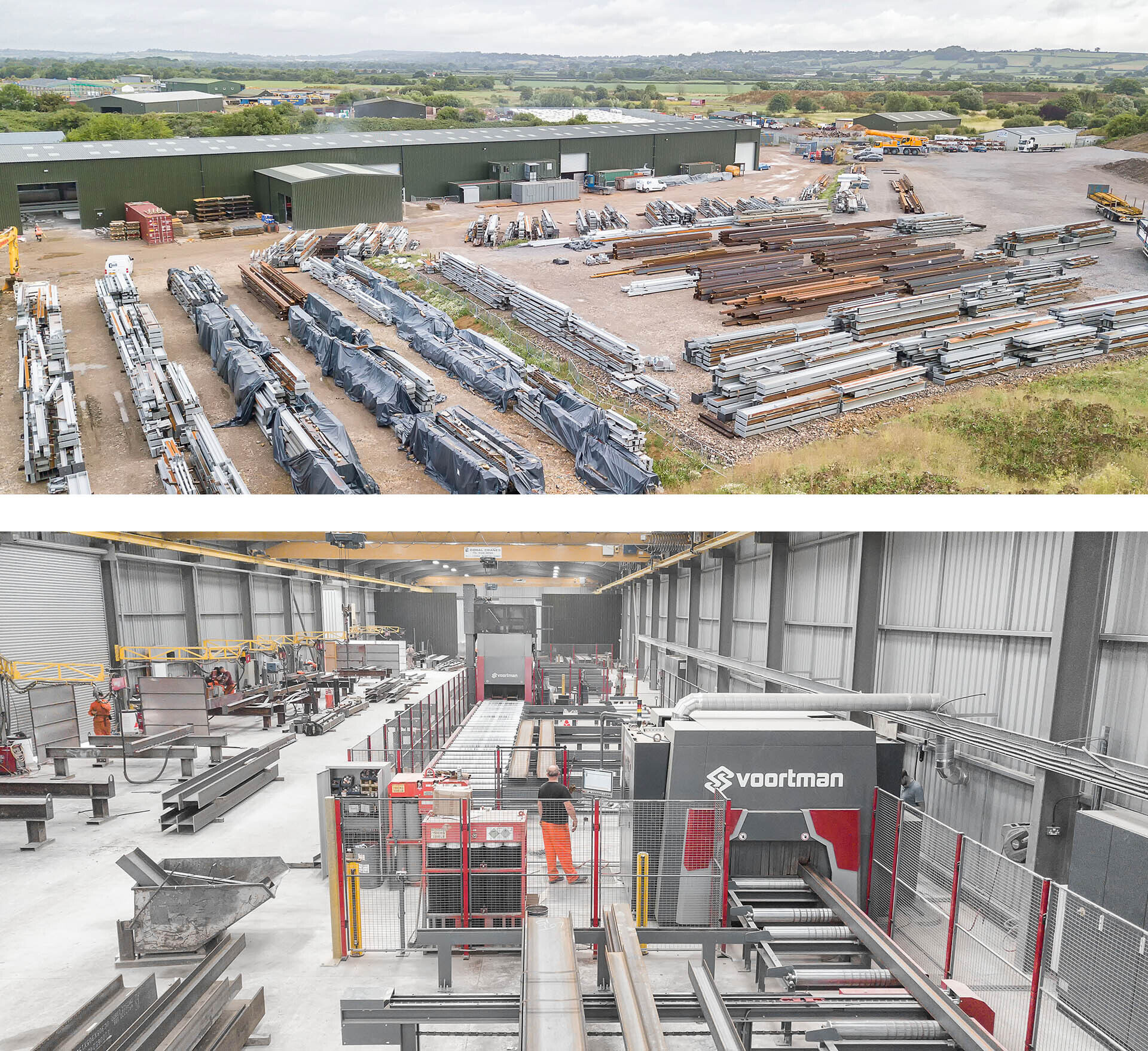 THE GAME CHANGING V807
Jamie West, the Production and Works Manager at Cahill Structures, oversees the day-to-day operations at the Middle Marsh Sawmills and the Henstridge Airfield site. He is enthusiastic about the company's recent investment in Voortman's automated machinery.
"Six weeks in and we're already seeing a return on our investment," says Jamie. Despite the team still learning how to fully utilize the machine, the early results are promising. The plan is to introduce a second shift when they can recruit the right personnel – a challenge due to the shortage of skilled fabricators. The V807 has been a game changer for Cahill Structures. By performing much of the fabrication work, the machine has allowed the company to maintain productivity even with a lower-skilled workforce. "It can do the work of five or six men running a day," Jamie explains "We're looking to run that over a second shift so we can up our production to a minimum of 35 tonnes a day."
A READY-TO-WELD PROCESS
"Unlike most facilities that blast pre-cut steel, we've found our unique approach of blasting post-cut to be significantly more efficient," shares Jamie. He explains how this method allows them to deliver ready-to-weld steel, saving invaluable time and resources. "There's no slag, there's minimal chipping off needed because it's all been blasted off," he states. This not only optimizes operations but also ensures the highest quality of output. Jamie adds, "We don't want to pay our top skilled men to stand around with a chipping iron, removing slag. Our process helps us avoid that, and it works brilliantly for us."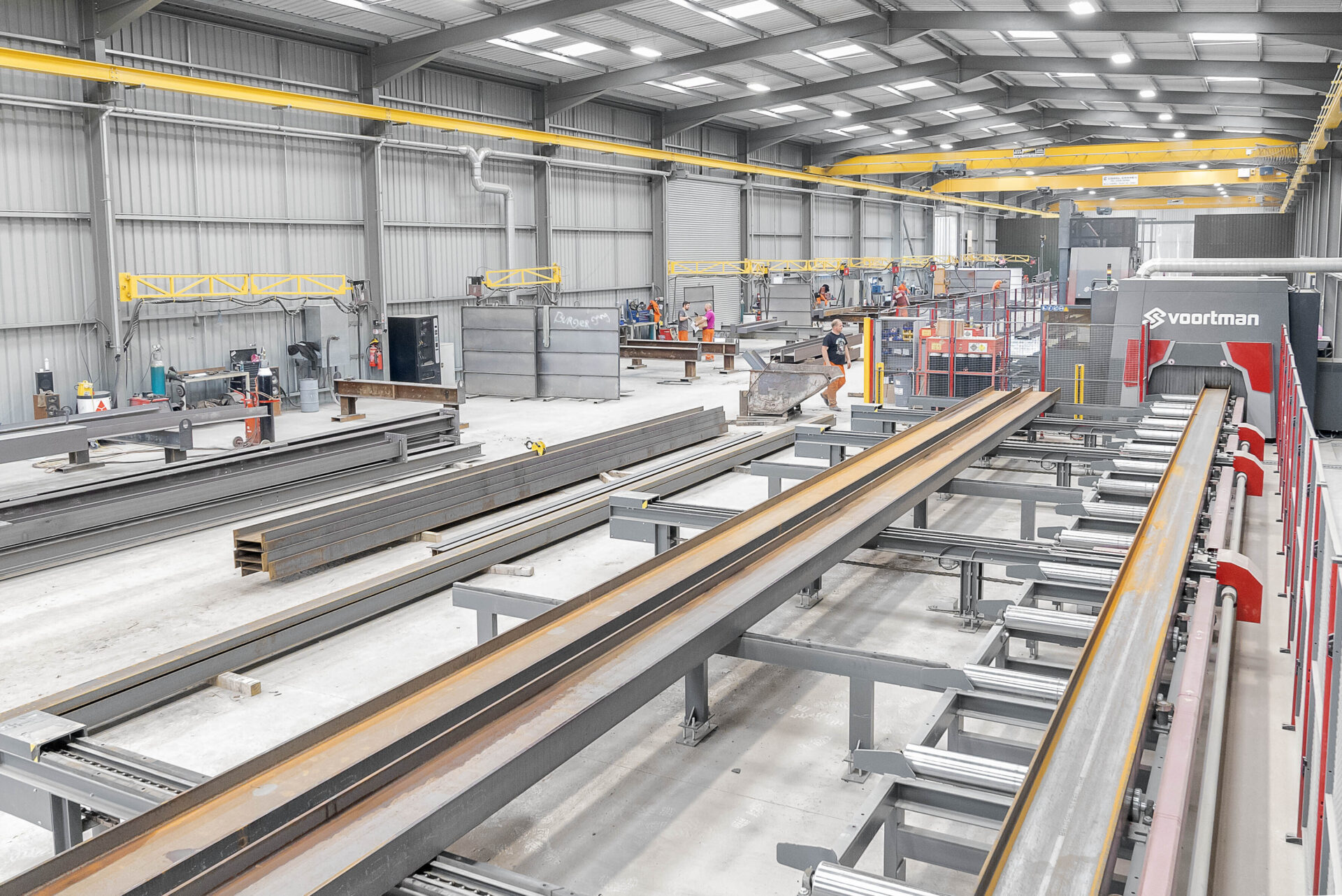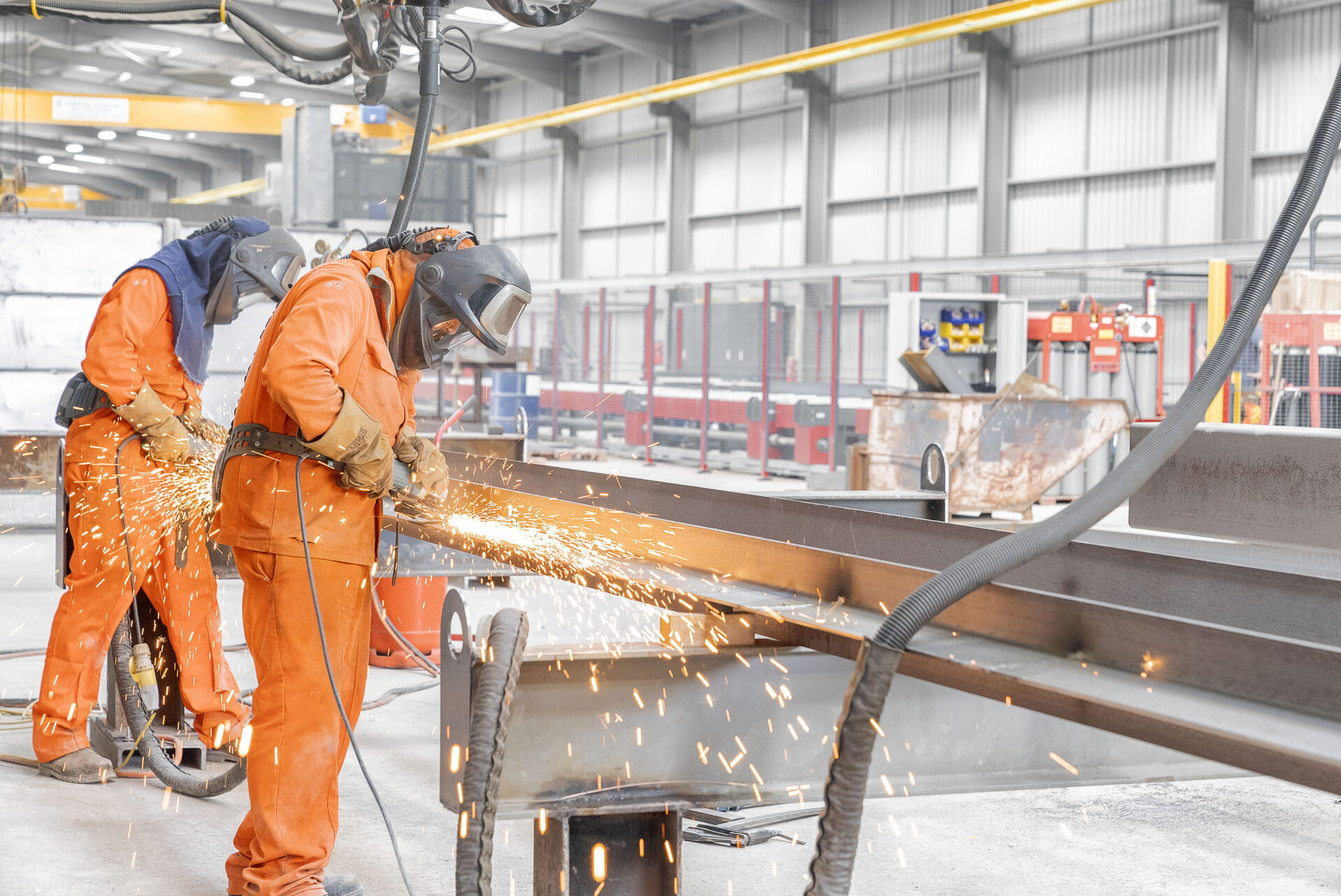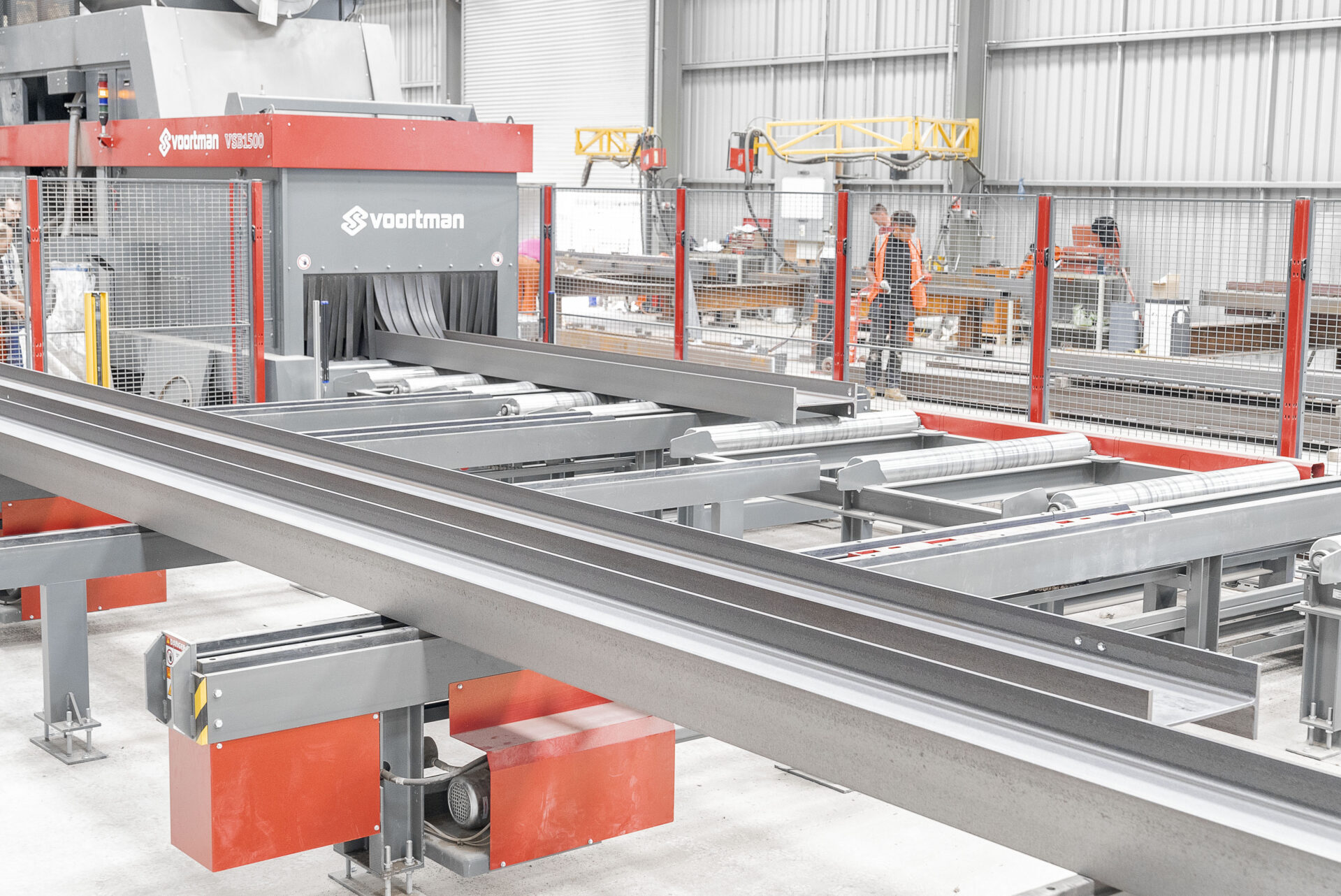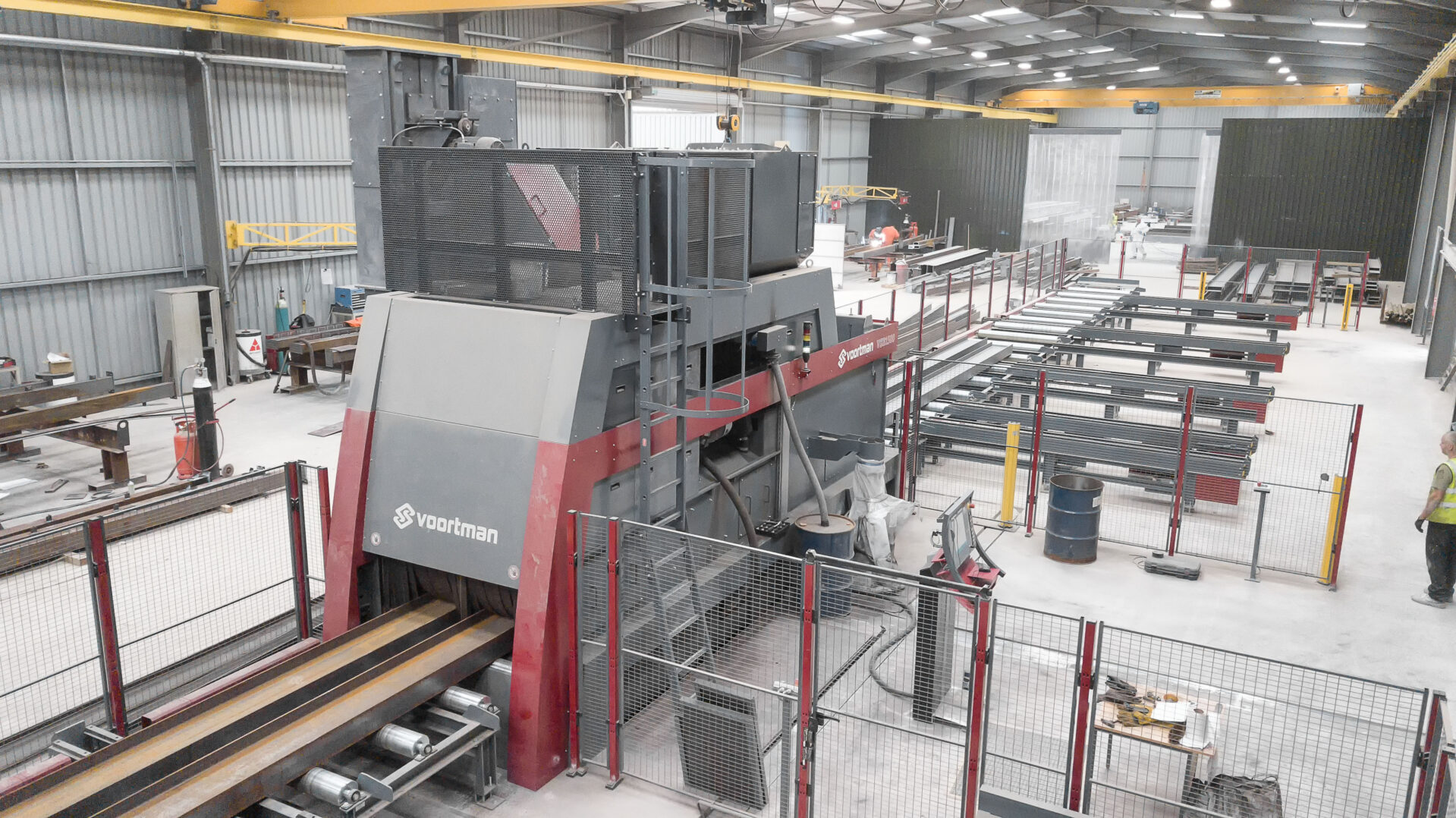 CAHILL'S VISION FOR FUTURE SUCCESS
Ian has grand plans for his company's future. He confidently states, "I see ourselves in the next five years...the site will be pretty much developed." He believes that with the right resources and strategies, their site could indeed produce up to 500 tonnes a week. Cahill's optimism is fuelled by his partnership with Voortman. He praises Voortman's efficiency and customer service, crediting them for enhancing his company's productivity.
During a visit to the Voortman factory, Cahill had the opportunity to personally assess the machinery that would best meet his company's needs. He was taken aback by the fact that most of the components were made in-house. He shared his amazement, saying, "I was fairly shocked...I thought you'd be buying in this and buying in that and just sort of assembling it. But you really are making it there, which was incredible to see."

In conclusion, Cahill expresses his satisfaction with Voortman's service and looks forward to future purchases. He states, "I'm looking forward to buying more machinery." With Voortman's machinery, Cahill is confident that his company is well-equipped to reach its ambitious production target in the coming years. His testimonial underscores a successful partnership rooted in mutual respect, shared goals, and a strong commitment to quality and efficiency.