Powered by MÜLLER Opladen
Voortman MO Heavy-Duty
The Heavy-Duty pipe cutter for large diameter pipes, pressure vessels and heat exchangers up to 4000 mm / 160"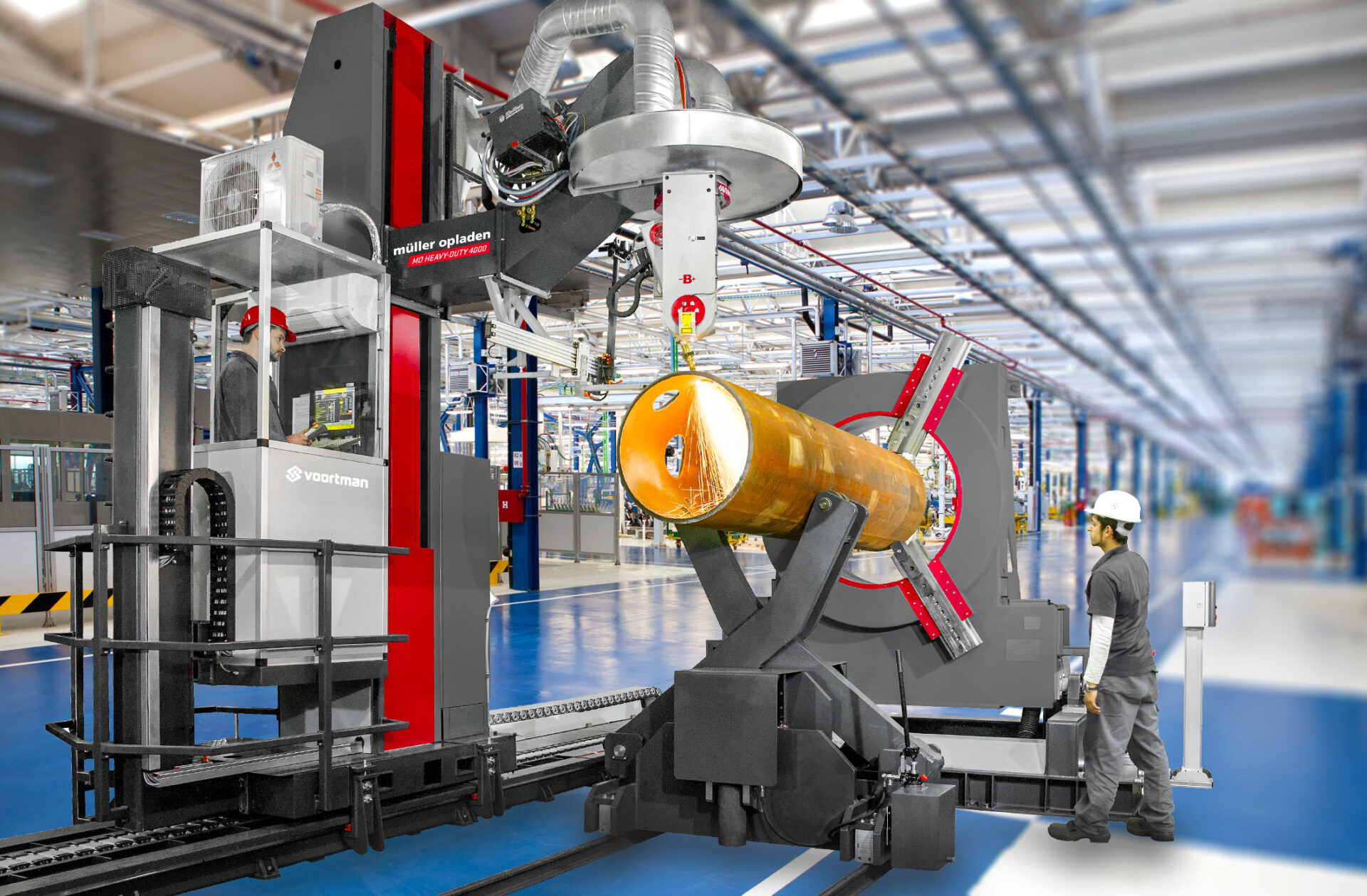 Voortman MO Heavy-Duty
Complex pipe cutting on large diameter pipes, pressure vessels, heat exchangers, boilers and tanks
Round pipes and/or dished ends with a maximum diameter of up to 4,000 mm / 160" and up to a pipe weight of 45 metric tons
Equipped with 6 CNC-controlled axes
3D cutting performed with plasma and oxyfuel
Extreme solid design
High-quality, reliable and accurate pipe profiling
6 AXIS PROCESSING
EFFICIENT & VERSATILE

COMPACT DESIGN
HIGH QUALITY AND RELIABILITY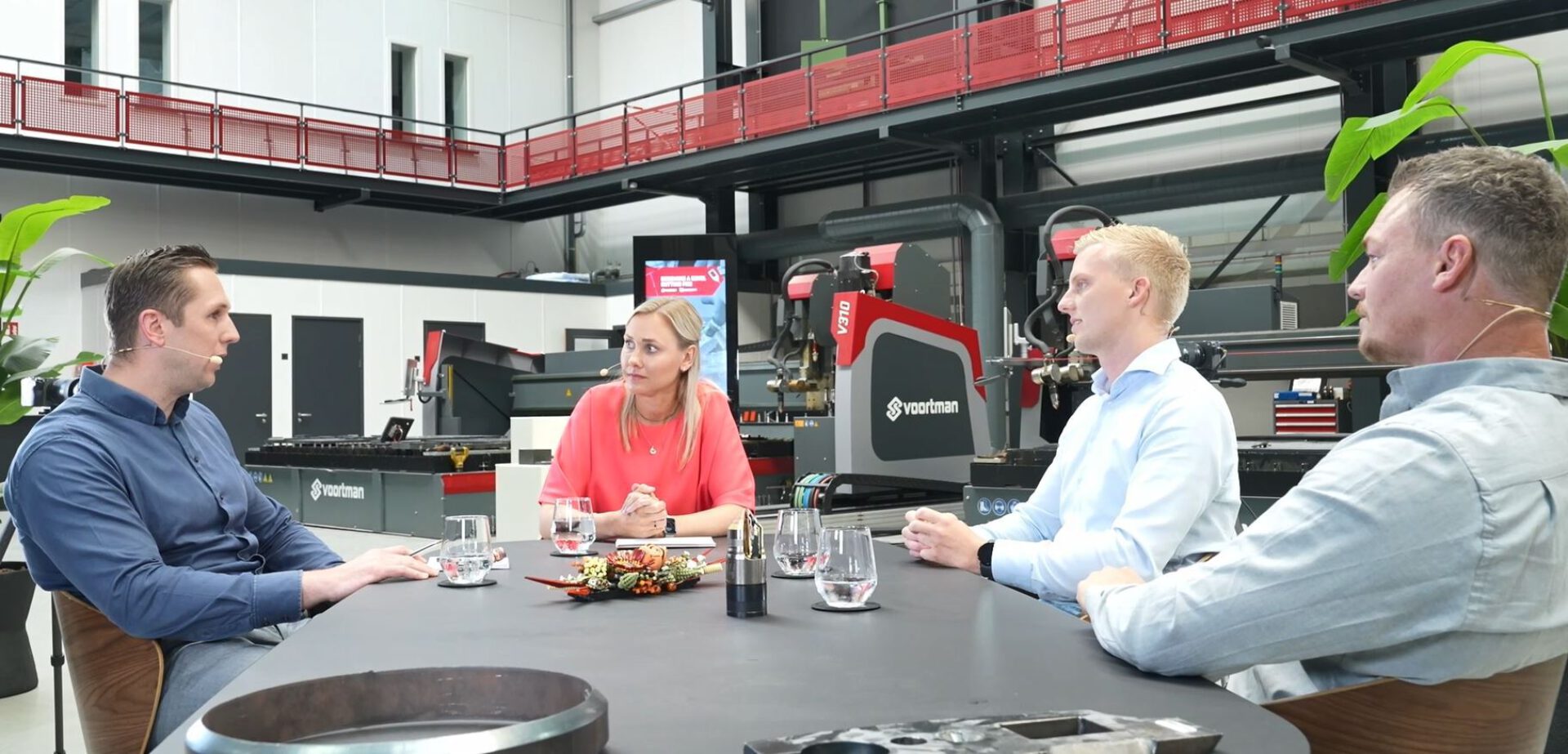 WATCH FULL WEBINAR:
Becoming a Bevel Cutting Pro!
Elevate Your Skills in Bevel Cutting with Voortman Steel Machinery and Hypertherm!
Master the art of bevel cutting like a pro in the second webinar of the year!
Voortman Steel Machinery and Hypertherm have collaborated once again to share their collective knowledge, tips and expertise in creating high-quality bevel cuts and weld preparations. Don't miss out and sign up today: broadening your knowledge of bevel cutting has never been easier!

TAILOR-MADE SOLUTIONS FOR INDUSTRIAL SECTORS WORLDWIDE
You will find us wherever pipes, tanks and other components for the metalworking industry have to be 3D cut. Owing to our leading position in the 3D pipe profiling machine segment, we serve customers on all five continents mainly in the following sectors:

Offshore plant construction
Wind turbine construction
Steel construction
Mechanical contracting
Process plant engineering
Pressure vessel construction
Shipbuilding
General plant and equipment engineering
Plasma 3D-bevel cutting
ㅤ
EXTENSION OF


MACHINE FUNCTIONS
Voortman MO Heavy-Duty
The thermal cutting of dishes can easily be done on the machine. It saves you lots of handling time and brings high quality cuts in dished ends. To execute cutouts (holes) with weld bevel preparation on dished ends the machine needs to be equipped with a tiltable chuck which is hydraulically rotated from its standard position through 90° onto its back. This tilted chuck can then take and clamp dished ends with the same minimum and maximum diameters as round pipes while saving you extra working space.
POWERED HEIGHT ADJUSTMENT OF THE OPERATORS PLATFORM
Large-diameter pipes often obstruct the machine operator's view and hence his control of the ongoing cutting process. On the Heavy-Duty series, the solution is an operator's platform on the cutting carriage that can be raised and lowered together with the computer in accordance with the required height of vision during the cutting process.
"With over 40 years of refinement and feedback from millions of cuts, our precision cuts are truly state-of-the-art. We've tirelessly finetuned our parameters since the dawn of the PC in the 1980s, resulting in the finest cutting quality currently available on the market. We take pride in our unparalleled expertise and dedication to the craft"
Ralf Hamacher - CEO Müller Opladen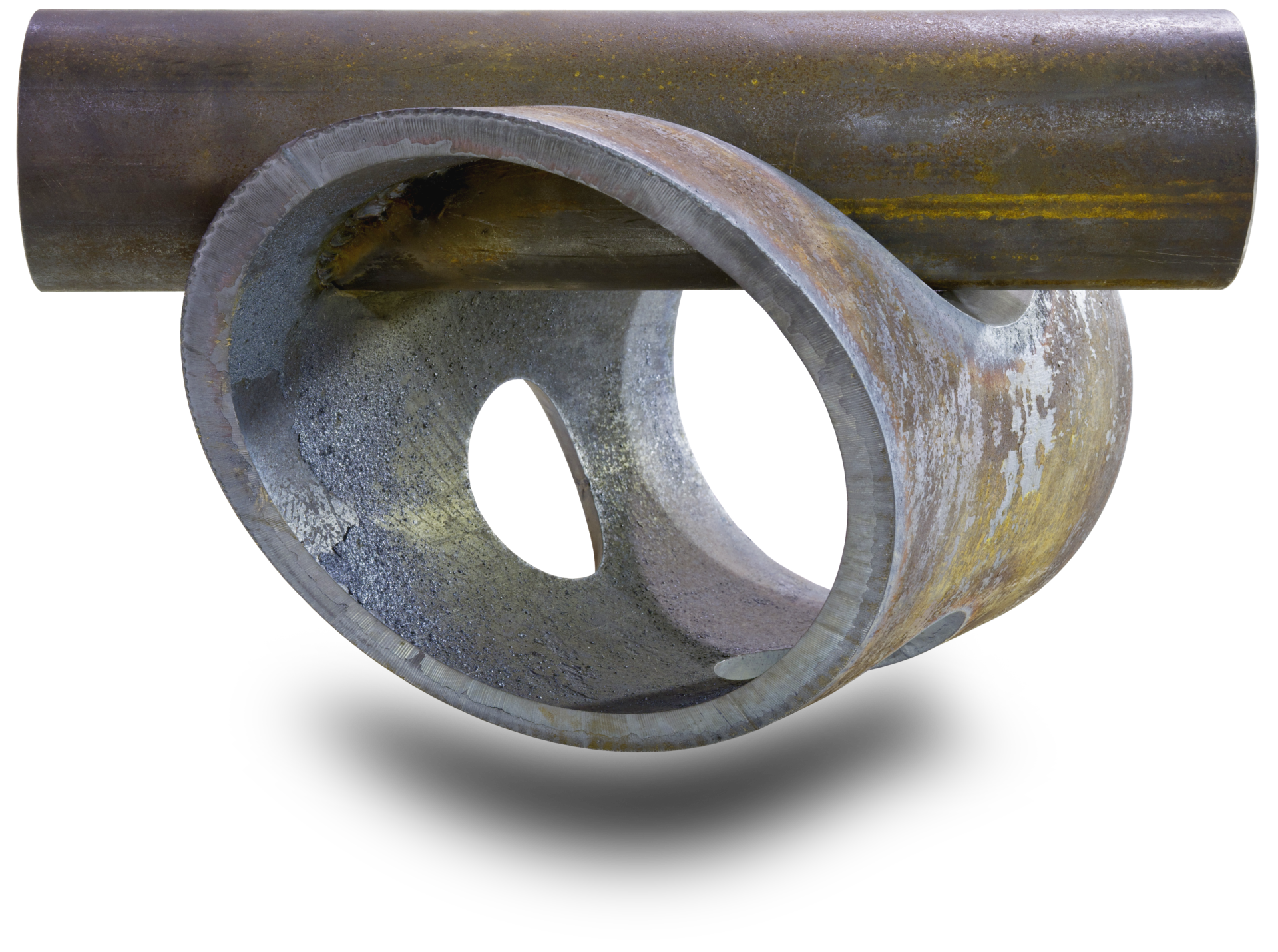 FEATURES & PROCESSES


FOR CUTTING
TORCH HEAD
The torch head makes it possible to adjust the machine torch by +/- 70°. This means that the torch can be adjusted within a range of 20° to 160° in relation to the pipe axis. The torch head can also rotate 360° about its own axis. The torch head is protected from dust, dirt and cutting particles.
LASER SENSOR
To correct variations between the cutting torch and pipe surface. Before cutting, the laser sensor scans the pipe. The measured points are then compared to the actual pipe diameter. The software interpolates a correction value for the height of the torch head. The distance between the torch and pipe surface is thus kept constant over the entire cutting curve.
ELECTROMECHANICAL TRACER
The vertical height adjustment axis is equipped as standard with a laser sensor. The electromechanical tracer measures the circularity errors on the pipe during the cutting operation.
This tracer is optionally used in addition to laser sensing: When heat-induced deformation becomes excessive particularly. The case of small-diameter pipes when a ball gutter is used, or when large pipes are processed. Tracing is also used when pipes have a glossy coating or a highly irregular surface texture.
SLIDE SYSTEM
The adjustment of the distance from the torch to the pipe surface can be automatically tracked in any angle position by means of the slide system. This system maintains the right distance in order to ensure the optimal cutting quality, even in fast plasma cutting processes.

OXY-FUEL CUTTING PACKAGE
The package comprises a solenoid-valve-controlled gas supply, manometer for setting gas pressure, ignition torch, solenoid-valve-controlled cutting torch, cutting nozzle package for different cutting thicknesses and an operator protection package. With this package, it is possible to cut pipes up to a maximum wall thickness of150 mm (5.9") or a maximum length of cut of 200 mm (7.8").

PREHEATING TORCH
The preheating torch employed yields to better cut contours. A preheating torch reduces cutting time with 50%, given a flame cutting angle of 45°.
PLASMA CUTTING
For cutting with plasma, we employ products from the American manufacturer Hypertherm, who rank among the leading companies in this line of business.
SOPHISTICATED SOFTWARE FOR PIPE CUTTING MACHINES
COROBS® & COROBS PLUS®
Our software solutions for machines and processes make the production workflow for our customers more efficient. Our thermal cutting machines make 3D contours as part of an integrated process chain rather than an isolated element.
FEATURES & PROCESSES


FOR MARKING & PRINTING
NEEDLE MARKING SYSTEM (AIRSCRIBER)
The needle marking system permits the drawing of axis lines in tank construction and the drawing of footprints in steel construction and tank construction. For the welding of previously profiled pipes it is also necessary that the two ends of a pipe meet the matching pipes from clearly defined angle positions. Marking is punched into the pipe surface. The needle marking system is situated in a separate printer housing at the cutting head and operates pneumatically.
NEEDLE PRINTING SYSTEM
The needle printing system permits the printing of texts on the pipe with different, pre-settable marking depths. The needle printing system is situated in a separate printer housing at the cutting head and operates pneumatically. This printing system has its own X-Y carriage and can therefore label very quickly without moving the machine.
LABEL PRINTING
A label printing system can also be provided. A printer positioned next to the chuck prints out the labels with information on the executed pipe cut. The label concerned can then be stuck by hand onto the cut pipe segment.
PLASMA MARKING SYSTEM
The plasma marking system of manufacturer Kjellberg is used for the marking, notching and punching of unalloyed and stainless steel pipes. The depth and width of the markings are preselected by means of the output current.
INKJET MARKING AND PRINTING SYSTEM
For complex applications inkjet printing can alternatively be used. The inkjet printer is accommodated in a separate printer housing fastened to the cutting head.
FEATURES & PROCESSES


FOR PIPE CARRIAGE
MECHANICAL PIPE CARRIAGE WITH MANUAL SCISSOR-TYPE ADJUSTMENT
This very solidly designed pipe carriage supports the pipe with scissor-type carriers. It is designed for a load of 7.5 tonnes, depending on machine size. The pipe carriage is adapted to different pipe diameters with a manually operated spindle adjustment mechanism.
HYDRAULIC PIPE CARRIAGE WITH ELECTRICAL HEIGHT ADJUSTMENT
This very solidly designed pipe carriage supports the pipe with a hydraulically height adjustable roller bed. The hydraulic height adjustment can be manually or electrically operated. It is designed for a load of 10, 12 or 15 tonnes, depending on machine size.
MOTORIZED DRIVE SYSTEM (X-AXIS) FOR PIPE CARRIAGE
For heavy pipes, the pipe carriage can be optionally equipped with a pneumatic motor. By actuating a lever attached to the pipe carriage, the pipe carriage can then be driven and braked by the motor.
STREAMLINE LOGISTICS, SIMPLIFY HANDLING
AND BOOST PRODUCTIVITY WITH AUTOMATION
Our automated logistics solutions come equipped with infeed racks, infeed conveyors, cutting conveyors, outfeed conveyors, and outfeed racks for streamlined performance. Advantages of our systems include easy pipe handling and up to a 30% increase in productivity.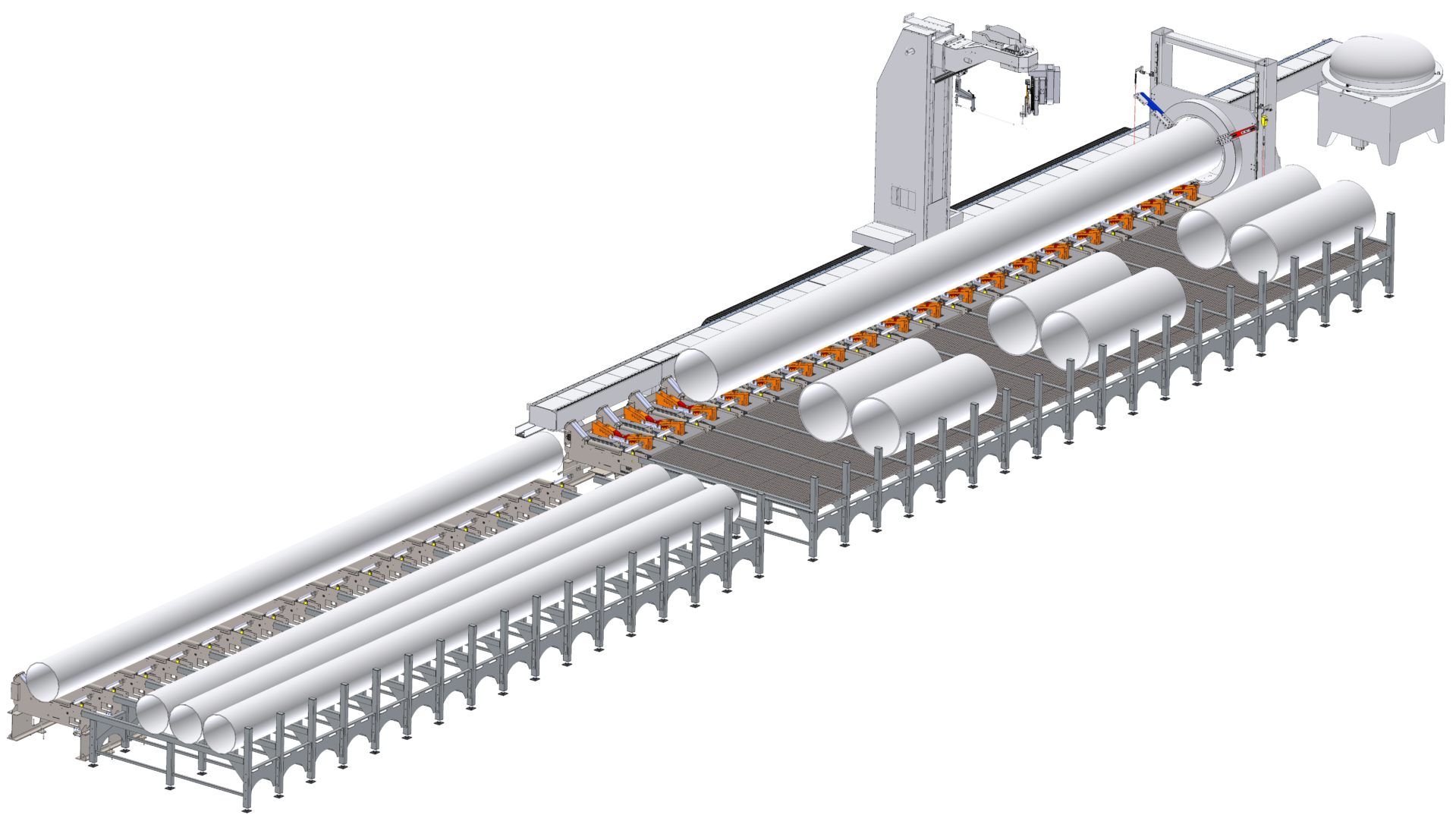 Voortman MO Heavy-Duty Series
2000
2500
3000
4000
Weight of standard machine
lbs
39683.207
48501.698
52910.943
61729.433
Number of CNC axes
axes
6
6
6
6
Max. workpiece weight
lbs
88184.905
88184.905
88184.905
88184.905
Min. - max. clampable round pipe diameter
inch
7 7/8 - 80
7 7/8 - 100
7 7/8 - 120
7 7/8 - 160
Min. - max. cuttable workpiece length
inch
11 13/16 - 472 7/16
11 13/16 - 472 7/16
11 13/16 - 472 7/16
11 13/16 - 472 7/16
Min. - max. wall thickness for cutting with oxy-fuel /plasma
inch
3/16 - 7 1/16 / 1/16 - 3 1/8
3/16 - 7 1/16 / 1/16 - 3 1/8
3/16 - 7 1/16 / 1/16 - 3 1/8
3/16 - 7 1/16 / 1/16 - 3 1/8
Max. size of chuck opening
inch
47 1/4
47 1/4
47 1/4
59 1/16
Min. - max. clampable diameter for dished ends
inch
15 3/4 - 80
15 3/4 - 100
15 3/4 - 120
15 3/4 - 160
Max. torch angle
°
+/- 70 / 45
+/- 70 / 45
+/- 70 / 45
+/- 70 / 45