Automation
Plate
Software
Plasma
Manufacturing
Fabrication
Process optimization through SigmaNEST & Voortman machines
---
To increase your material optimization and cutting efficiency, all Voortman plate cutting machines come equipped with one of the most advanced nesting engines available, SigmaNEST. Using SigmaNEST advanced nesting solution in combination with Voortman machines, it will be possible to optimize your whole fabrication process from work preparation to end product thus improving your business profitability. Let's dive somewhat deeper into the specific SigmaNEST features and the benefits you gain from it.

Simple and accurate quoting
Quoting module
The Quoting module is a module that generates customer-specific quotations more effectively, faster and more accurately, allowing you to convert a quotation into a work order as well as easily follow up on outstanding quotations per customer.

Import different file formats
CAD import module
The software offers the possibility to import different file formats in the metal industry such as .STEP, .CDL, .DXF, .DWG and .DSTV. The CAD import module is used to directly import native formats such as SolidWorks, Solid Edge, Creo, Inventor, Siemens NX or Catia. Therefore, all information provided is retained and duplicate work is eliminated.

Track productivity from start to finish



Load manager module
Accurate cost and time calculations can be made with SigmaNEST based on your cutting length, drilling length, positioning time and number of pierces. The cutting and drilling time can also be used to streamline your production process and optimize your planning. With the Load Manager module, you have full control over complex work orders, production can be assessed quickly and orders can be easily assigned to any compatible machine.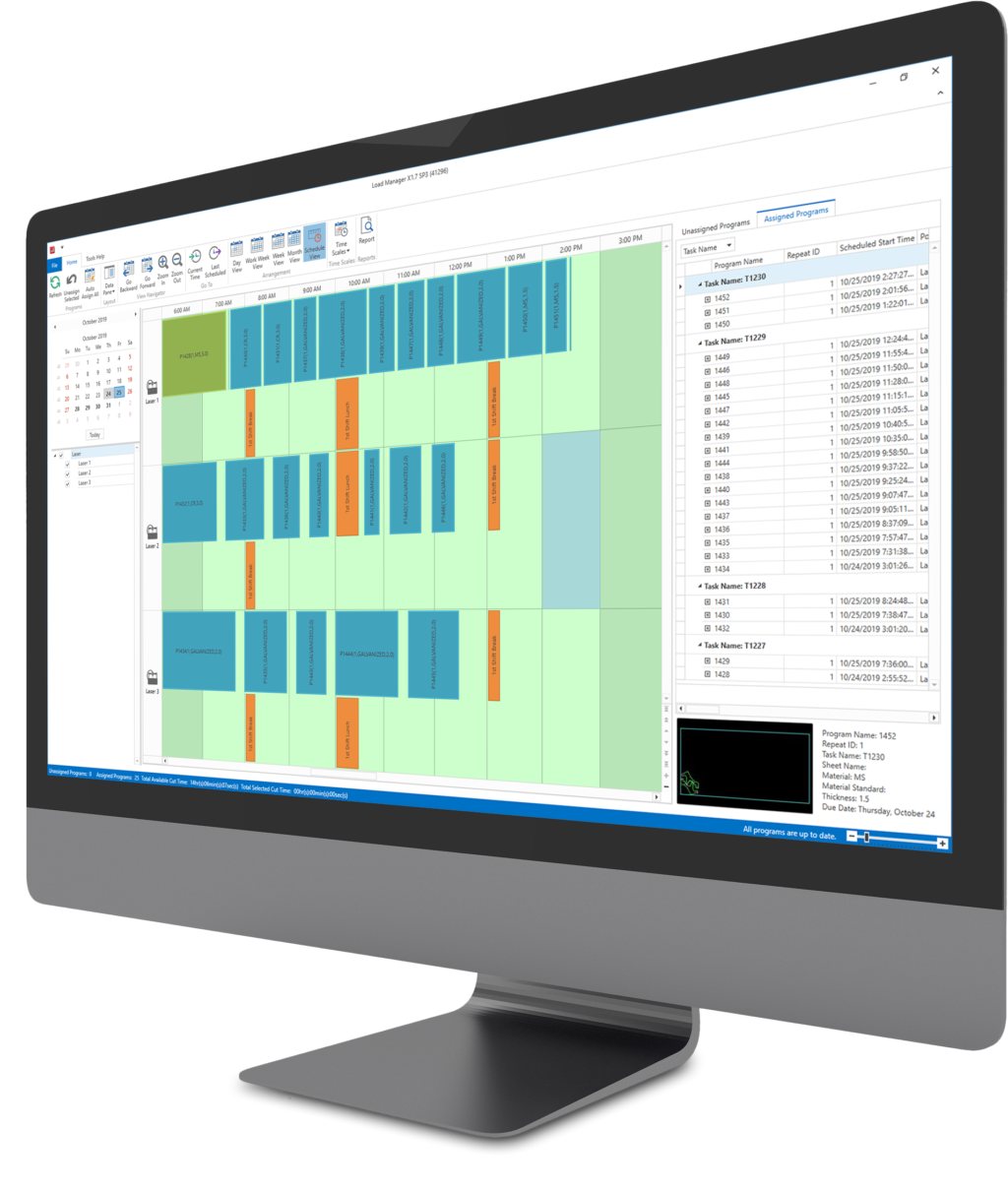 Easy unloading



Color Offload module
In the planning phase, several work orders have been co-mingled which saves time and material since nesting is done more efficiently. Plates are fully nested, including the use of existing remnant plates so fewer actions are required. However, it is also important that these various, mixed orders are able to be easily separated during unloading.
Make unloading easier and more accurate by color coding. The Color Offload module eliminates operator confusion by displaying nested parts in colors that can be assigned by customer, work order or factory routing.

VACAM software
A powerful automatic nesting algorithm minimizes material scrap. SigmaNEST generates specific CNC-outputs for the machine, which will be converted to all required operations via Voortman's VACAM software.
Real-time communication between business systems and SigmaNEST
SimTrans module
The SimTrans module facilitates communication between SigmaNEST and other software systems and databases such as the MRP- or ERP systems. This module provides you a clear view on the available sheet and remnant stock. Remnants which would be put on a scrap yard initially can now easily be saved for future use. SimTrans enables you to obtain the right information from different software systems at different moments in the process by means of a continuous mutual data flow.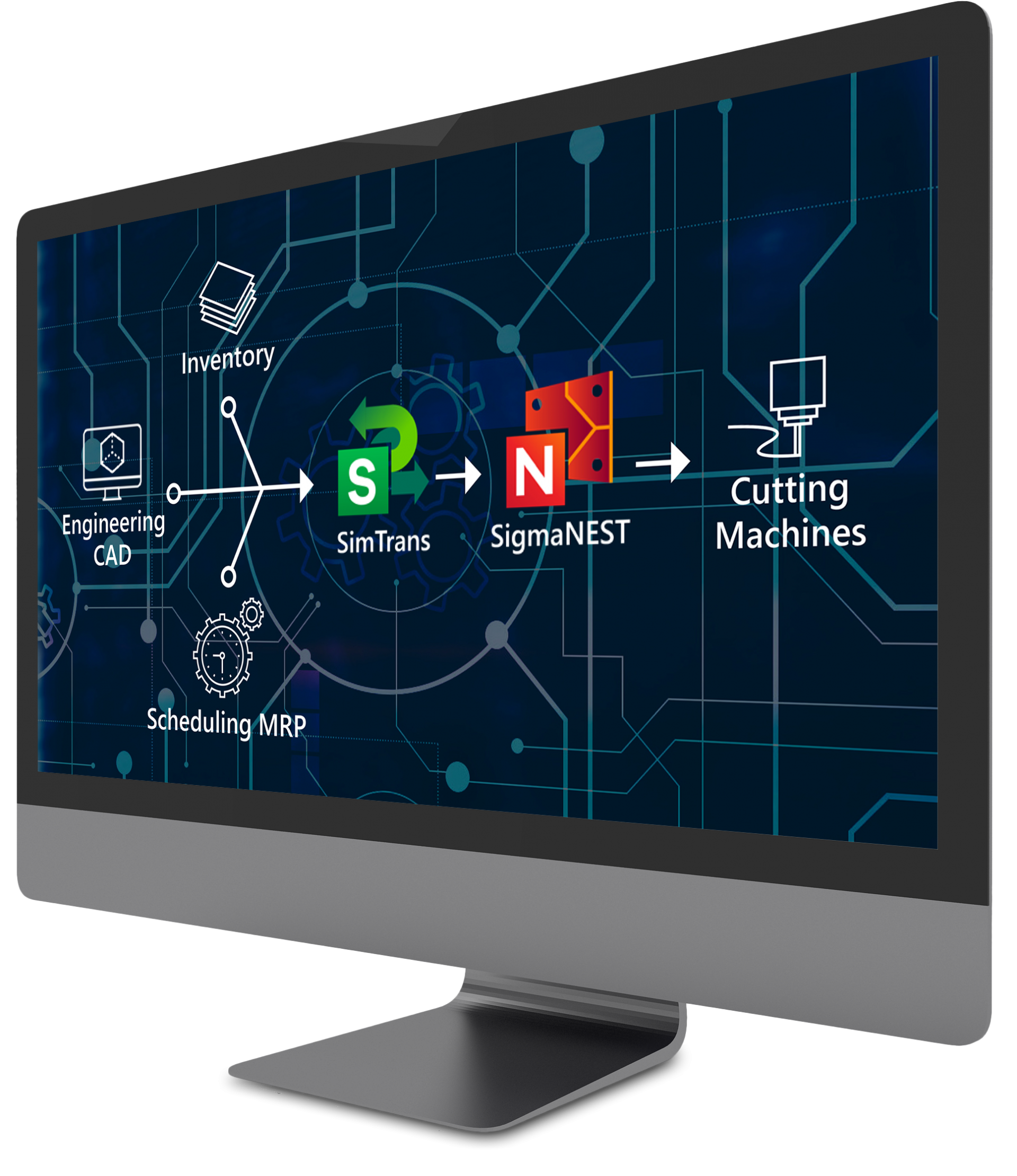 Plate machines


suitable for SigmaNEST modules
Read more about


SigmaNEST & Voortman solutions