Plate
Software
Plasma
Manufacturing
Automation
Easy unloading and real-time tracking to optimize your shop floor
---
In the planning phase, several work orders have been co-mingled which saves time and material since nesting is done more efficiently. Plates are fully nested, including the use of existing remnant plates so fewer actions are required. However, it is also important that these various, mixed orders are able to be easily separated during unloading.
Improve sorting efficiency
The Color Offload module is an automatic real-time tracking and offloading solution designed to assist your operator by enabling easier part sorting after cutting, when nests contain co-mingled orders. Nested orders are displayed in colors that can be assigned by customer, work order or factory routing whereby identification and sorting of parts will be simplified.

Provide information to operators for quality checking
In addition, information is provided to the operator, such as part details or dimensions, so the operator is able to do a direct quality check before parts move on to the next work station. When a part has been cut wrong because, for instance, consumables fail, the operator can select and reject parts in the nesting software program. This information can be fed into Color Offload and the part automatically reappears in the work order list in the nesting program, enabling it to be remade.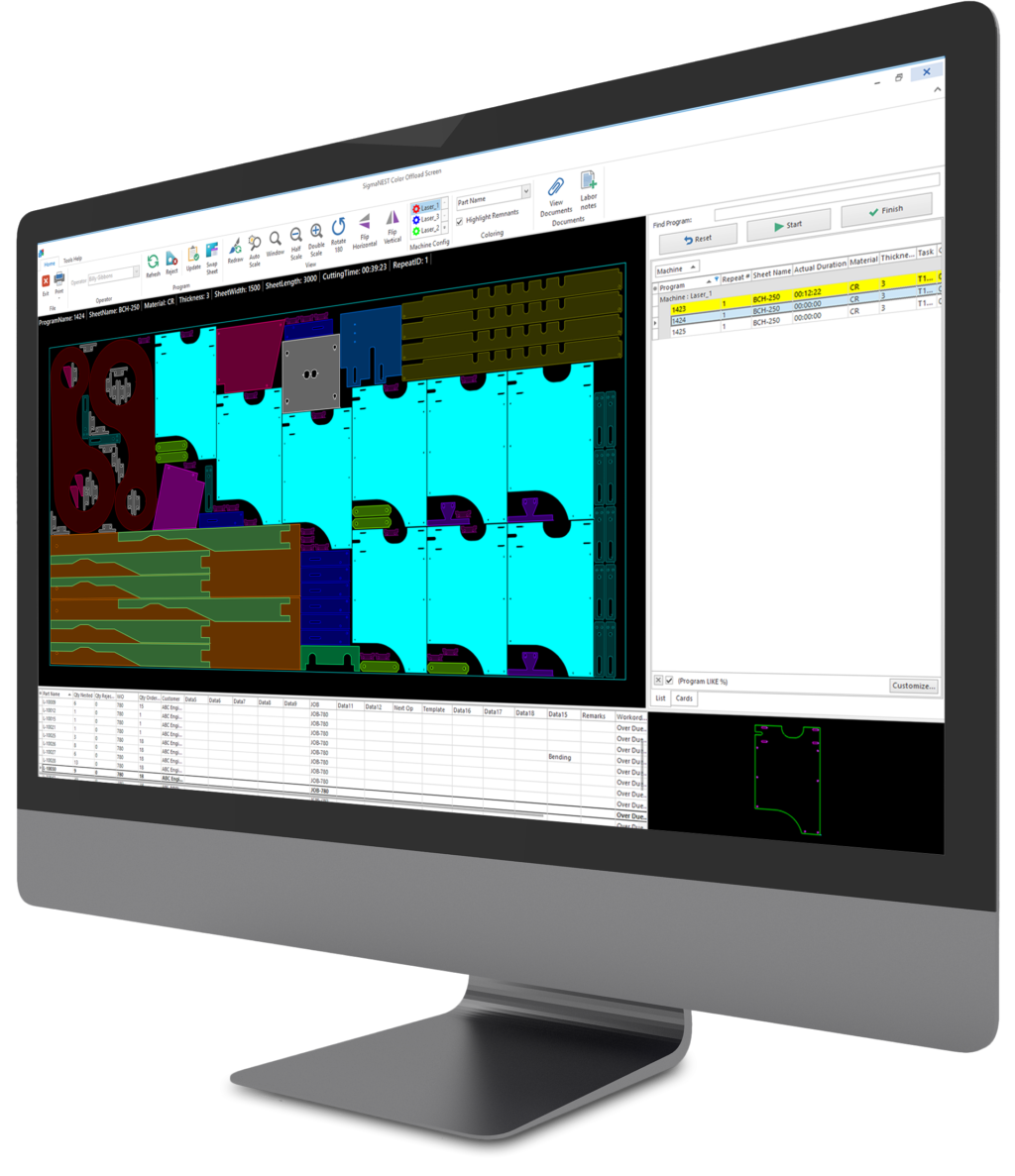 Improve and automate Information back to works preparation and planning
The Color Offload module allows the operator to indicate whether the program has been started, paused or stopped. This provides insight into the status of the work order and provides an accurate time indication. When a nest has been produced, cutting times are automatically sent back to other shop floor software modules such as the nesting program, MRP/ERP or a separate planning tool such as Load Manager.
We are happy to help you optimize the back-end of your organization so that your company can benefit from higher material yields and process efficiency!
Plate machinery


suitable for SigmaNEST
Read more about


SigmaNEST & Voortman solutions