FASTEST DRILLING, MARKING AND MILLING
The Voortman V633 is the latest in our line of drilling and milling machines.
Four independent sub-axes make the fastest drilling, marking and milling machine ever made. We're known for our ability to consistently achieve high quality and speed. By implementing multiple sub-axes, we can now simultaneously perform these features on three or even four sides at the same time.
We go the extra mile. Equipped with four sub-axes it can process three or four sides simultaneously. Drill holes, mill and mark with unprecedented stability, speed and quality. With its innovative and solid build, this machine truly stands out in the industry.
MAXIMIZE YOUR OUTPUT
AND EXCEED YOUR CAPACITY
Meet the fastest drilling, milling and marking machine in the world.
This machine does everything all at once, and it's unmatched powerful, too.
In the earliest designs, engineers planned for the machine to withstand powerful forces. Forces which are released when performing heavy processing simultaneously on all sides. We made our initial emphasis on strength and product quality, and the result has impressed everyone who has seen it in action.
Faster than you have ever seen
Up to four sub-axes eliminate profile movement within a 300mm (11 13/16") range. This allows for drilling and milling three sides at the same time and even up to four sides when processing layout marking. Servo-driven axes can handle simultaneous processes with great speed. Products with many offset holes, milling operations on both sides and/or many markings can be processed up to three times faster.
You're all set in a single run
This single machine provides unprecedented flexibility, helping to reduce your logistics costs and keeping quality levels continuous! The sub-axis spindle positioning on the V633 enables all possible cope, weld prep, block-out, and slot operations to be performed at a single station. Additional drilling, marking, tapping and countersinking allows you to process a ready-made product. Maximize productivity by using a full range of 14 tools per spindle and even add or switch between those tools without causing downtime.
Benefit from robust and powerful processing
The V633 is equipped with 3 powerful motors and spindles. The sturdy frame allows for accurate and robust processing of the material. The V633 is outfitted with many standard features and extra options are available to increase productivity, efficiency, and ease-of-use. Suitable to handle carbide (tip) drilling, milling, thread tapping, counter sinking, layout marking and center point marking, the V633 has the capabilities needed to cope with a wide variety of profile sizes. Sensor systems allow adjustments for profile deviations and local material deformations, leaving you with continues quality for every profile.
Zero distinction in profile sizes
The X-axis traverses 300 mm [11 13/16"] with an extremely high speed- eliminating the need for in between profile movements. This speeds up the production of even your biggest and thickest profiles. With new individually controlled hydraulic clamping, profiles down to 50mm are processed easily.
WEBINAR RECAP: UNVEILING THE V633
On 15 March, we hosted a live webinar where the V633 was unveiled, with a live demo. We look back on a successful webinar with a large number of participants and interesting questions! Our presenters Henk Maassen van den Brink (Sales Director) and Valentijn Velten (Product manager), covered all the things you don't want to miss about this machine.

Missed the webinar or want to watch it again? You can watch the recorded version here!
UNMATCHED ACCURACY AND QUALITY
YOU'LL BE AMAZED
This machine is made to deliver quality. The machine can easily handle the powerful forces coming from the three drilling units. Everything within this machine is subservient to consistent quality, such as accurate measuring systems, short tool lengths and a very rigid sturdy box frame. Even when milling three sides of your material in one pass, and at the same time, the quality is real.
Ultimate force distribution
To maximize machining performance, a box frame was chosen for the three powerful spindles that move along the x-axis. Light, but extremely strong, designed to prevent vibrations and other unwanted forces from disrupting the machining process. Forces are evenly directed away to both sides of the drill unit support, ensuring maximum stability and accuracy.
Strong yet dynamic profile fixation
Hydraulic clamping is used for a strong and solid clamping of the profiles. It prevents vibrations during processing, which is very important for accuracy during drilling and especially during simultaneous milling of all profile sides. When using a gripper truck as measuring system, the gripper truck can move further into the machine due to individually controlled horizontal clamping.
Fast and accurate measuring
We use two kinds of measuring systems. A roller feed system, which is known for being the fastest and most accurate on a minimal footprint. And a gripper system, which recently received a full update. Compared to the rollerfeed measuring system, the new gripper design allows for early infeed. An additional axis in the gripper system allows it to move between two new positions, one over and one under the datum line. Using a short clamp at the production start, the gripper takes over with a longer clamp during production. This new technique has a big impact on reducing the system footprint. With a rotating head for automatic horizontal and vertical clamp positioning, the only remaining question is which system best suits your production.
Fast through materials
The shorter the tools, the faster the drill units can move through the material. Thanks to the smart construction of the drill units, you benefit from very short tool lengths. Additionally, the drill unit consumables will last longer, which in turn gives you higher quality consistency.
Minimal movements and vibrations
The more stationary the material, the better the machine performs while utilizing servo driven direct drive spindles and linear roller guidance systems. Eliminating profile movements by measuring rolls or gripper truck systems allow for greater accuracy.
Flange removal on a IPE 300 profile
Our VACAM control software automatically recognizes features from the digital files exported from a BIM program. It detects milling processes and calculates the most suitable milling paths. This way, complex features, such as this flange removal are milled without manual user interaction. Let our machine solve all your production challenges with your operator keeping up with the machine on loading and unloading.
Blockout milling on a HEM 300 profile
Voortman machines are capable of milling more than 16 mm in one layer. So even this flange of almost 40 mm thick is milled with considerable speed. To optimize the milling process, the loosened chips are blown away with air and then transported out of the machine via the conveyor belt.
AUTONOMOUS PRODUCTION WITH GREAT EASE OF OPERATION
PROVIDES A WAY TO FOCUS ON OTHER TASKS
This machine comes with a complete package of features that make a real difference to assist operators.
Less operator time is required in preparation, production and maintenance.
The automated functions and built-in conveniences of this machine allow operators to focus on other jobs in your workshop while processing unmanned.
Unlimited milling at the click of a button
The V633 allows you to process any milling contour you need without limitations. Milling paths are auto-calculated by our VACAM operating system with one press of a button. Leaving you with ultimate flexibility in milling size, depth and shapes. Processing full parts on one station reduces additional costs and complex factory routings.
Extend autonomous production
The toolchangers have been designed to allow tool changes during production. Each of three toolchangers is accessed through a special hatch on the outside of the machine. This eliminates the need to carry tools in and out of your machine and interrupt production processes. Save time, increase your uptime and go for maximum output.
Less cleaning with more automation
Chips are automatically removed from the machine for two important reasons: to increase autonomous production, such as at night, and less time consuming for operators cleaning the machine. These spare minutes can be used in other activities while the machine works unmanned.
Operate and monitor at once
A camera is built into the machine so that you can monitor production in real time. Although several entrances enable you to oversee every stage of the process when needed, you don't have to interrupt and no more time is wasted by running in and out of the machine. Also our support benefits the use of this camera, serving you faster and more accurately.
WHAT ABOUT THOSE STITCHES?
To ensure a safe and optimal process and a possible follow-up automatic production in an MSI production line, large debris parts stay attached to the profile by their outer contours.
Loose parts with great speed can damage your machine, or even worse, injure your employees.
All it takes is a grinder to remove the remaining stiches for a product that is instant-ready for welding or construction!
INTEGRATION IN YOUR WORKSHOP




The fastest measuring and transportation system for profiles in the market
The Voortman roller feed measuring system uses two feeder rolls to move material. Two measurement wheels are installed to accurately track the profile's position. Feeder rolls are often used because of the required space and the flexibility when integrated into a larger system. With a measuring roll system, it is also possible to load a new profile once the first profile has passed the edge of the cross transports.
Since a feeder roll does not have a rail, it is possible to feed into the machine from two sides. With Voortman, you have a choice in measurement systems, making it possible to tailor the system to the characteristics of your production database.

A strong and robust servo driven gripper truck for processing many small products
Voortman also offers a strong and robust servo driven gripper truck. This truck is the fastest truck available, adapting its velocity dynamically to the profile's total weight. This makes the truck more agile and safe for the operator. The feeder truck holds the material with a wide clamp, which is rotated automatically when the geometry of the profile demands. This measuring system is capable of moving even the heaviest profiles without losing its stability.
The gripper truck can be combined with the VB beam sawing machine - often with an automatic Short Product Removal System (SPRS) where the gripper clamps all products up to 1.400 mm (4-1/2'). during cutting, and then short products are transported sideways. With the SPRS and the gripper truck, the drill and saw become fully autonomous with clean cuts automatically dropped into a separate bin. Just start your latest production run before you close the factory for the night and arrive in the morning with all products processed and sorted on the outfeed cross transports.

Reduce labor costs and increase efficiency
MSI, also referred to as Multi System Integration, opens the door to fully automate your production by connecting machines with cross transports, roller conveyors, product buffers, and material sensors. Production data only needs to be imported once and then MSI automatically distributes the data to all machines integrated in your production system.
VACAM decides optimal material route
Based on the production on hand, customer preferences and the available machinery in the MSI-line, VACAM automatically decides the optimal route to reach the highest efficiency. MSI designates the end of transporting raw profiles and semi-finished products from machine to machine. MSI stands for one integrated production system. You can track and monitor every profile, product and future planning in real time by using VACAM, Voortman's proprietary CNC control software installed on every machine.
Designing your optimal layout
Together with you, the Voortman team designs the entire layout based on your current or expected production characteristics, such as type of profiles, product length, number of processes, hours in your work week and budget.


DIFFERENT SPECS FOR DIFFERENT NEEDS



Find which suits you best!
At Voortman, we offer a versatile range of machines in our beam drilling portfolio, each with unique specifications to cater to different production needs.
Take the time to explore your options and find a machine that perfectly suits your goals.
Contact us to learn more and let our team of experts assist you every step of the way.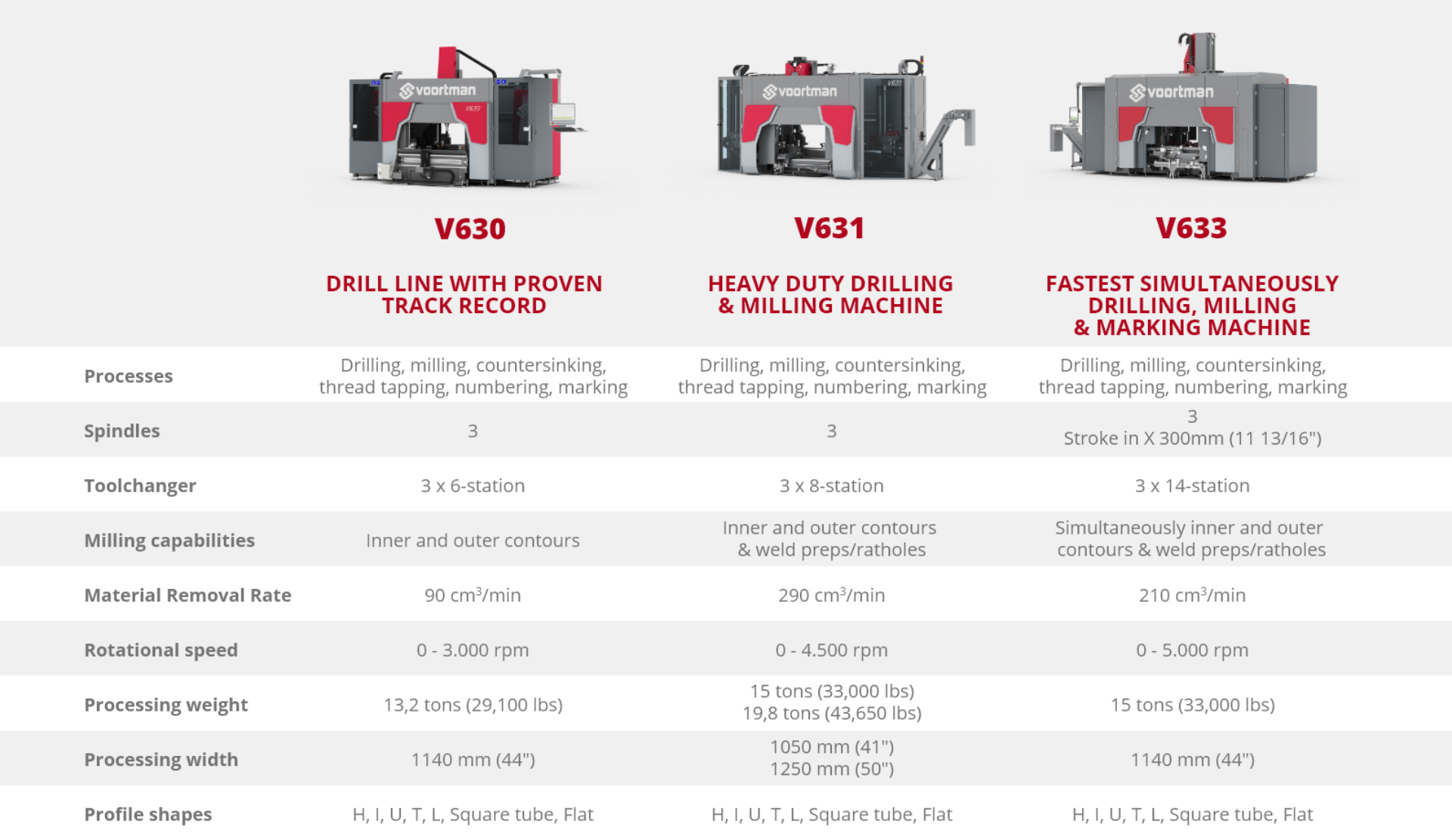 Click for fullscreen
Voortman V633
Voortman V633
Operating range
inch
25/64 x 2 – 18 x 44
Material weight
lbs
33.100
Machining and positioning
Servo motors
Positioning speed X
f/min
82
Positioning speed Y
f/min
82
Positioning speed Z
f/min
82
Drilling units
3
Spindles stroke in X
inch
11 13/16
Tool changer
3 x 14
Drill holder
SK40
Drill diameter
inch
13/64 - 1-37/64
Thread tapping
M6 - M30
Machine weight
lbs
26,460