One do-it-all machine on a small footprint
Voortman V807 | robotic cutting
all you need for a perfect assembly
The Voortman V807 - Robotic plasma processing - offers freedom to produce, whatever geometry you need from the raw stock. Where processes like drilling, milling, sawing and cutting with acetylene could be restricted by operating range or speed, robotic plasma processing offers an efficient replacement capable of handling all of those processes faster.
Copes, bolt holes, slots, notches, bevels, weld preparation and layout marking - The Voortman V807 robotic thermal profile cutting system can process it all in one pass with the ability to reach all four sides of the material with exceptional speed and accuracy. The V807 combines all these functions for an impressive economic advantage over dedicated drilling, milling, sawing, punching, shearing and layout marking systems. Combining these processes in a "do-it-all machine" provides a quicker ROI with less floor space.
Read more
WE KNOW IT'S A LOT AND THE POSSIBILITIES ARE ENDLESS
SO HERE IS THE VOORTMAN V807 IN A NUTSHELL

The Voortman V807 is a robotic plasma processing machine that offers the freedom to produce various geometries from raw stock. It can handle processes like drilling, milling, sawing, cutting, and weld preparation with exceptional speed and accuracy.
The V807 combines all these functions, providing an economical advantage over dedicated systems. Programming is not required as the machine easily imports files and allows for editing and creating new products from scratch.
Advanced processes are automated, ensuring continuity and minimizing operator dependence. The machine has successfully passed independent quality tests, ensuring error-free assemblies and meeting quality standards.
The VACAM system offers several cutting features, such as the Automatic Angle Calculation and Speed Compensation, to optimize the cutting process and ensure continuous quality.

The V807 machine is designed with a focus on delivering long-term quality by using high-quality components and integrating with partners like Staubli for a stable and efficient cutting robot. Additionally, the V807 provides flexibility for future expansions, making it an ideal choice for fabricators looking for cost savings and growth capabilities.
APPLICABLE IN EVERY BRANCHE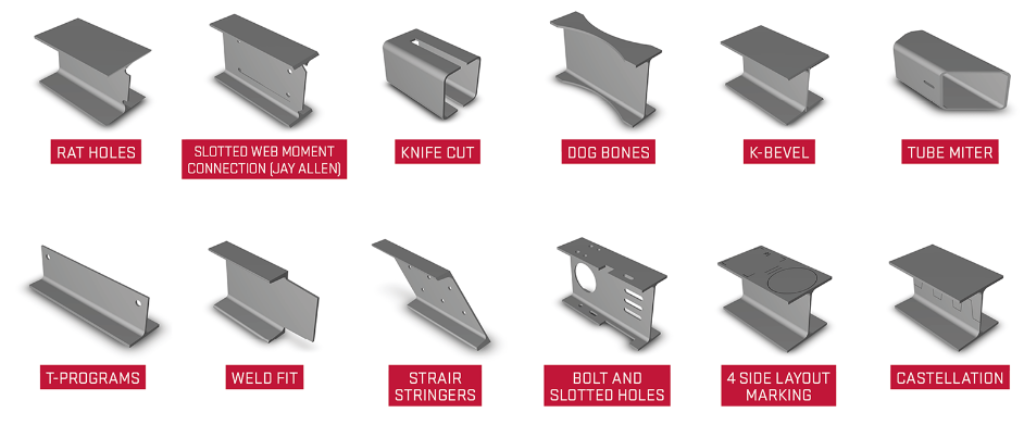 PROCESS ANY SHAPE
The Voortman V807 - robotic plasma processing - offers freedom to produce whatever geometry you need from the raw stock. Where processes like drilling, milling, sawing and cutting with acetylene could be restricted by operating range or speed, robotic plasma processing offers an efficient replacement capable of handling all of those processes faster.

Copes, bolt holes, slots, notches, bevels, weld preparation and layout marking - you can process it all in one pass with the ability to reach all four sides of the material with exceptional speed and accuracy.
ACCURATE WITH HIGH QUALITY


FLYING COLORS ON INDEPENDENT TESTING AT EN1090, ISO3, AND AISC
An independent testing institute has successfully subjected our cutting robot to various tests. Our V807 passed with flying colors on all these topics:

- hardness
- surface roughness
- beam flange weld access hole quality
- bolt hole sizing and positioning
- perpendicularity
Keep your workflow free from re-work, time lags, and on-the-spot manual adjustments
ERROR FREE MEANS EASY ASSEMBLY
Ready-to-assemble products will save you a lot of time and hassle, while your pre-calculated costs remain intact. Our aim is to provide you with a seamless assembly process that meets your high standards and delivers error-free end products of exceptional quality.

AIM FOR THE HIGHEST QUALITY
Our V807 is made to deliver quality. Every module and every component are subservient to this goal. Therefore, this machine has been carefully assembled from only the best components. To deliver quality but above all to guarantee quality for the long term. Especially in software, we continue to optimize to be able to perform more advanced cuts more efficiently with a continuation or even increase in product quality.
No more manual adjustments
When you cut H profiles, you have to deal with radii and different profile thicknesses. During cutting, real-time compensations must be made for these differences. Manual compensations are not an option and that is why we have automated this process in the Speed Compensation feature. After all, VACAM knows every detail of the processed profiles. Combined with our known cutting parameters, this is a guarantee for continuous quality.
Every hole a quality hole
To speed up and simplify the cutting process, we have extended Hypertherm's well-known Truehole range. When processing multiple thicknesses, time-consuming gas changes are eliminated and transitions between holes within or holes outside the original range are cut more gradually.
Web cuts without collision
Based on parameters from our own cutting experience, VACAM is able to calculate the most optimal cutting angle when making web cuts. Automatic Angle Calculation allows the torch to get as close to the flange as possible during cutting without the risk of collision or damaging the flange.
Only quality remains
A small but very effective feature is automatic piercing in waste material. With the start of a new cutting path, piercing through the material is unfortunately necessary and does not contribute to controllable quality. By positioning the piercing processes in waste parts of your profiles and creating a lead-in to the actual cutting path, end products are left with controlled high quality cuts. An additional advantage is that slag also adheres to waste materials, resulting in significant reduced cleaning time and a faster throughput for your end-products.
Out-of-the-box quality
Without necessary disassembly, the robot performs out-of-the-box (container) exactly according to the quality tests taken at the assembly. The machine is taken out of the container as a whole and placed in position. All what's left are automatic robot and tool calibrations and infeed material to start producing.
We achieve quality together
How can we guarantee maximum up-time if we cannot rely on the components in our machines? We aim for sustainability and continuity when using our machines and that is only possible with the right partners who, just like us, attach great importance to quality. Carefully chosen components that are expertly assembled by our professionals. That's our foundation for your maximum up-time.
THE W-AXIS WILL CHANGE THE GAME FOR YOU
When you need to get the job done, you need a machine that's as flexible as it is sturdy. The V807 delivers on both fronts.
Its one-of-a-kind W-axis rotation delivers unbeatable flexibility and stability, allowing you to tackle every side of your material with ease. Get flawless results with the rigid W-axis and its sturdy frame, eliminating vibrations for precise cuts.
Keep your uptime maximized with all cables concealed in the steel frames and protected by the shielded rotation disc (IP65 dust free). Maintenance is made simple with hinged access hatches for easy access.
W-axis rotation that allows you to cut on any angle
A sturdy frame that eliminates vibrations for precise cuts
All cables concealed in the steel frames or protected by a shielded rotation disc for maximum protection from dust and debris
Hinged access hatches for easy access to maintenance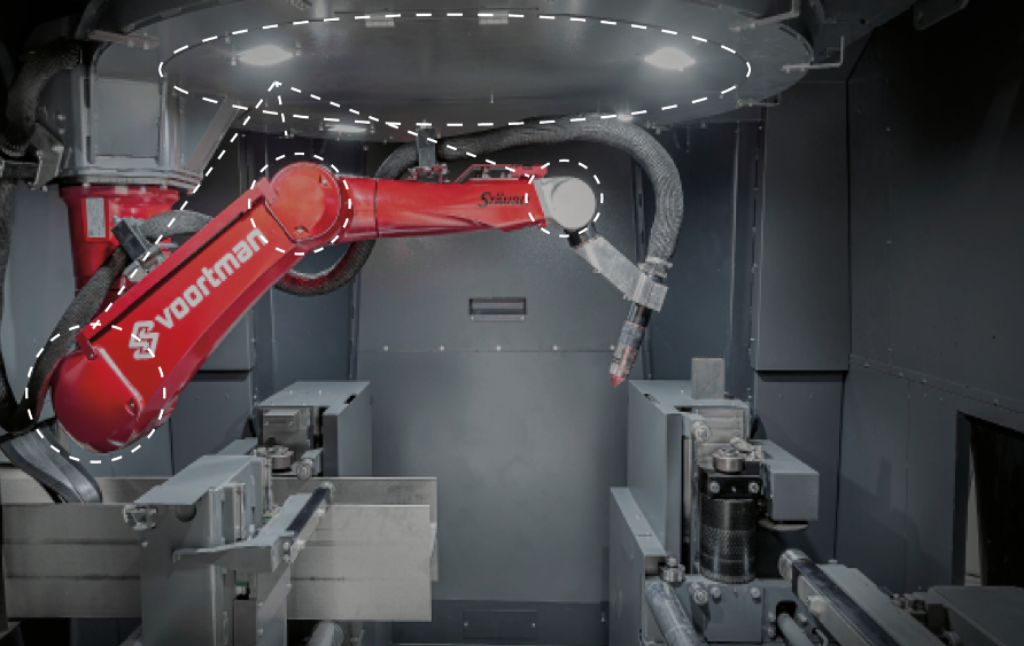 VOORTMAN'S UNIQUE MEASURING ROLLER SYSTEM



The V807 was designed to make production as accurate, repeatable, and efficient as possible with a minimalist design. Everything is inside, so it takes up a small footprint. This makes you utilize space with optimal efficiency in your workshop. And there are even more advantages:
NO EXTRA SPACE RECQUIRED FOR MEASURING TRUCKS
This means a smaller overall design as there's no need for extra space to park a measuring truck. The machine houses the entire measuring and clamping unit, which also makes it an easy fit into your existing setup or outdoor placement.
ELIMINATES THE NEED FOR A MEASURING TRUCK TO CONSTANTLY RETURN TO ITS PARKING POSITION
This makes early infeed of profiles possible, which can greatly increase production and output.
UNLIMITED PROFILE LENGTHS
We are the only company that allows you to work with unlimited lengths yet with high accuracy. Process up to 33,000 pounds or 15.000 kilograms. With Voortman's unique measuring roller / pinch roll system, you have no limits.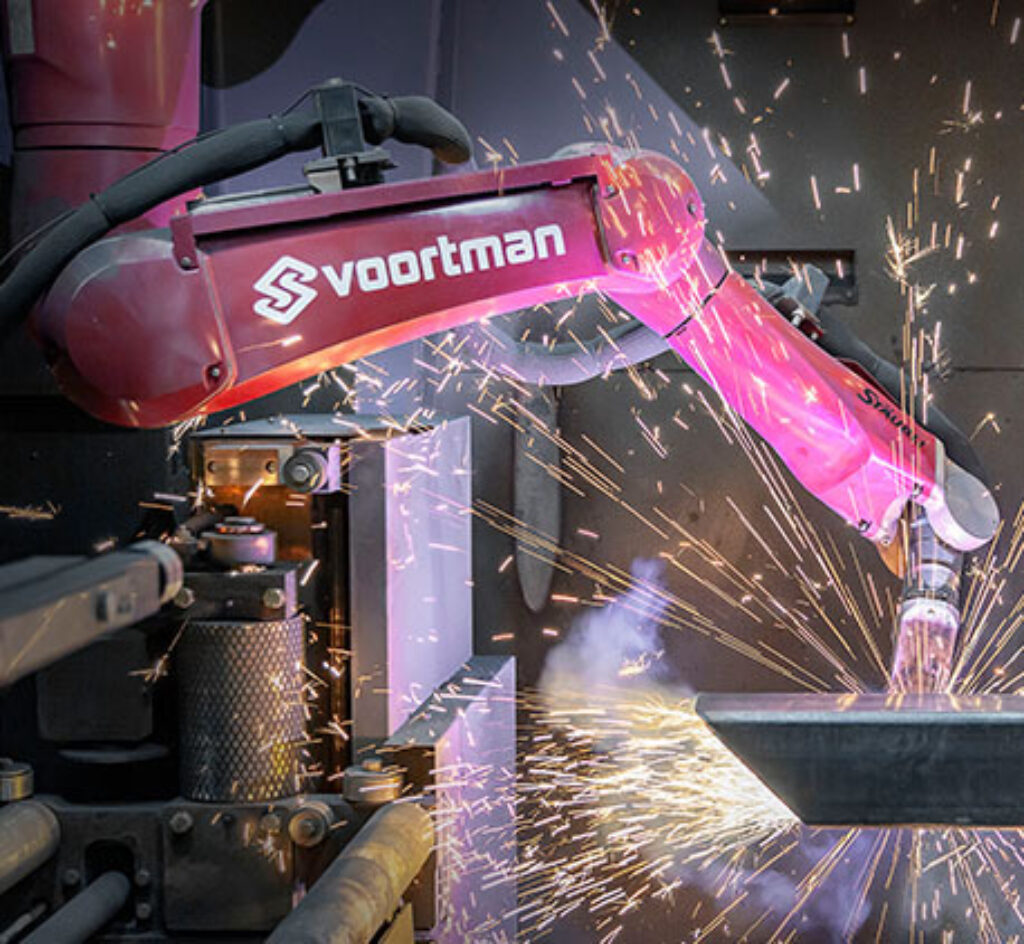 REPEATABILITY, REPEATABILITY AND REPEATABILITY
Slow and inaccurate measurements are to be avoided. Where inefficiencies play a big role with measuring trucks, there are often manual operations needed to get laser measurement workable.
We chose to equip the V807 with a measuring roller system. This system runs in tandem with the profile of your product and thanks to our hydraulic clamping system's tremendous pressure, there's minimal chance of slippage. This is what you need for consistent quality in your production. If you want to apply consistency in your production, regardless of which shift or operator, this is the machine you must have!
USE OUR BUILT-IN INTELLIGENCE
Of course, you want as much continuity as possible in your processes, but you may be dependent on the knowledge of your operators. That is why we have automated as many advanced processes as possible and also built in many smart features that provide your operators with continuity. All features can be accessed with just one action in the VACAM interface on a clear 24" touch panel. All software features and functionalities are fully included in the supplied VACAM control software.
ALWAYS THE RIGHT PARAMETERS & TOOLS
With VACAM, you can trust that we're always using the right amperage for the job, thanks to our advanced calculations that take into account the number of 'True-Holes' in your product. We calculate an average amperage that ensures the best possible cutting quality, all while making the process easier and more efficient. And with Hypertherm 'EasyConnect' tool changes are a breeze, faster than every other brand.

But we don't stop there! Our automatic tool calibration ensures that the software parameters are perfectly aligned with the physical values, guaranteeing top-notch cutting quality with just the press of a button.

Experience higher returns on investment and minimize downtime with VACAM! Our system ensures that you always have the right parameters and tools, reducing the need for frequent stops and maximizing the uptime of your machine.

IMPROVED EFFICIENCY WITH STITCHING
Processing heavy profiles in shorter lengths can be a real challenge. That's why our Stitching feature ensures that all end products below 1.4 meters automatically get outfed as a whole. This means that instead of having to go into the machine several times to remove heavy products, your operator only has to unload a single profile. The end products can then be separated at a preferred location, minimizing logistic operations and maximizing efficiency.

With VACAM, batch processing is made easy. Our system scans through the products, grouping shorter products together starting from the front of the batch. When a group's total length exceeds the maximum length for stitching, the group is closed, and a new group is started.

So, what does this mean for you? It means that you don't have to tediously sort through your products by length anymore! You can just let VACAM do all the work for you so you can focus on more important things.

HARMONIC MOVEMENTS FOR CASTELLATION CUTTING
Introducing our groundbreaking smart castellation technology, transforming the castellation cutting process with an impressive 20% boost in speed compared to conventional methods. Our fast CPU allows for synchronized movements of multiple axes of both the profile and the robot, resulting in smooth and harmonic movements.

With our smart castellation process, you can work with unlimited lengths of material without the need for time consuming re-measuring and re-clamping. Next to the improved speed, you will experience a reduction in burn-ins, leading to a more precise and qualitative outcome. Our system's efficiency ensures faster processing, providing an overall improvement in productivity.
MINIMAL BURN INS AND PERFECT QUALITY WHEN CUTTING CASTELLATIONS
UP TO 20% FASTER


INTEGRATION IS SIMPLE
DSTV and DSTV+ (nesting) import and produce parts and nestings without any programming. VACAM also supports manual creation of optimal nestings based on single DSTV files and can even export these as DSTV+ macros to make the creation or editing from parts in VACAM and on the machine a lot easier.

Block-outs, flange removals, T-nestings, rat holes, seismic connections, castellated beams, bevels and more can be created with one mouse click. Macro's even work in combination with DSTV import by automatic recognition of forms which can be optimized with a specific macro.
WORK PREPARATION: INSIGHTS FROM REAL USERS
FASTEST ROI ON THE MARKET
ROAD TO INCREASED OUTPUT
Our V807 is designed for fast delivery and installation to meet your demand for higher output as quickly as possible. With the fully modular and largely integrated components, you can easily extend the machine with more automated logistics or add complementary machines at a later time as your business grows.
More flexibility in just 7 minutes
In addition to a larger output, we also find it important to offer flexibility in your production. In addition to cutting thicker profiles, you can also use oxy-fuel cutting for advanced cuts. Thanks to its narrow shape, an oxy-fuel torch can get much closer to the flange of an H or I profile. It is often thought that switching between plasma and oxy-fuel is time consuming and therefore not efficient. Our V807 is fully prepared for plasma and oxy-fuel cutting, requiring only 7 minutes for a manual switch.
Fast delivery and installation
A new and smart design has ensured that the V807 has a considerably small footprint, which brings many advantages. The cutting robot is completely lean built and tested in our workshop. Thanks to its size, it can be placed in a container in its entirety without essential disassembly. The fast manufacturing and available stock in the USA guarantee very fast and efficient delivery and installation times.
Reduce post-processing time
Hypertherm's industry-leading cutting technology, in combination with Voortman software optimizations guarantee the highest possible cutting quality. Not only beneficial for your end products, but also very beneficial for a fast throughput. With that cutting quality, postprocessing products is considerably easier and faster. The amount of slag is reduced to a minimum. In addition, it adheres much less to the material. Your product is ready for welding with just a few manual actions.
Smallest footprint on the market
Very high output with little space used in your workshop. That was our initial thought in the engineering of this machine. And that's how it turned out. By integrating all controls and the complete measuring system into the machine, the V807 has the smallest footprint on the market!
Highest possible throughput
The V807 comes with our in-house developed and produced handling systems. Fast roller conveyors and two-way cross transports provide fully automated infeed and outfeed with a maximum speed of 200 feet per minute. The VACAM control system provides buffer management and early infeed, whereby profiles are always positioned near the datum line or even in front of the machine in order to keep the throughput as high as possible. With fully automated processes in the machine and software-controlled material handling, the focus of your operators will mainly be on keeping up with the machine with loading and unloading materials.
Produce both indoors and outdoors
Depending on your capacity requirements, the V807 can be used as both a standalone workhorse and in combination with other machines. Thanks to the dynamic construction you can easily implement this machine in all conceivable situations. With the fully integrated measuring system it is literally a complete box that has to be put in position. Do you want to place the machine outside? With everything integrated in the closed housing, that is certainly a possibility. Regardless of whether you want to split processes or want an all-in-one solution, the V807 always aims for the highest output.
Easy implementation in existing lines
Only one mouse click is needed to change the working direction. The hardware of our V807 is engineered both ways with our control software to manage the settings. This enables a very flexible implementation. With the 'all-in-the-box' solution, also the roller feed measuring system is integrated inside the housing. No need for additional measuring trucks or systems. Therefore the V807 can be placed between existing roller conveyors without extra effort.
YES, THIS IS THE EASIEST MACHINE TO USE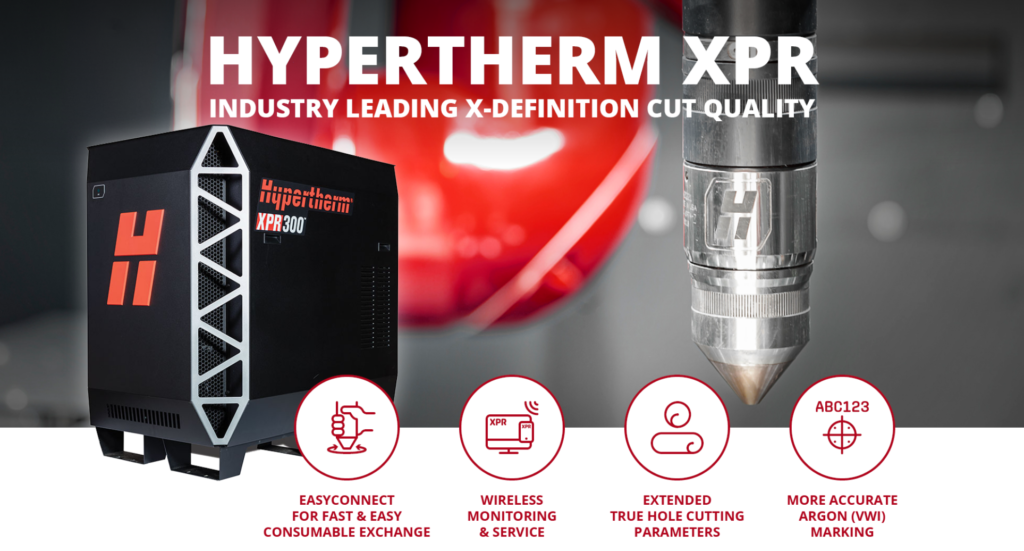 YOU CAN TRUST OUR IN-HOUSE APPROACH
At Voortman, we don't just assemble your V807—we make it. From design to installation, the entire process takes place in-house. And you reap the benefits of this! From in-house assembling and thorough testing to in-house production of our robust machine frames and cabinets. We are in full control, so you know you get a top-notch quality product!
We're not just making something that works, either—we're making something that works for you. That's why our software is fully developed in-house and is continually pushed to the limits. New updates are released regularly, focused on operator convenience and maximizing machine uptime and efficiency.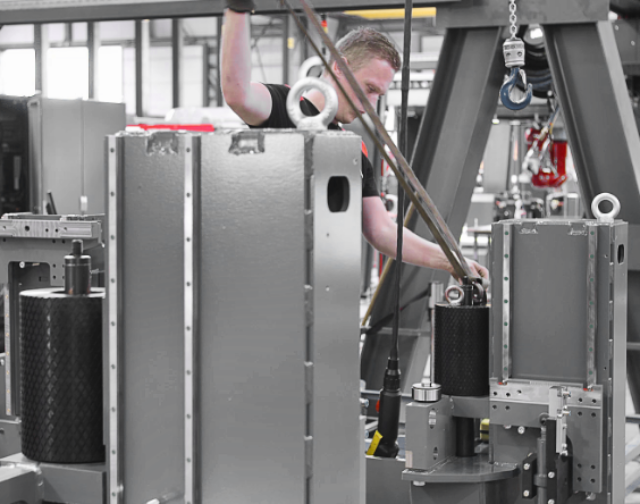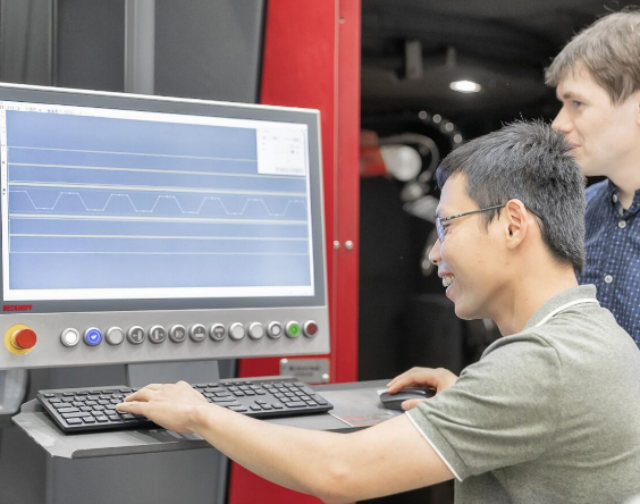 HOW OTHERS EXPERIENCED
THE INSTALLATION
SEE FOR YOURSELF:
EXPERIENCE THE SPEED!
MAXIMIZE YOUR SKILLS WITH OUR ONLINE AND ONSITE TRAINING
Unlock the full potential of your V807 with our top-notch training program. Don't let staff shortages and turnover hinder your productivity – equip your team with the knowledge and expertise they need to excel.
Our training sessions cover both theory and practice, ensuring operators understand the workflow inside out. We offer tailor-made programs to suit operators' experience level and availability, either on site or at our cutting-edge Voortman Experience Center. Step into an environment that mimics real operating conditions and experience fully focused training.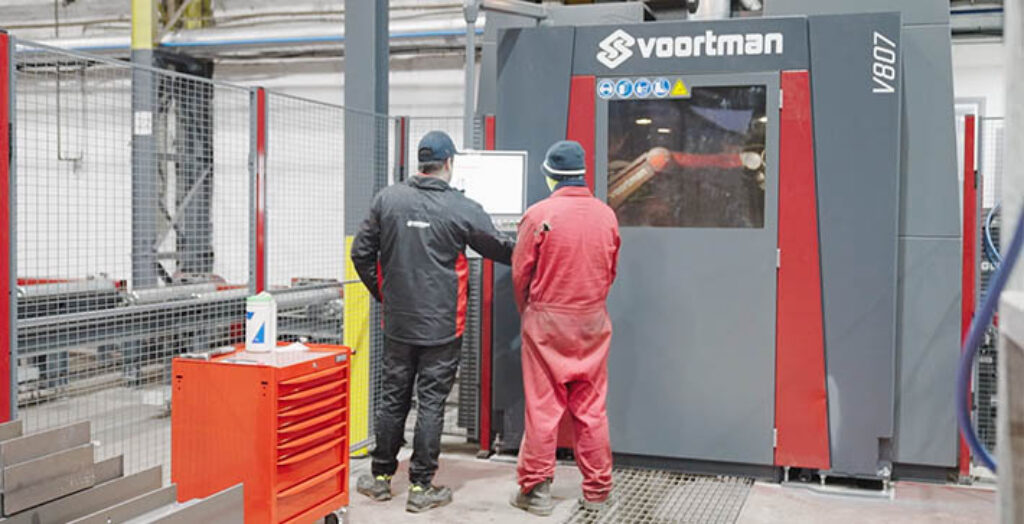 VERSATILITY IN ITS BEST FORM
WE MAKE MACHINES THAT CAN GROW WITH YOUR COMPANY
The Voortman V807 robotic thermal cutting machine is like all other machines delivered with the VACAM operating software, meaning all machines speak the same "language". This makes the V807 incredibly versatile; it can be part of a complete new layout including roller conveyors and cross-transports connected to other Voortman processing machines, or as a stand-alone processing center.

We'll work with you to come up with a solution for any situation you face – including implementation into an existing production line, or outside loading and roller conveyors. The roller-feed measuring system is completely integrated in the machine housing and offers complete freedom for planning and expansion in your workshop. You can start with a small layout and easily extend the machine with more automated logistics or add complementary machines at a later time as your business grows. Voortman makes machines that can grow with your company seamlessly when extra capacity is needed without increasing labor costs.




BUFFER MANAGEMENT
Automated infeed and outfeed with buffer management can significantly improve the efficiency and productivity of a system. When crosstransfers are added to the in- and outfeed, profiles are continuously buffered towards the datumline on the infeed. This results in higher throughput, giving operators the flexibility to allocate their time to other tasks.
AUTOMATED HANDLING
Cross transports, roller conveyors, product buffers, and material sensors facilitate smooth material movement, eliminating time-consuming operations and streamlining logistics. With raw materials entering the system and fully processed products exiting, these efficient processes optimize productivity and minimize delays.
EARLY INFEED
Introducing our profile detection capabilities that enable seamless transitions between profiles with our innovative early infeed feature. By having the next profile ready at the machine entrance while processing the current one, we save you valuable time.



CENTER OUTFEED
Profiles, irrespective of their length, are automatically aligned in the middle with a centered outfeed. Utilizing a forklift or crane simplifies the lifting process, consequently boosting efficiency and pace.
SECTIONAL OUTFEED
Organize and categorize your profiles with sectional outfeed. This efficient system separates your profiles into different sections based on length, weight, or project. Experience extended periods of autonomous production and enjoy a streamlined post-processing workflow.
UNMANNED PRODUCTION
Take control of all your Voortman machines with our VACAM software! Our user-friendly interface allows operators to effortlessly operate and switch between machines. The level of automation on the V807 promotes extended periods of unsupervised operation, thereby granting operators the freedom to devote their time to different tasks.
BE AMAZED BY ITS MODULARITY AND FLEXIBILITY
BUT WHAT DOES THIS AUTOMATION IMPLY FOR MY OPERATOR?
In a fully automated Voortman processing line, everything, from the V807 to its material handling, operates autonomously. Operators are not required to manually shift materials using joysticks. Instead, a combination of sensors and software communication can handle the tasks, ranging from loading the raw product to unloading the finished part on the outfeed. However, manual control remains an option, allowing operators to manually intervene when necessary.
Like all Voortman machines, the V807 comes equipped with the VACAM operating software, ensuring a universal "language" across all Voortman machines.

When running your V807 in a fully automated processing line, packed with high-quality hardware and intelligent software, a door opens to efficient production and intra-logistic processes. We call it Multi System Integration. Machines are seamlessly connected via our VACAM-software, cross transports, roller conveyors, product buffers and material sensors. Time-consuming material movements and bottlenecks are eliminated and complicated logistics are a thing of the past.
Raw lengths go on the infeed, and fully processed products come off the outfeed. Machines communicate with each other, and each machine is capable of producing unmanned for long periods of time, which enables a single operator to oversee several machines at once.
Simply let the system do the work and reap the benefits of Voortman's MSI and solutions.
ARE YOU ALSO EXPERIENCING
A SHORTAGE OF SKILLED WORKERS?
LEARN ABOUT THE EFFICIENCY OF WELD-READY PROCESSES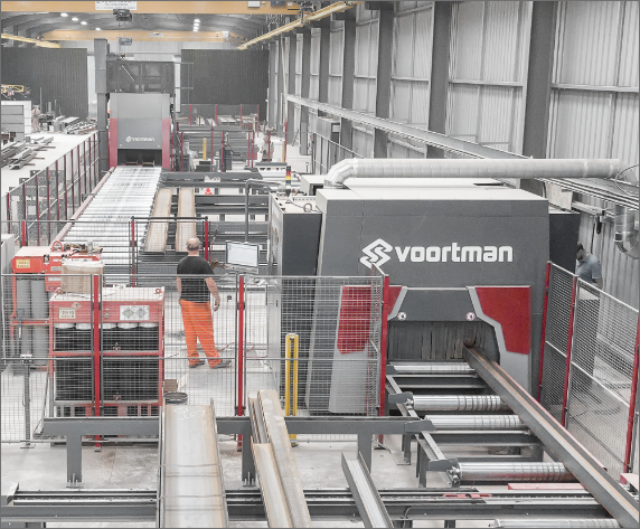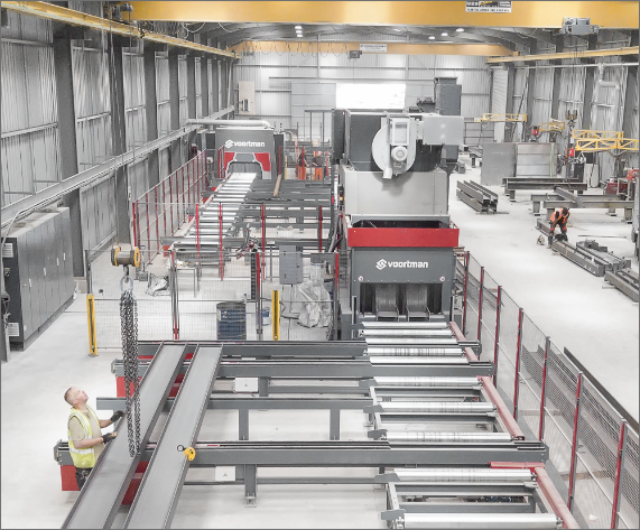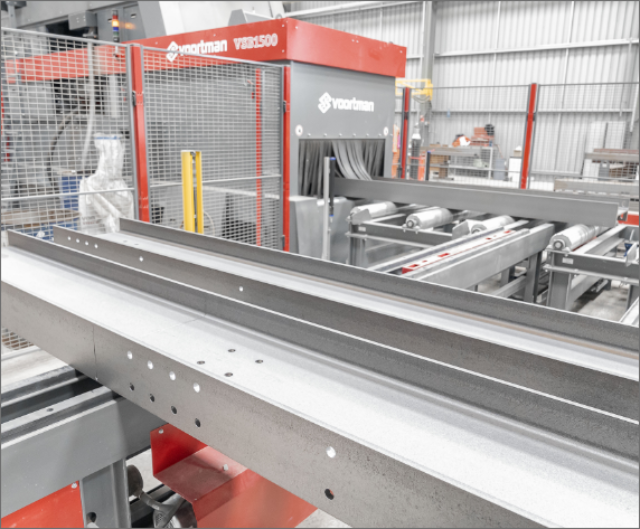 REVOLUTIONIZING PRODUCTIVITY:
THE POWER OF V807 AND BLASTING POST-CUT
The V807 has proven to be a revolutionary addition for Cahill Structures. This machine, with its ability to perform the work equivalent to five or six men in a day, has allowed the company to maintain productivity levels even with a workforce of lesser experience. Jamie is considering extending the operation of this machine into a second shift, aiming to boost their daily production to a minimum of 35 tonnes.
Unlike blasting steel pre-cut, they have found blasting post-cut to be significantly more efficient. This method delivers ready-to-weld steel, saving invaluable time and resources. The process leaves no slag and requires minimal chipping off, as it has all been blasted off. This innovative approach not only optimizes operations but also ensures the highest quality of output. It eliminates the need for their top skilled workers to engage in the time-consuming task of removing slag, thereby allowing for optimal utilization of their skills. As James would say, this process brilliantly serves their purpose.
MAXIMUM SAFETY = MAXIMUM OUTPUT
SAFELY LOAD OR UNLOAD PROFILES WITHOUT ANY SYSTEM DOWNTIME

SAVE AND YET VERY EFFICIENT
Infeed and outfeed sections are equipped with double light curtains. This allows the operator to safely activate the first light curtain without stopping production at the machines or roller conveyors. The light curtain closest to the roller conveyor is only activated if the first light curtain is activated. Profile transport stops and remains on hold when both light curtains are activated in a zone. In a multi-zone system, other zones will continue to process and transport materials, reducing downtime to a minimum.
HERE'S WHAT OTHER V807 OWNERS
ARE SAYING ABOUT OUR CUSTOMER SERVICE
Voortman V807
Voortman V807
Operating range
mm
3/8 x 2 – 18 x 44
Machine width
inch
42
Machine height
inch
106
Machine length
inch
146
Machine weight
lbs
19,000
Axis
(4 sides)
6+1
Max. material weight
lbs
33,000
Max. robot air speed
f/sec
38
Max. speed feeder rolls
f/min
197
Fume extraction unit specs
Length
inch
55
Width
inch
55
Height
inch
82
Fan volumetric flowrate
cfm
2.350
Separation efficiency
µm
99,999% *0,5
Max sound level
dBa
75
Number of filters
4
Filtersurface per filter
ft2
190