Powered by MÜLLER Opladen
Voortman MO Compact
The entry model for complex high precision pipe cutting up to 900 mm / 36"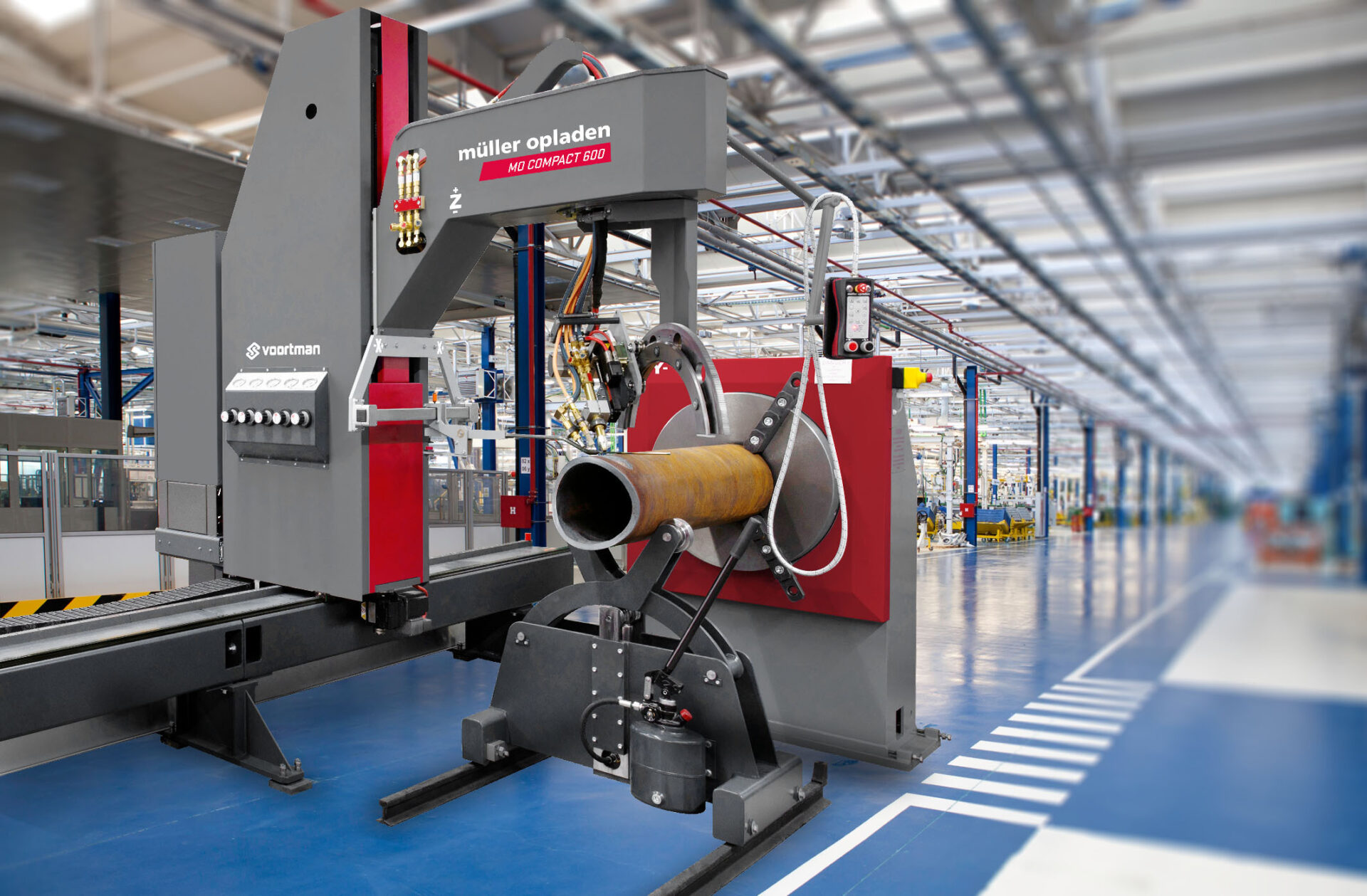 Voortman MO Compact
Hightech functions for round pipes up to a diameter of 900 mm (36") and up to a pipe weight of 4 metric tons.
Standardized, compact machines
Equipped with 6 CNC-controlled axes
3D cutting performed with plasma and oxyfuel
High-quality, reliable and accurate pipe profiling
6 AXIS PROCESSING
EFFICIENT & VERSATILE

COMPACT DESIGN
HIGH QUALITY AND RELIABILITY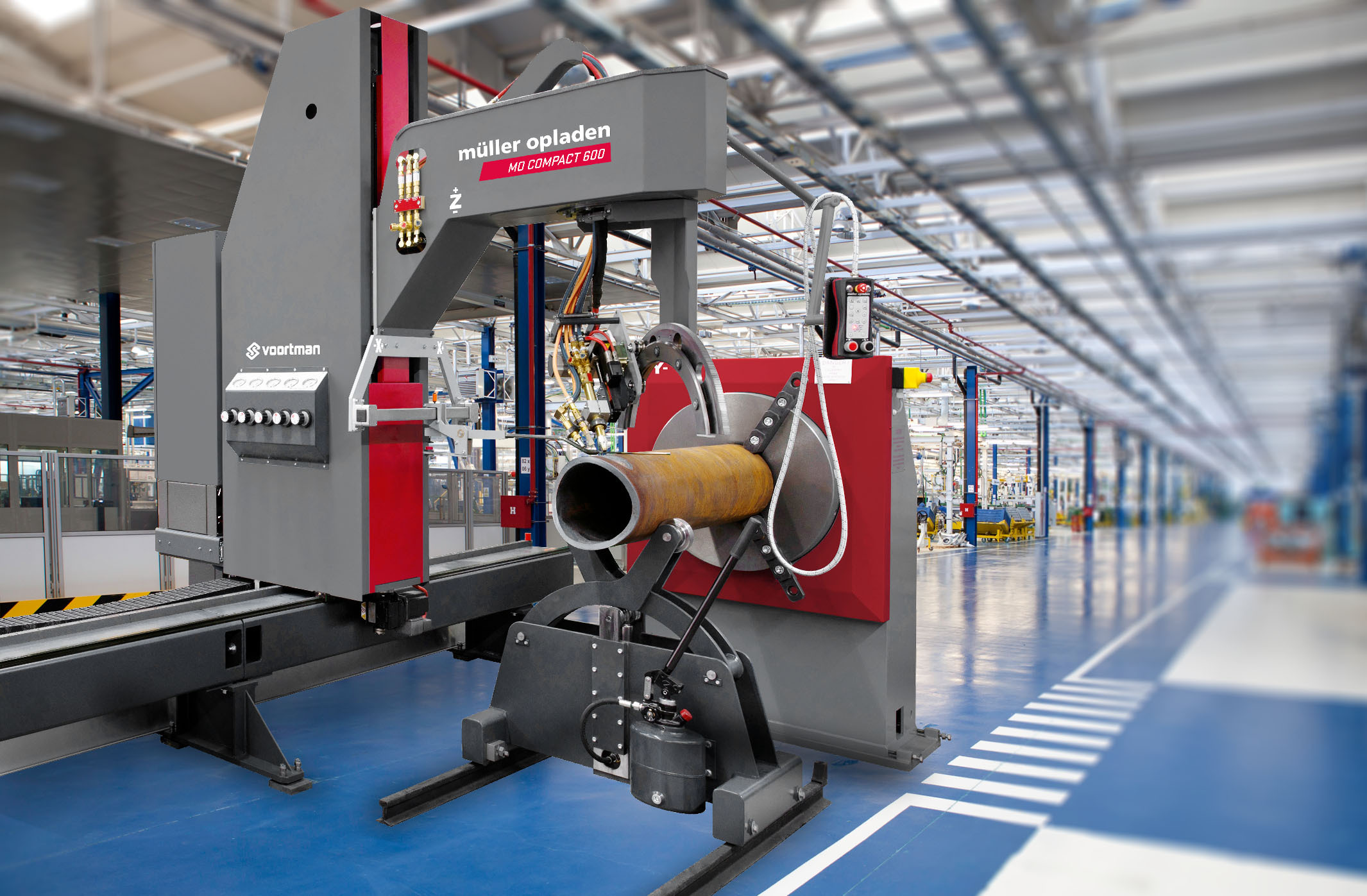 Meet the Voortman MO Compact at FABTECH
📍 Chicago, 11-14 September

Don't miss the chance to meet our brand new pipe cutting machine at FABTECH!
The Voortman MO Compact will feature in various live demos at FABTECH 2023, at our interactive booth A3575, located in Hall A.
Click the button below to find out more details:
TAILOR-MADE SOLUTIONS FOR INDUSTRIAL SECTORS WORLDWIDE
You will find us wherever pipes, tanks and other components for the metalworking industry have to be 3D cut. Owing to our leading position in the 3D pipe profiling machine segment, we serve customers on all five continents mainly in the following sectors:

Offshore plant construction
Wind turbine construction
Steel construction
Mechanical contracting
Process plant engineering
Pressure vessel construction
Shipbuilding
General plant and equipment engineering
Plasma 3D-bevel cutting
ㅤ
"With over 40 years of refinement and feedback from millions of cuts, our precision cuts are truly state-of-the-art. We've tirelessly finetuned our parameters since the dawn of the PC in the 1980s, resulting in the finest cutting quality currently available on the market. We take pride in our unparalleled expertise and dedication to the craft"
Ralf Hamacher - CEO Müller Opladen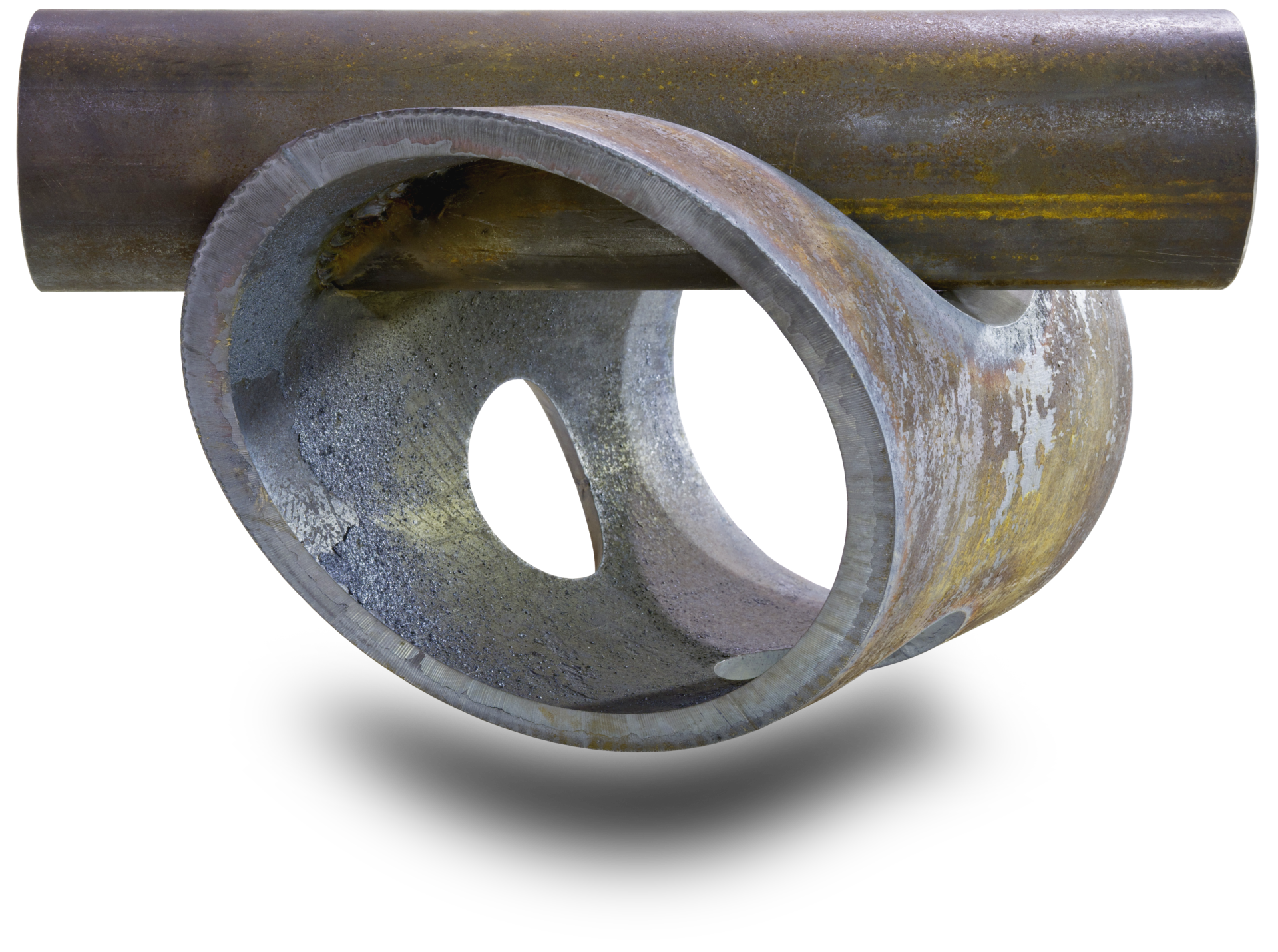 TORCH HEAD
Azimut head makes it possible to adjust the machine torch by +/- 60° within a range of 30° to 150°. The torch head can also rotate 360° about its own axis. The two axes ensure precise and quick cutting torch guidance. Torch head is protected from dust, dirt and cutting particles.
ELECTROMECHANICAL TRACER
Our machine uses a unique six axes system, compensating the best way for any irregularities of the pipe. With no added weight, our standard equipped light tracer ensures accuracy for a perfect cutting quality.
SLIDE SYSTEM
The adjustment of the distance from the torch to the pipe surface can be automatically tracked in any angle position by means of the slide system. This system maintains the right distance in order to ensure the optimal cutting quality, even in fast plasma cutting processes.
OXY-FUEL CUTTING PACKAGE
The package comprises a solenoid-valve-controlled gas supply, manometer for setting gas pressure, ignition torch, solenoid-valve-controlled cutting torch, cutting nozzle package for different cutting thicknesses and an operator protection package. With this package, it is possible to cut pipes up to a maximum wall thickness of 60 mm (2.4") or a maximum cutting length of 100 mm (3.9").
PREHEATING TORCH
The preheating torch employed yields to better cut contours. A preheating torch reduces cutting time with 50%, given a flame cutting angle of 45°.
PLASMA CUTTING
For cutting with plasma, we employ products from the American manufacturer Hypertherm, who rank among the leading companies in this line of business.
SOPHISTICATED SOFTWARE FOR PIPE CUTTING MACHINES
COROBS® & COROBS PLUS®
Our software solutions for machines and processes make the production workflow for our customers more efficient. Our thermal cutting machines make 3D contours as part of an integrated process chain rather than an isolated element.
FEATURES & PROCESSES


FOR MARKING & PRINTING
NEEDLE MARKING SYSTEM (AIRSCRIBER)
The needle marking system permits the drawing of axis lines in tank construction and the drawing of footprints in steel construction and tank construction. For the welding of previously profiled pipes it is also necessary that the two ends of a pipe meet the matching pipes from clearly defined angle positions. Marking is punched into the pipe surface. The needle marking system is situated in a separate printer housing at the cutting head and operates pneumatically.
NEEDLE PRINTING SYSTEM
The needle printing system permits the printing of texts on the pipe with different, pre-settable marking depths. The needle printing system is situated in a separate printer housing at the cutting head and operates pneumatically. This printing system has its own X-Y carriage and can therefore label very quickly without moving the machine.
LABEL PRINTING
A label printing system can also be provided. A printer positioned next to the chuck prints out the labels with information on the executed pipe cut. The label concerned can then be stuck by hand onto the cut pipe segment.
PLASMA MARKING SYSTEM
The plasma marking system of manufacturer Kjellberg is used for the marking, notching and punching of unalloyed and stainless steel pipes. The depth and width of the markings are preselected by means of the output current.
INKJET MARKING AND PRINTING SYSTEM
For complex applications inkjet printing can alternatively be used. The inkjet printer is accommodated in a separate printer housing fastened to the cutting head.
FEATURES & PROCESSES


FOR PIPE CARRIAGE
HYDRAULIC PIPE CARRIAGE WITH MANUAL SCISSOR-TYPE ADJUSTMENT
This pipe carriage supports the pipe with scissor-type carriers. It is designed for a load of 2,5 tonnes (5,500 lbs). The pipe carriage is adapted to different pipe diameters with a manually operated hydraulic adjustment mechanism.
CHUCK HEIGHT ADJUSTMENT
Chuck height adjustment becomes necessary if the pipe support solutions (fixed-height pipe carriage, manual or motorized ball gutter, motorized roller conveyor) are not height-adjustable. In this case, the machine software controls the automatic height positioning of the chuck centre based on the programmed pipe diameter.
FIXED-HEIGHT PIPE CARRIAGE WITH MANUAL ADJUSTMENT OF ROLLERS
Fixed-height carriages for round pipes are employed together with a height-adjustable chuck. It is designed for a load of 2,5 tonnes (5,500 lbs). The advantage of fixed-height over adjustable pipe carriages is that, for the many different pipe diameters, the time-consuming adjustment of the pipe carriage to pipe diameter is not necessary as the chuck is automatically adapted by its height adjustment mechanism to the pipe diameters on the pipe carriage.
MANUAL BALL GUTTER
As an alternative to the pipe carriages, the machine can be equipped with a ball gutter. Round pipes with a maximum weight of 2 tonnes (4,400 lbs) can be placed on the ball gutter. It is convenient if several pipe pieces are to be profiled out of a single pipe.
MOTORIZED BALL GUTTER
Equipped with a motor to ensure automated workpiece flow. These ball gutters are equipped with feed rollers positioned at intervals of 3,000 mm (10'). The minimum pipe length that can be carried is then 3,500 mm (11.5').
HOLD-DOWN DEVICE
Pipes that are curved tend to flop over when rotated on the pipe carriages or on any of the other alternative support solutions. (this applies particularly to thin-walled pipes with small diameters). The pipe may then collide with the torch head and inaccurate cuts may arise. To rectify this problem, pipe carriages and the other alternative support solutions can be equipped with a pneumatic hold-down. This hold-down is designed for pipes with a maximum diameter of 160 mm (6.3").
STREAMLINE LOGISTICS, SIMPLIFY HANDLING
AND BOOST PRODUCTIVITY WITH AUTOMATION
Our automated logistics solutions come equipped with infeed racks, infeed conveyors, cutting conveyors, outfeed conveyors, and outfeed racks for streamlined performance. Advantages of our systems include easy pipe handling and up to a 30% increase in productivity.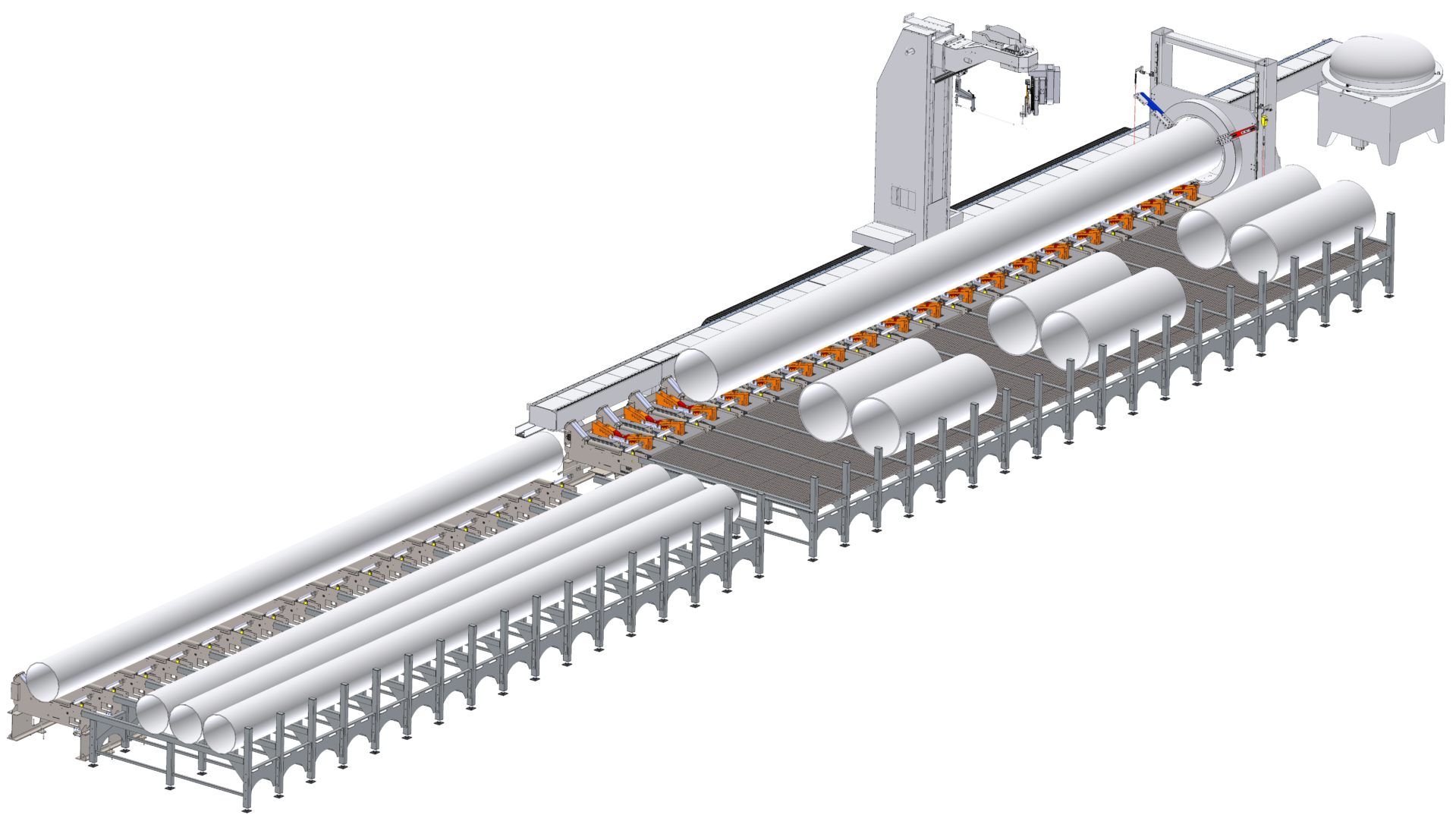 Voortman MO Compact Series
400
600
800
900
Weight of standard machine
lbs
9920.802
11023.11
12125.42
13227.74
Number of CNC axes
axes
6
6
6
6
Max. workpiece weight
lbs
8818.49
8818.49
8818.49
8818.49
Min. - max. clampable round pipe diameter
inch
2 - 16
2- 24
2- 32
2 - 36
Min. - max. cuttable workpiece length
inch
11 13/16 - 472 7/16
11 13/16 - 472 7/16
11 13/16 - 472 7/16
11 13/16 - 472 7/16
Min. - max. wall thickness for cutting with oxy-fuel /plasma
inch
3/16 - 2 3/8 / 3/16 - 1 3/8
3/16 - 2 3/8 / 3/16 - 1 3/8
3/16 - 2 3/8 / 3/16 - 1 3/8
3/16 - 2 3/8 / 3/16 - 1 3/8
Max. torch angle
°
+/- 60 / 45
+/- 60 / 45
+/- 60 / 45
+/- 60 / 45