Introducing
The Voortman Fabricator
automated fitting and full-welding machine for the steel fabricating industry
Scroll
YOUR SOLUTION TO THE SHORTAGE OF QUALIFIED WELDERS
The construction industry is witnessing rapidly changing market requirements, causing several increasing challenges for structural steel fabricators. The most frequently heard challenge is the pressing need to deliver projects on schedule in combination with consistently decreasing availability of skilled fitters and welders.
This is where The Voortman Fabricator comes in, a groundbreaking automatic welding system for structural steel.
Introducing the Voortman Fabricator

The Fabricator is the premier welding system for structural steel, whose flexibility lets you choose on-the-fly between Fit & Weld or only Fit. We offer the quickest turnarounds, maximum efficiency in space utilization and choice-based flexibility - that's what makes our ROI the fastest on the market.
Ensure on-schedule project with reliable and flexible welding capacity;
Access a flexible workhorse free from staffing constraints;
Achieve consistent, high-quality welds, beat material tolerances;
Secure the quickest return on investment in the market.
HIGH
EFFECTIVE ROI

Excels in speed, agility,
space utilization,
and effortless implementation.

SMALL
FOOTPRINT
Takes up significantly less space than manual welding
VERY
FLEXIBLE
Unlike other systems,
The Fabricator offers
both fitting only and
full welding options

EASIEST IN
THE INDUSTRY
Comes with
automated tools that
make work preparations
unbeatably simple


COMPACT DESIGN
AND SMALL FOOTPRINT
Meet the ultimate solution for structural steel fabricators looking to optimize their workspace and streamline their production processes. With its tracks conveniently positioned on one side, loading and unloading are simple to complete. The Fabricator is a space-saving system that fits easily, even in smaller workshops, thanks to its compact design and small footprint.
PROFILE LENGTHS UP
TO 60 FT. (18M)
Welding lengths of up to 18m (60 ft.) make it the ideal choice for handling large-scale welding projects. To ensure even more precision and flexibility, the tracks are exceeding the maximum welding length. This enables the robots to select an optimal track position for welding, while also avoiding singular positions. With this advanced feature, the Fabricator provides maximum efficiency and output, allowing for faster completion of projects while maintaining high-quality standards.
EASY TO OPERATE IN
ANY ENVIRONMENT
You can load with a forklift, side loader, or overhead crane, making it easy to operate in any workshop. Choose the method that works best for your specific layout and needs.
FAST ROTATIONS FOR
MOST EFFICIENT FLOW
Designed to deliver efficient and reliable welding, makes this the ideal system for large assemblies with multiple components. Robust main beam rotation allows for quick movement between weld positions, ensuring a maximum number of parts are attached in less time - making this the most cost-effective choice.
Meet the NEW Voortman Fabricator at FABTECH
📍 Chicago, 11-14 September

Don't miss the opportunity to witness the solution to the shortage of qualified welders at FABTECH!
The Voortman Fabricator, a groundbreaking technology that simplifies your daily welding tasks, will be unveiled for the first time at FABTECH 2023.
Join us and become part of the future of welding.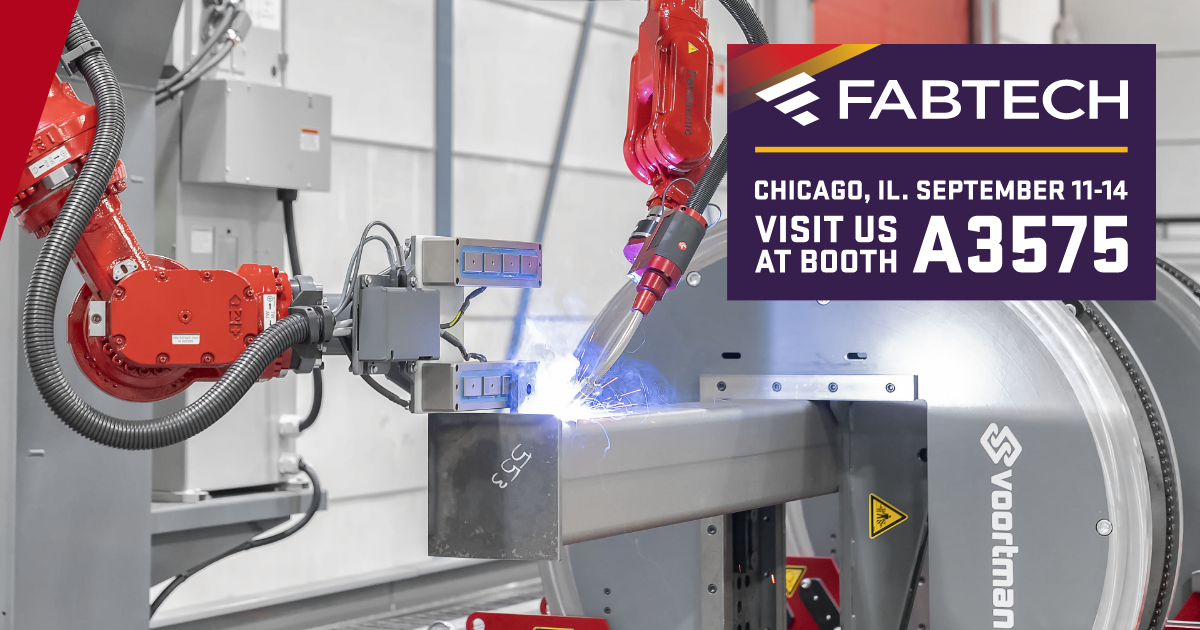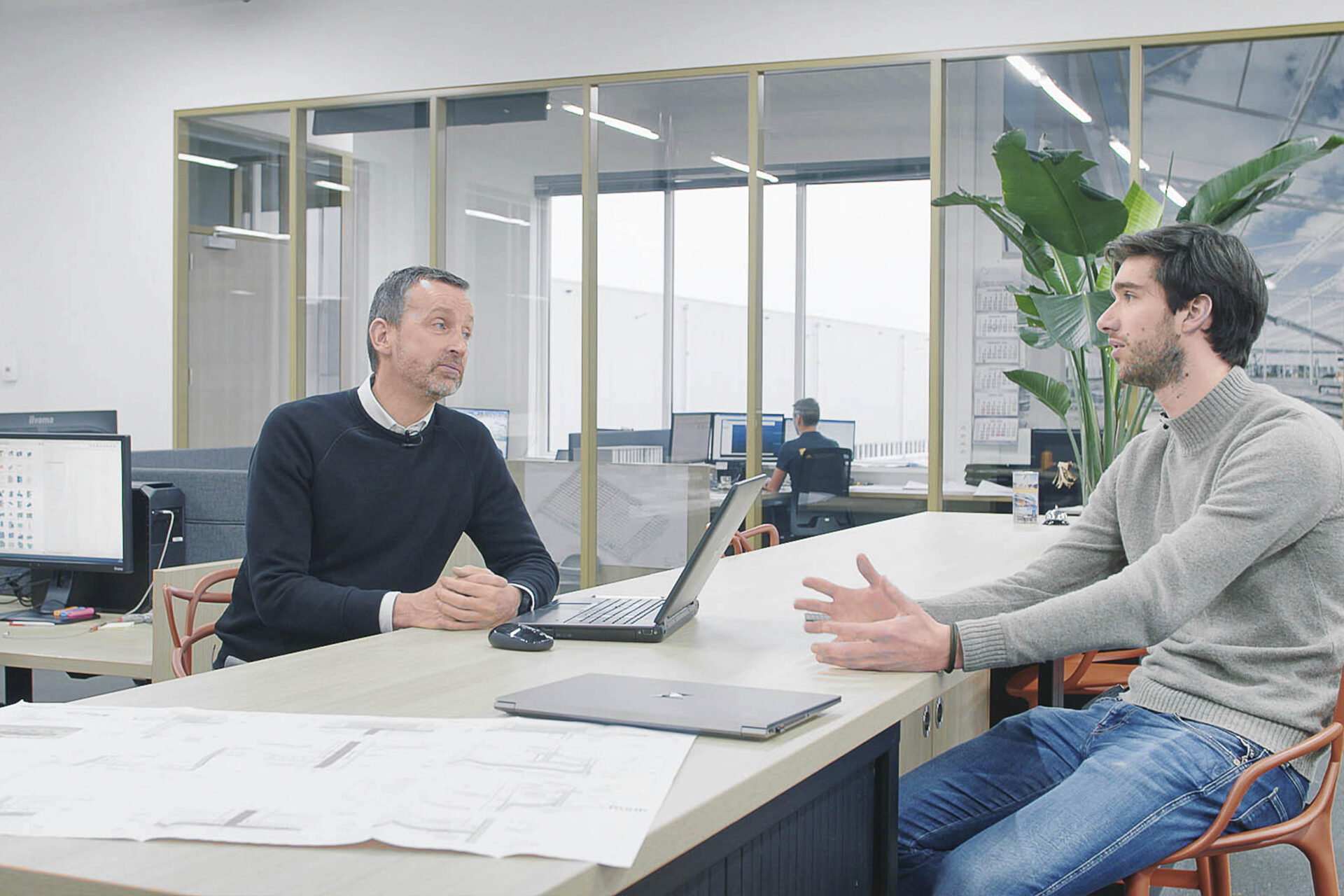 "We believe that the work you save at the back end of your production should not be pushed to the front end. We are committed to upholding this principle by providing solutions designed to make sure it doesn't happen"
HENKJAN VOORTMAN - APPLICATION ENGINEER
HIT THE GROUND RUNNING
With their easy setup process, our automatic welding robots really stand out from the crowd. But also our focus on work preparation is critical, as the success of your machine and its ROI are both highly dependent on thorough detailing and preparation.
THE CONVENIENCE OF DIGI-WELD
For decades, the structural steel industry has already relied on 3D Steel Engineering systems for a designing even the most complex structures. However, this technology was till recently still focused on generating 2D workshop drawings from a model. It wasn't designed with robotic welding in mind - meaning that retrieving digital weld data from engineering models is not a very straightforward task. To bridge the gap between manual and automated processing this data, we use DIGI-WELD: an innovative fully cloud based tool which unlocks the potential of fully automatic welding while maintaining accuracy and quality assurance standards.
DIGI-WELD is a must for The Fabricator, providing automated weld checks & fixes to simplify the complex decision-making and assessment process of welding projects.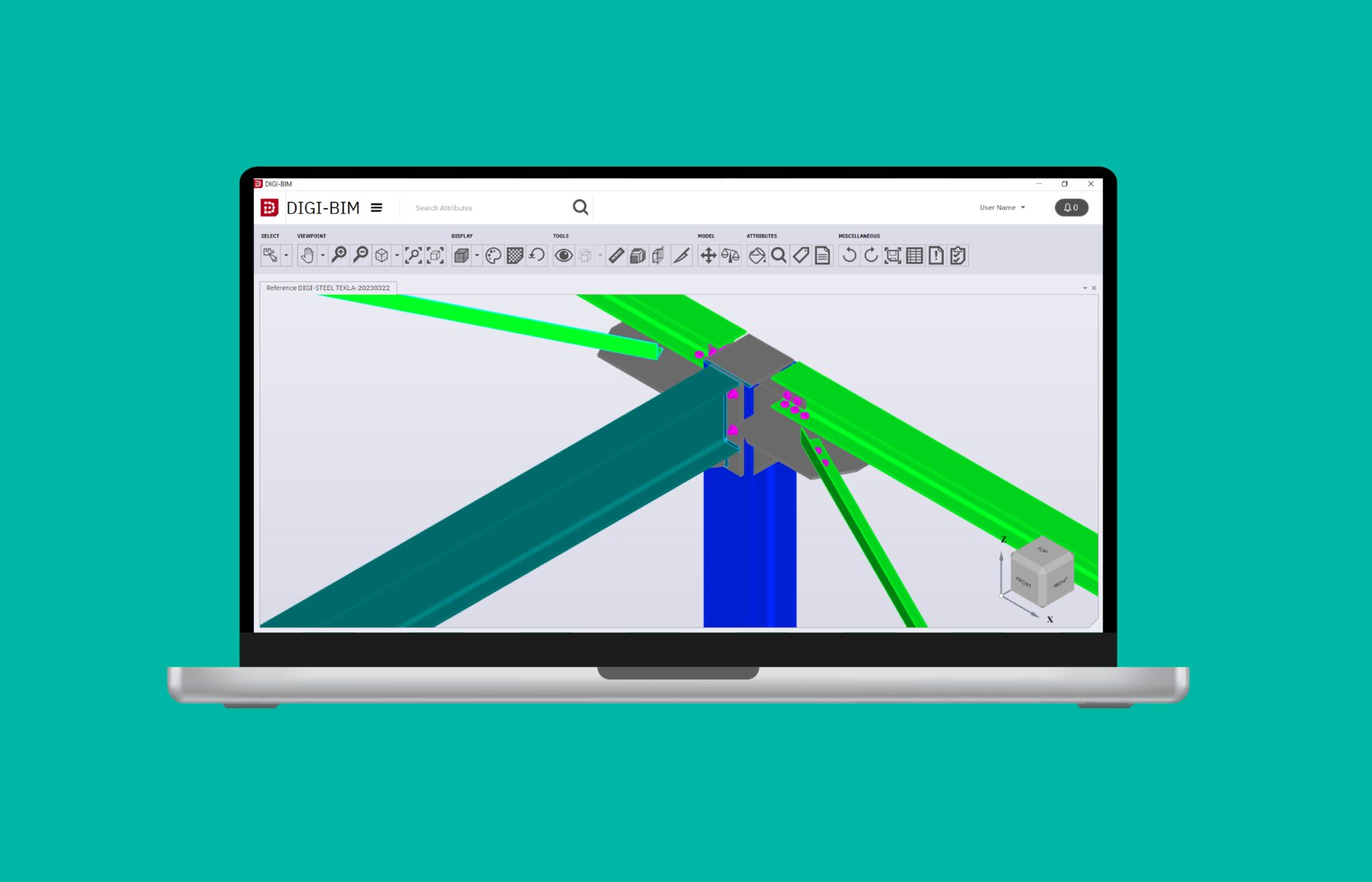 SIMPLIFY YOUR PRODUCTION TASKS WITH DIGI-WELD
EFFORTLESSLY STREAMLINE YOUR WORKFLOW WITH OUR EASY-TO-USE SOLUTION.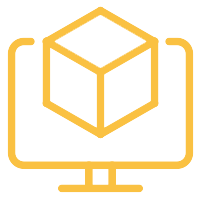 STEP 1
EFFORTLESS EXPORT OF 3-D MODELS
Our platform seamlessly integrates with Tekla using a dedicated Plugin, offering the export of models to the cloud with recognition of changes to every exported element, including Assembly, Part, weld and bolt data. This ensures you are aware of changes without the strain of manually checking.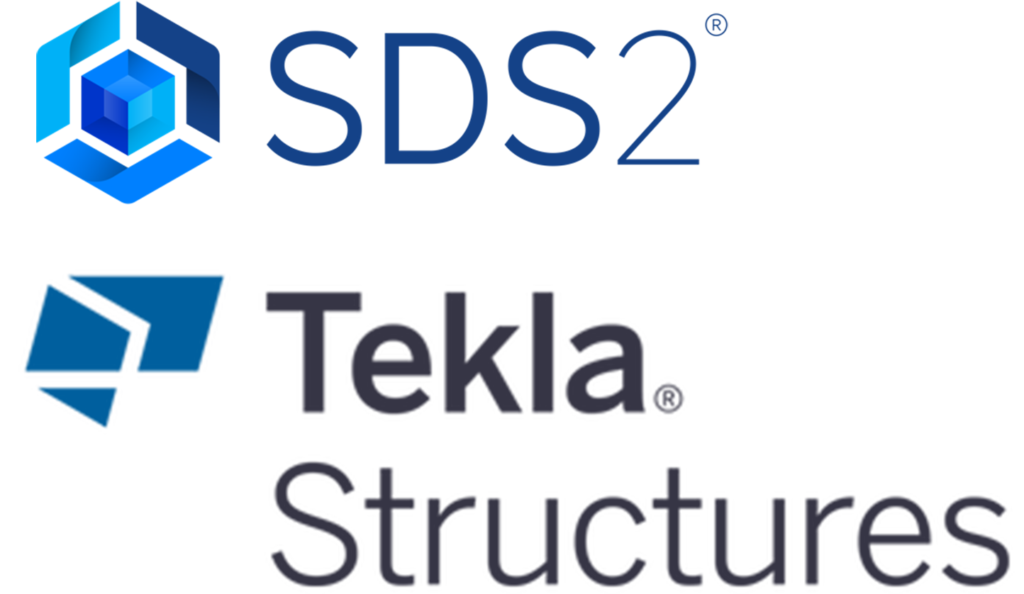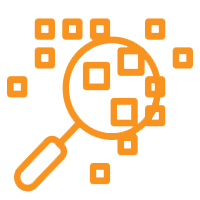 STEP 2



AUTOMATED WELD MAPPING
DIGI-WELD provides users with a visual representation of the entire 3D model. The process of model remap is operating seamlessly in the background. By utilizing configurable feasibility filters, users can quickly pinpoint and masterfully manipulate phases and assemblies that are Fabricator processing ready. It even offers advanced features such as weld restructuring and weld path generation to streamline the fabrication process.
During the remapping process, DIGI-WELD systematically restructures welds and efficiently generates weld paths for all connections throughout the model.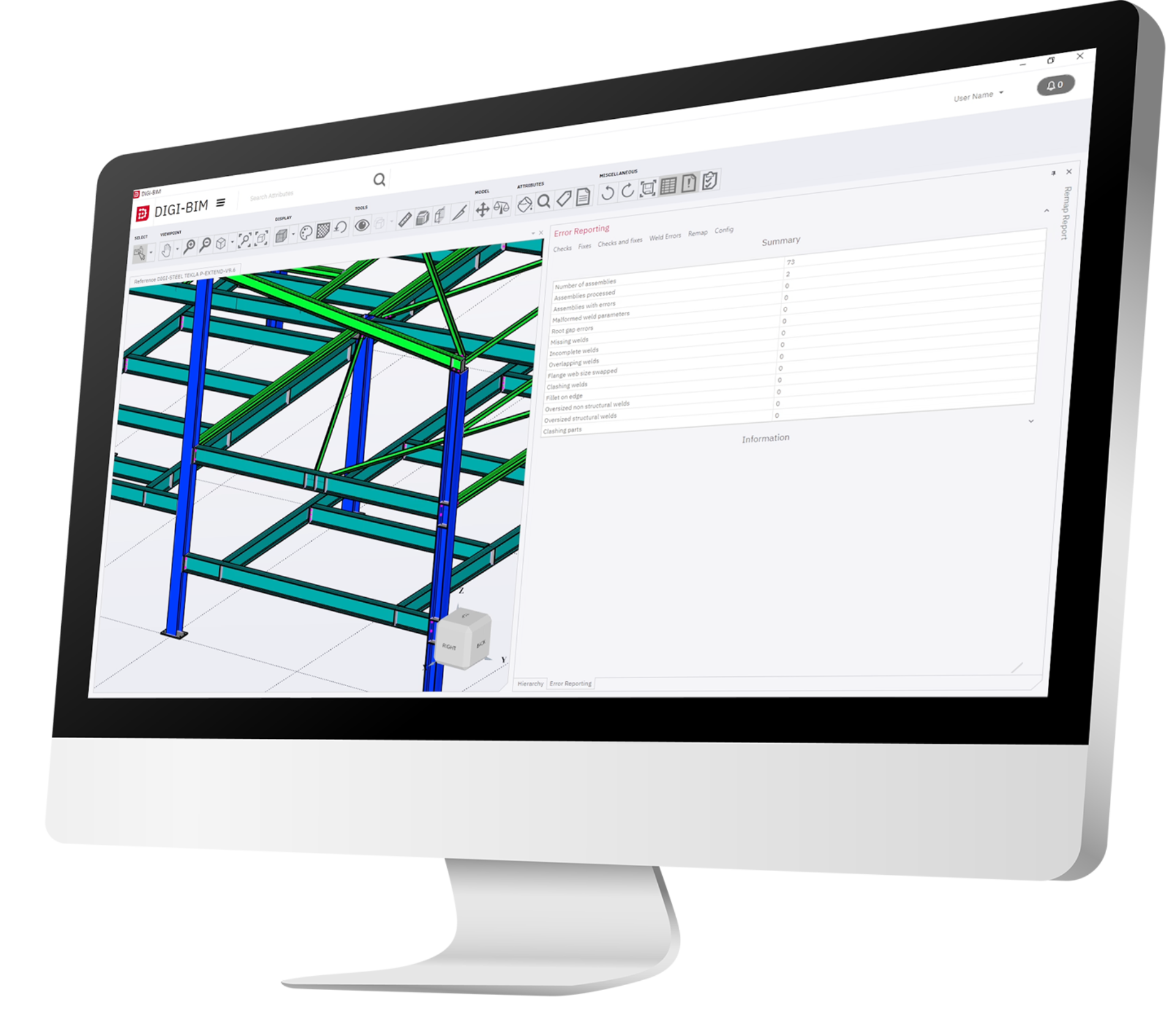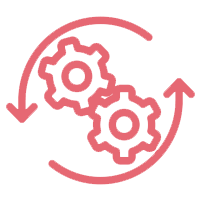 STEP 3
GET ERROR FREE MODELS
Within the DIGI-Weld cloud tool kit you can re-map the modelled welds to represent the true flow of each welds path. Automated tools are capable of detecting and correcting any mistakes in entire models all in one go. This includes missing welds, incomplete fillet or edge welds, overlapping or clashing fillet or edge welds, and overlapping or clashing ones without sufficient land coverage.
With these tools at your disposal, you can rest assured that your work will be error-free. All verification and resolution of issues are handled in a secure cloud environment. With cloud computing you gain the ultimate flexibility; all your data can be accessed from any device, anytime. Plus, important calculations are done remotely in the cloud, so you can continue within DIGI-weld without delay.
VACAM receives all data formatted in a unique Voortman format. Our innovative data format has been specifically tailored to the needs of our machines and processes. This proprietary development enables us to surpass previous limitations and maximize our full potential.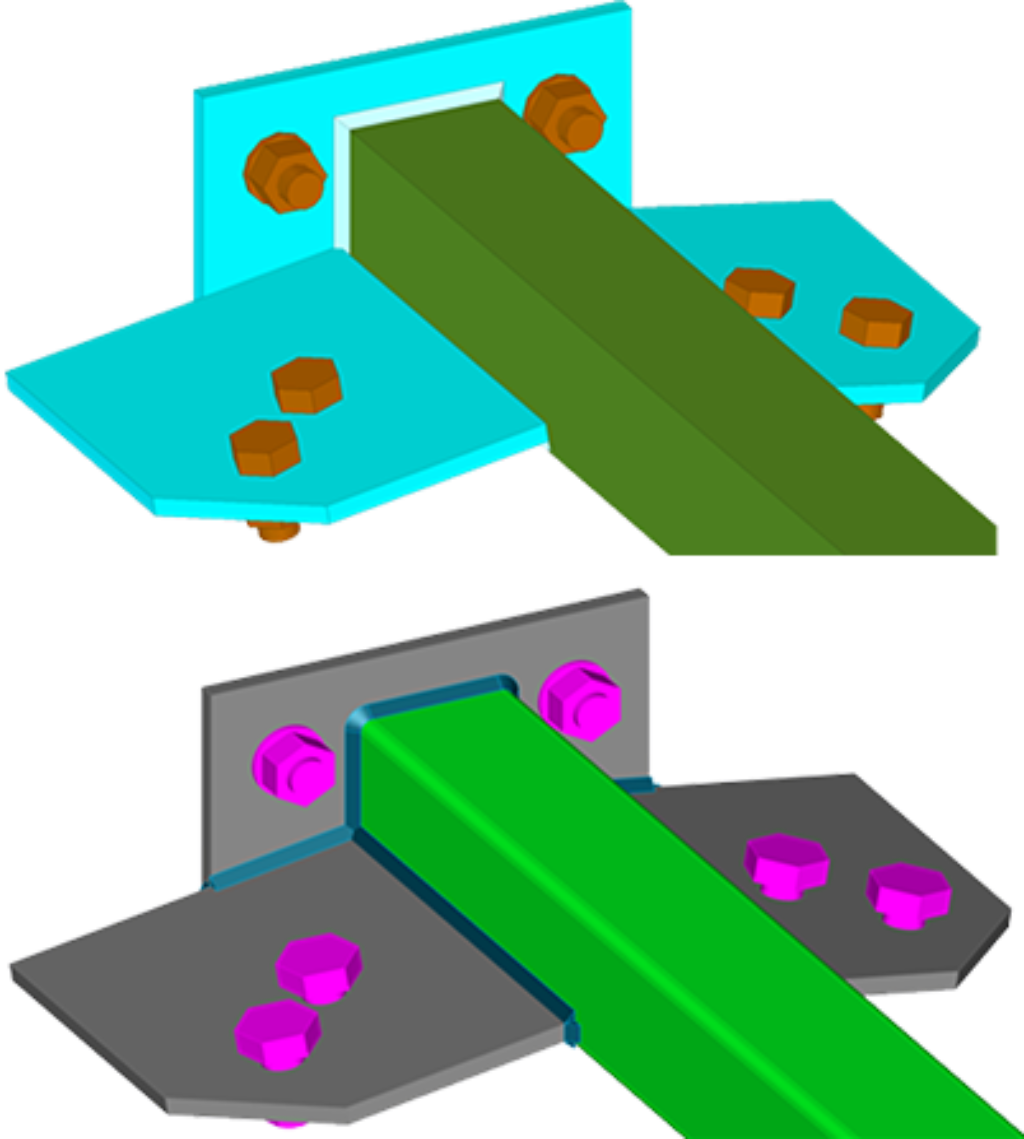 STEP 4
EVERYTHING YOU NEED IN ONE PLACE
Consider using DIGI-WELD as your one-stop distribution platform. The tool automatically verifies and repairs weld data for your entire engineering model, proving to be an optimal starting point for planning both Fabricator jobs and manual welding tasks. Combined with its user-friendly interface and comprehensive features, there is nothing to stop you from streamlining your workflows with increased efficiency and productivity.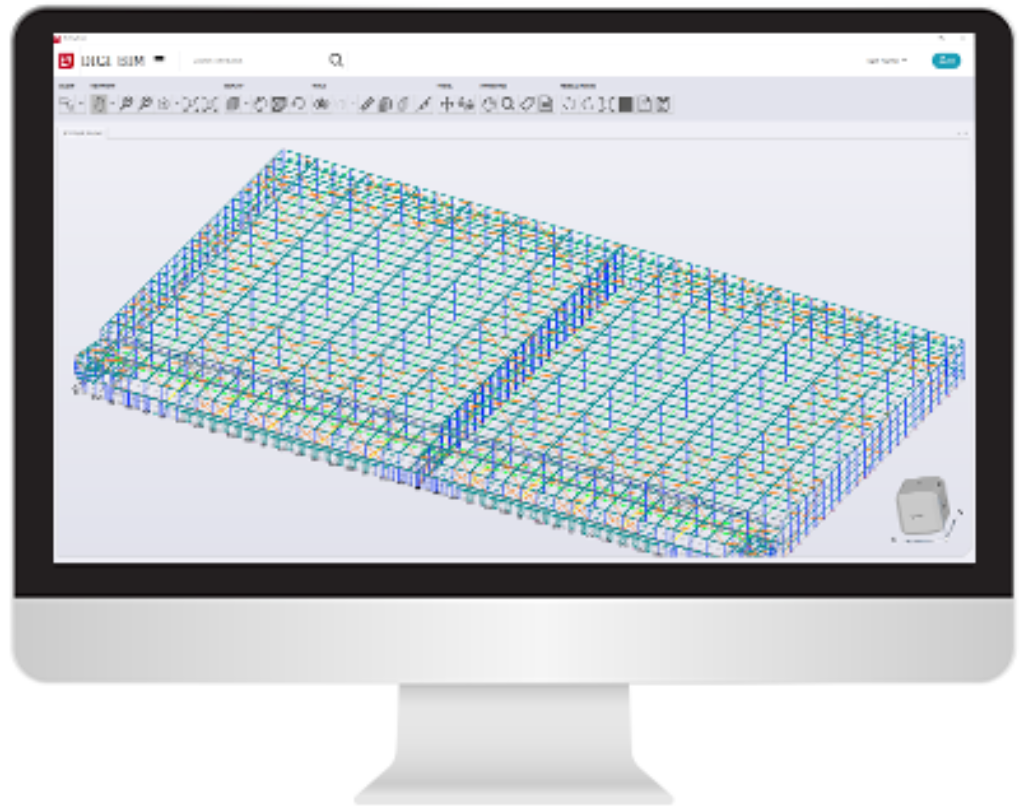 STEP 5



MAKE INFORMED DECISIONS
VACAM determines the feasibility of assemblies, production times, and more, so you can make informed decisions. It considers factors like weight, size and torch accessibility in order to determine whether a particular assembly should be fully automatically welded, partially automated or handled completely manually.
DIGI-WELD integrates smoothly with VACAM, streamlining production so that after importing from DIGI-WELD, no manual operation on the machine is necessary. This creates a seamless production pipeline, in which all you have to do is start production.
If an assembly cannot be welded fully,VACAM provides extensive, detailed information on which portions can and cannot be welded, with full explanations for each. VACAM also calculates the work sequence based on maximum efficiency while keeping the thermal formation of both the main and sub-assemblies in mind, ensuring high quality results every time.
You don't have to worry about time loss during processing. It performs fast 270-degree rotations, so it doesn't matter which side is being processed. With these valuable resources, you can make informed decisions about how best to advance within your workshop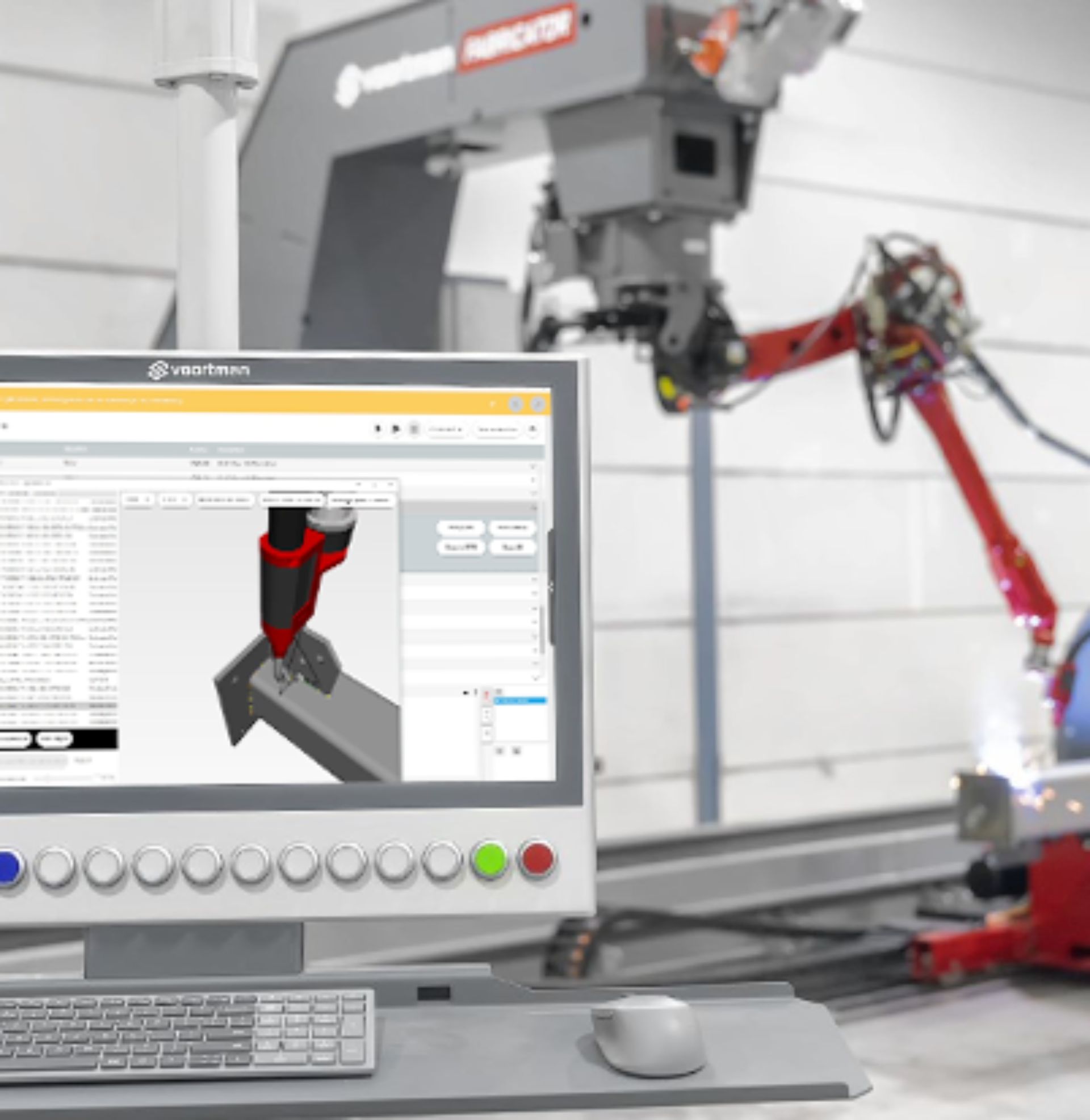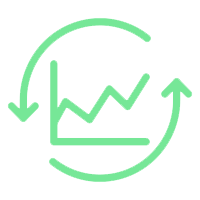 STEP 6



MAKE VALUABLE ESTIMATIONS
Time is money, and with manual estimates for complex processes like assembly and welding becoming increasingly difficult to manage, having a reliable software solution such as VACAM can really help. It assists in proper estimations while providing insightful data on production. VACAM compares empirical welding times to predicted ones and highlights lengths of all welds, complete production timelines and their respective production status updates. With VACAM, predictions become more accurate, work time more efficient, and a sharper margin for profitability can be attained.
The Fabricator is made compatible with our real-time production dashboard EVI, Extended Voortman Insights. EVI is an excellent solution to reduce production downtimes in your machines while helping to keep your productivity on track. With EVI, you gain insight into the production output, machine productivity history, and reasons for downtimes.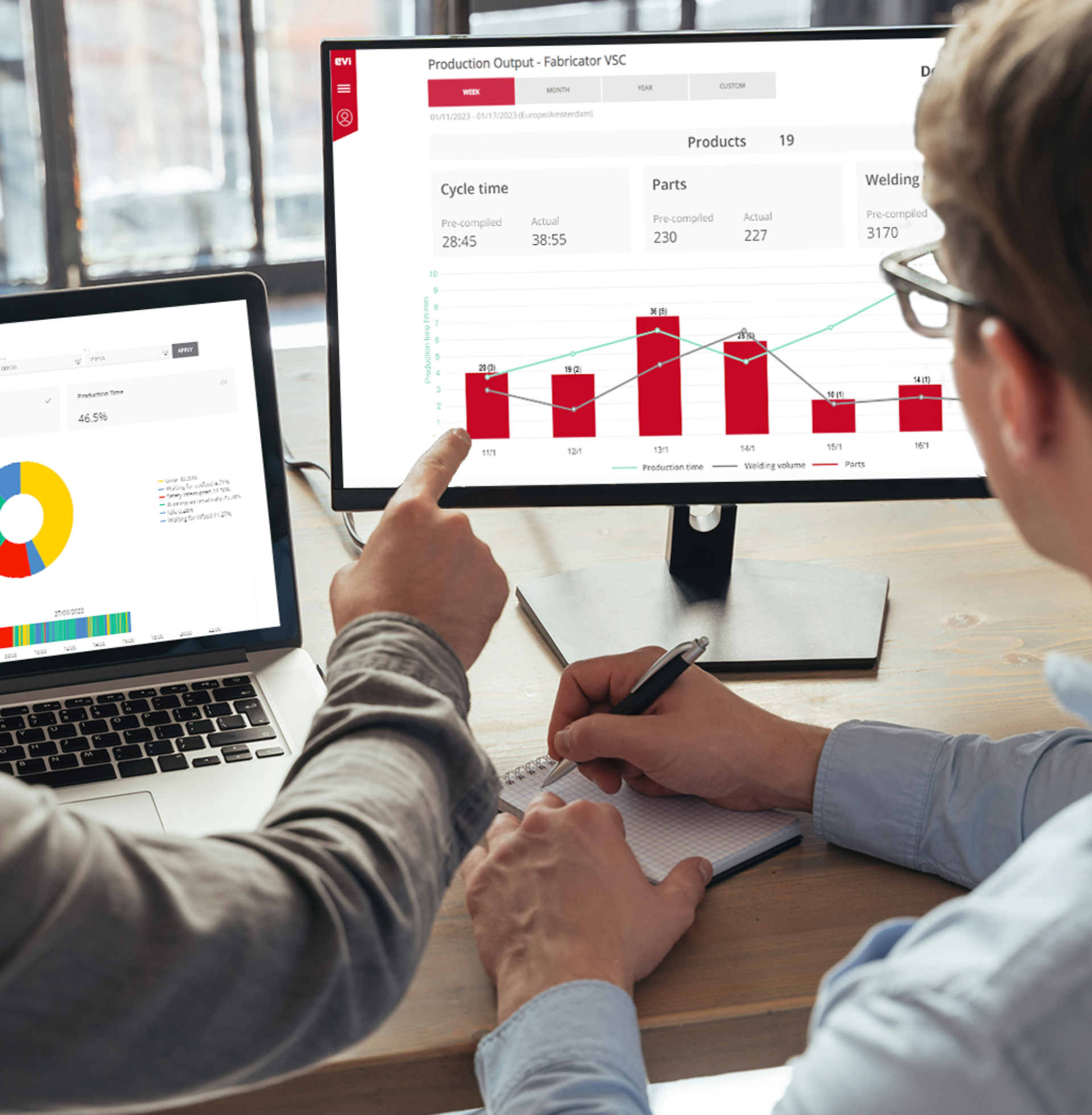 IMPORT DATA INTO FABRICATOR CONTROL FROM AN OFFICE ENVIRONMENT
WITH NO VISIBLE INTERRUPTION FOR OPERATORS RUNNING MACHINES

VALIDATE FROM THE OFFICE



Ensuring a high up-time with the Fabricator is key to achieving optimal ROI; limiting disruptions in production helps pave way for successful operation. With VACAM Office edition, work preparers can quickly import data into Fabricator control from an office environment with no visible interruption for operators running machines. The software validates imported information to guarantee everything is correct before it's processed - allowing your operator to press the button and walk away without any worries.
OPTIMIZED WELD PARAMETERS
VACAM office edition makes it easy to decide which assemblies should be produced on Fabricator. With its automated pre-check, VACAM will deliver a suitability percentage for each assembly imported and this info can even be exported and shared with external MRP software like DIGI-STEEL.
Assemblies ready for production on the Fabricator are released from VACAM Office and appear directly onto the VACAM control panel of the machine. The VACAM software ensures weld quality meets applicable standards by optimizing parameters to achieve desired results.
EXCITED ABOUT DIGI-WELD?
Simon Inman showcases how easy it is to use DIGI-WELD.
During the remapping process, Simon demonstrates DIGI-WELD's ability to efficiently restructure welds and generate weld paths for all connections in the model. The next step is the check and fix function, which utilizes automated tools to swiftly identify and correct any errors in the entire model at once. With everything accessible from the cloud, you can judge its power for yourself--try them out!
EVERY FABRICATOR SYSTEM INCLUDES HIGH END INDUSTRIAL COMPONENTS AND FEATURES:
Industrial, 6-axis Panasonic arc welding robot
Industrial, 6-axis Panasonic handling robot
Single 'One Side' Robot track type;
Build-in 450A welding power source type SP-Mag / Hyper Dip;
Water cooled welding torch with quick disconnect system;
Compressor cooling with temperature control;
Mechanical torch cleaning unit;
Wire Wizard package;
Rotational positioners with hydraulic clamping. Payload up to 6.000 kg / 13.227 lbs. for 3 rotators;
Track for (motor driven) positioners for optimal positioning and grounding;
Automatic machine calibration;
Automatic Tool Center Point calibration;
Part table for positioning parts to be picked up by the handling robot;
Complete safety according to UL /RIA;
Autonomous weld path generation from 3-D engineering model till production;
DIGI-WELD work preparation software
CONSISTENCY, ROUND-THE-CLOCK
Its advanced optical sensor and powerful laser line projector deliver quality control and product recognition. Next to that, it's fast rotators guarantee the most efficient assembly order, and Panasonic's controller is renowned for being the fastest and most powerful model on the market. Welding paths are automatically generated by VACAM, allowing you to automate welding processes with ease and minimal human intervention.
Quality control and product recognition
Voortman's Fabricator integrates an advanced optical sensor with a powerful laser line projector that captures 98+ million accurate points of data. It scans for plate thicknesses, outside contours, and inside contours to ensure top-notch quality control as well as product recognition. Exceptionally fast rotators enable The Fabricator to determine the assembly order all on its own - to perform all operations in the most efficient order!
Advanced laser scanning
Get highly accurate measurements for your profiles with Laser Scanning technology. Our professional-grade laser projector detects any irregularities or corrosion. With a scanning area of 500 mm and advanced optical sensors, our technology provides reliable and unmatched accuracy compared to traditional measurement techniques. Perfect for repetitive work, you can trust in our technology to maintain the highest level of accuracy and quality that your production demands.
Auto-generated weld paths
Panasonic has extensive experience in robotics and automation, and they've applied that know-how to create a controller that is fast and powerful. What makes it even more unique is the extensive integration between the Panasonic controller and Voortman's own VACAM machine control. As the weld paths are not manually programmed or taught with a pendant, but completely automatically generated from the 3D engineering model completely autonomous by the VACAM control system, this integration is key to a smooth and completely autonomous process.
Better practices and overall better results
The Fabricator improves your overall construction quality with its automatic measurements, ensuring consistent accuracy and high precision. No more manual adjustments can be made – something that qualified welders could previously only attempt to do and not 100% guarantee end-quality. After multiple rejections of a profile, The Fabricator makes you think about alternative choices in processing or even constructing structures. Which result in overall better practices and improved detailing; this affects both automated welding tasks as well as those performed by your skilled personnel!
ELIMINATE WAITING TIMES - MAXIMIZE UPTIME AND OUTPUT
With VACAM software controlling longitudinal positioning and swift beam rotation, you'll enjoy a production flow that is faster and more efficient than ever before. Plus, the Fabricator's clamping system eliminates the need for costly re-measuring. Panasonic's welding robot revolutionizes weld quality with its lightning-fast 250 times faster communication speed. Flexible notifications will alert operators of any issue so they can quickly address it without disrupting production.
High speed rotators
With the VACAM software controlling longitudinal positioning, coupled with swift beam rotation – you get a welding process flow that's as fast and efficient as it gets! Eliminating time wasted by having to finish one side before switching to another – powering up productivity like never before.
Safety first
At Voortman, safety is a priority and we offer safety devices for our machines to help minimize safety risks. Connected to the machine's control system, safety devices can be installed to trigger when safety zones are entered, preventing hazardous situations from occurring. As soon as the safety zone is triggered, the machines will shut down or run at a 'safe low speed' for maximum uptime and safety. Reset buttons are then available at the end of each light curtain and guard for easy access when it is safe to do so, ensuring an optimal overview on any safety zones activated.
No need for re-measuring
The Fabricator ensures that beams stay clamped during the welding process, eliminating the need for costly re-measuring. Traditional systems often require manual turning or tilting which can be both slow and inefficient. With the Fabricator you get fast rotating assemblies without any of these extra steps - saving precious time in your production workflow!
Super-fast data handling
Fabricating assemblies with numerous welds, complex parts and a lot of attached add-ons is a tricky endeavor - but not for our Fabricator. Armed with cutting-edge industrial PC tech, lightning-fast solid state drives it's capable of high-speed calculations for an optimal tack order and welding approach. This Fabricator guarantees efficient fabrication, plus an Uninterruptible Power Supply (UPS) for no-worries protection against power cuts and preserving data.
Flexible notifications
With the Fabricator, operators never have to worry about taking their eyes off the machines. If something requires attention during a job run, an alert will be sent out so that production can keep running at maximum speed with minimal disruption. Plus VACAM's flexible notifications let users customize how and when important events happen - leading to smoother operations and increased efficiency in any workshop setting!
Remote support with rapid responses
Voortman is dedicated to ensuring maximum uptime and output of your fabricator with our support services. Our comprehensive support package includes up to four cameras for video monitoring, allowing us to rapidly respond to any issues that may arise. At Voortman, safety is a priority and we offer safety devices for our machines to help minimize safety risks. Connected to the machine's control system, safety devices can be installed to trigger when safety zones are entered, preventing hazardous situations from occurring. As soon as the safety zone is triggered, the machines will shut down or run at a 'safe low speed' for maximum uptime and safety. Reset buttons are then available at the end of each light curtain and guard for easy access when it is safe to do so, ensuring an optimal overview on any safety zones activated.
WATCH NOW!
WEBINAR | ROAD TO SMART FACTORY
Reijrink and Voortman have formed a partnership to create a win-win situation. Reijrink is now able to automate its full production process with the arrival of the Fabricator. Voortman is utilizing this opportunity as a test for their machine, collecting data to expand system possibilities and increase production capacity.
Watch and learn from the steps they have taken. How do they deal with automation? What is the impact on personnel and work preparation?

VERY FLEXIBLE
Advanced robotics handle every step of production, from fitting add-on parts to full welding. This allows manual welders and assemblers to focus their energy on higher reward projects instead of routine duties. The Fabricator's versatility also enables it to scan, assemble and weld plates of all shapes and subassemblies with minimal effort. Plus, switch tables can easily be swapped for maximum efficiency during long production runs.
No more manual fitting
The Fabricator is a real time-saver - eliminating the laborious notion of traditional fitting and lay-out marking! A handling robot does all the heavy lifting, picking up necessary add-on parts from a table and precisely positions them onto main beams for impeccable welding by the welding robot. With the power of both assembly and full welding under one roof, nothing beats a Fabricator.
What else is on the table
Thanks to its versatility, it can scan and assemble plates of all shapes - angles, box- and I/H sections and even pre-welded T's made from plates! Furthermore, subassemblies? No problem: the machine will recognize them correctly in order propel production efficiency by reducing logistics tasks. The Fabricator never slows down - an empty table can be quickly swapped with a full one while the Fabricator remains hard at work.
Around-the-clock workforce
The Fabricator revolutionizes the welding and assembly processes, providing an around-the-clock workforce to undertake routine jobs. This allows manual welders and assemblers to spend their time on more valuable projects with greater rewards. With its 24-hour operational capacity, it's taking over the monotonous and heavy tasks that used to take up manpower resources - freeing welders and assemblers for more complex projects with higher reward potential. A way is established to allow for growth, despite the shortage of experienced workers available.
Choose what fits best
With its exceptional versatility for both full welding and assembly only, the Fabricator easily outpaces competitors that offer only one of these services. Production files come complete with full weld information, and with the help of DIGI-Weld analyzes it's easy to make smart choices. Organize your workflow in the most efficient and feasible way. Whether you want fitting only with manual welding or full automatic welding at any time in the process. And no matter what changes come up unexpectedly, it's adaptive enough to maximize uptime!
Toughest jobs done faster
Panasonic robots are the perfect partners. Its maximum payload of 200kg – 441lbs and 2666mm reach - 8' 9" make it the heaviest in Panasonic's portfolio, handling the most heavy parts such as crane consoles. With its perfect synchronous cooperation capabilities, this dynamic duo will get your toughest jobs done faster.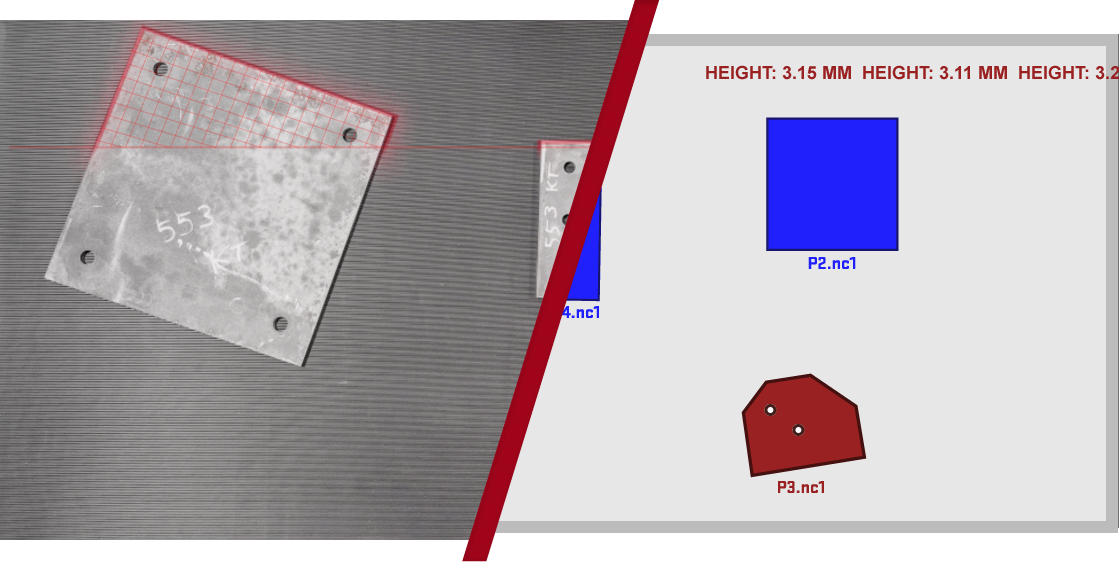 It scans for plate thicknesses, outside contours, and inside contours to ensure top-notch quality control as well as product recognition.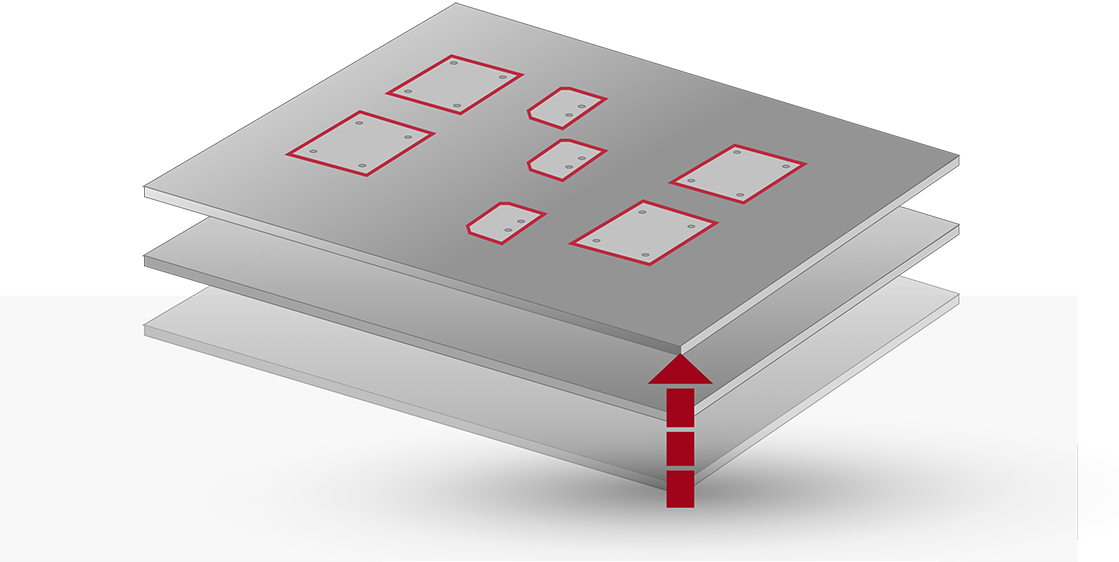 Switch tables can easily be swapped for maximum efficiency during long production runs.
MORE ON THE EXACT COMPONENTS AND FUNCTIONS
The welding process is executed through unique integrated combination of robot, robot control, servo wire feed, and power source.
The robot securely holds the weld torch and precisely performs each weld with accuracy.
The robot controller receives the specified weld paths from VACAM and translates them into precise movements of the robot's axes, allowing for a smooth transition between welding operations.

The welding source generates the precisely calibrated current and voltage that is needed for a reliable welding result.

A transformer is used to convert the main supply voltage and frequency to the appropriate values for powering the welding source and robot controller.

During the welding process, heat is partially absorbed by the torch, which is then cooled by a cooling unit.

A Wire Wizard system utilizes wire cables, pneumatic feed assist, and the wire guide modules to ensure a frictionless transport of the welding wire.

A mechanical cleaner ensures automated cleaning of the welding torch.

ENJOY THE EASE OF USE
Eliminate complex programming and training by using self-calibrating robots and automatic measurements, while its small footprint allows it to fit into any space. The Fabricator also offers a hassle-free loading process with laser guidance, so operators can stay in their vehicles. Plus, its rotators are easy to maintain for increased reliability and maximum uptime.
This one is also VACAM
With VACAM, the operator-machine relationship is as smooth as can be! Voortman Steel Machinery's own software department developed this innovative technology for their CNC controlled machines—great for all those with multiple Voortman devices. With just one central panel and no additional training required, running multiple connected machines on your production line has never been easier.
Produce unmanned
With the Fabricator running smoothly, operators are free to attend to other tasks in their workshop. When it's time for a refill of products? That's no problem - thanks to automated notifications, they'll be alerted and ready with a full one!
Just stay in your truck
With the Fabricator, you'll have a hassle-free loading experience. By utilizing a laser, the Fabricator's robot provides a precise and efficient solution for guiding operators in positioning profiles from their forklift or side loader, without the need to leave the vehicle. This not only saves valuable time but also results in a smoother and more seamless operation.
Safe loading and unloading
Safety is a top priority. The robots used in the Fabricator system are programmed to move aside during loading, preventing damage to the equipment and ensuring the safety of the operators. This not only reduces the risk of accidents or damage to the machinery but also allows for a smoother loading and unloading process.
No complexity
The Fabricator's rotators are designed to be simple and easy to maintain, in contrast to other welding systems that use complex and error-prone rotators. By streamlining the complexity, you'll be sure to increase reliability and maximize uptime. VACAM provides precise guidance, so operators know exactly where to position the rotators for swift completion of welding from all sides.
Self-calibrating with no extra programming
With self-calibrating robots and fully automatic measurement capabilities, operators don't need to worry about any extra programming. Laser scanning technology automatically measures parts and connections with remarkable accuracy while being highly reliable - making it a breeze to manage. Busy operators no longer have to go through extensive training courses as its fully automatic processes take care of everything!
Always up to date
VACAM's automated notifications takes the hassle out of machine control. Get notified if a tool change occurs or an error shows up on-screen - all with minimal effort and maximum efficiency! Configure these notifications to your liking for optimal convenience.
Intuitive touchscreen controls
Out with the old and in with the new! A large 24" multi-touch control panel offers your machine operators a simplified 3D view of operation, complete with direct access buttons for critical functions. Benefit improved ergonomics with access to all essential functions via intuitive touchscreen controls, making USB ports available for file imports/exports just an added bonus as well. And if more detailed input is needed? A handy physical keyboard gives operators speedy extended control at their fingertips - creating the ultimate user-friendly experience!
Voortman Fabricator
Voortman Fabricator
Profile types main section
H, I, U & Rectangular Tubes
Max. beam height
inch
23 5/8"
Min. beam height
inch
3 5/32"
Max. beam width
inch
15 ¾"
Min. beam width
inch
3 5/32
Max. profile length
ft
60
Min. profile length
ft/inch
9' 10 1/8
Max. assembly weight
lbs
13.227
Secondary parts
Plates, Angle (L), RHS/SHS, T, I/H, U, Welded T's
Max. payload handling robot
lbs
441
Max. welding gap
inch
1/8
Height gantry
ft
11