Voortman VSB Range
Shot blasting machine
The Voortman VSB Range automatic shot blasting machine is designed using the highest quality components for shot blasting plates and profiles for an optimal finished steel surface. Pre-installed blasting programs and automatic functions make the machine simple to learn and operate. Its compact design reduces the footprint without reducing functionality or quality. A minimal footprint is required when combining the shot blasting process with painting, pre-heating, drying and a blow-off unit.
Scroll
Increased productivity & reduced labor costs
AUTOMATIC SHOT BLASTING
The VSB Range is one of the most automated shot blasting machines available. Reduce labor costs and increase your productivity with automatic functionalities in the targeting turbines, batching products and profiles, brush height adjustment, and outfeed to further distribution through the production line. Automated in- and outfeeds require very little manual intervention or supervision from your operator.
LONGER LIFETIME
VSB Range shot blasting machines are built with superb quality and has proven reliability. With triple housing, a sequential blasting pattern and optional modules for pre-heating and painting, the VSB makes your steel cleaner in a shorter amount of time while saving energy and reducing the need of replacement parts.
Automation
Automatic batching and spacing adjustments
The VSB automatically groups profiles and/or products to produce optimal shot blasting results. With automatic infeed and batching, your operator doesn't have to intervene with spacing the profiles before shot blasting, because the system automatically moves the profiles to their proper position and spacing.
Automation
Automatic brush height positioning
Blasting grit is removed after shot blasting by a brush automatically positioned to the correct height above the material. The VSB automatically detects the height based on the profiles and positions the brush at the proper height for improved blasting grit removal.
Productivity
Maximum results from surface cleaning
After shot blasting you expect a clean material surface with noticeable results. The VSB turbines are placed one after the other and blasting angles are adjusted based on profile dimensions so grit from each turbine doesn't interfere with grit from the other turbines. This concentrates shot blasting in an efficient way.
Productivity
Seamless integration in fully automated production line
When the VSB is also part of a larger layout (MSI), profiles are automatically distributed efficiently to the machines with the required operations to fabricate your product with no manual operator intervention. If the VSB shot blasting machine is at the end of an MSI line, it will automatically recognize the products that need to be shot blasted when the system detects them approaching.
Productivity
Only blast when material is present
The VSB Range automatically detects the material dimensions, so it only blasts grit when material is present. This reduces wear on the machine and saves on shot blasting consumables cost.
Productivity
Pre heater and painting line
When required, a pre-heater can be installed to create a complete surface treatment line for shot blasting and painting. This way moisture can be removed from raw profiles, maximizing the VSB shot blaster effects on cleaning the surface. In a complete blasting and painting line, the excess heat from the pre-heater is used in the drying tunnel of the painting machine to reduce the amount of gas uses, saving substantial operating costs.
Productivity
Automatic adjustable turbines for maximum blasting power
In case of blasting wide plates the outer turbine angles are automatically adjusted to give maximum blasting power over the total width. In case of blasting beams, which are centrally placed on the conveyor, the outer turbine angles are adjusted to give more blasting power to the middle of the conveyor. A big advantage: Higher speed by smaller width and less wear on the machine.
High quality
Durable machine for extended lifetime
The VSB Range shot blasting machine is built to last with multiple features incorporated in the machine to help minimize wear. With triple housing, a sequential blasting pattern and optional modules for pre-heating and painting, the VSB makes your steel cleaner in a shorter amount of time while saving energy and reducing the need of replacement parts.
Automation
Optimal blast pattern
The right combination of profile position, conveyor speed and turbine direction is important to provide the optimal blast pattern and maximize shot blasting results. The VSB Range controls all of these parameters automatically, saving you a lot of manual labor costs, as operators don't need to monitor optimal mix of settings during shot blasting.
User-friendly
User friendly machine
Integrated panels and a damper on the ventilation system mutes noise around the machine for a more user-friendly environment for your operators. The VSB Range is easy to maintain with openings on the outside of the machine and several access doors to enter specific areas of the machine for inspection.
Automation
Automatic abrasive refill
To prevent shutting down the shot blasting machine for refilling the abrasive container, a separate abrasive container can be placed next to the shot blaster which can automatically be refilled without disturbing the blasting process. A sensor in the main container gives a signal to start the transfer of abrasive between the containers, which saves your operator a lot of time.
Automation
Frequency controlled turbines and abrasive to blast thin plates
To blast plates down to 4 mm (5/32") thickness some adjustments have to be made to the machines to prevent bending of the thin plate inside the machine. The abrasive valve has to be controlled to limit the abrasive flow and the turbines are fitted with frequency controllers to lower the speed of the turbines.
Shot blasting
Shot blasting is the process of cleaning the surface of steel profiles and plates before being painted or welded. Shot blasting removes metal oxide, mill scale and other contaminants from the steel surface, which is necessary for reliable adhesion of primer or paint to the steel. Instead of getting your steel surface optimally finished in a manual, time-consuming way, Voortman can bring automatic shot blasting to your production facility with the VSB Range.
Fully automatic profile transportation
Full automatic profile transportation is provided in order to integrate the machine to a fully automatic MSI beam line. Our/The VACAM software controls the sensored drag-dogs or liftables, transporting profiles onto the infeed roller conveyor and from the outfeed roller conveyor. Selected products will automatically be produced out of the trading lengths. The cross-transports are able to handle multiple profiles, allowing the machine to operate autonomously for a considerable amount of time.
Recycling and separating shot blasting grit
The shot blast grit is transported up by an elevator to the separator, where not usable grit is separated from the usable grit and is collected in the grit bunker for re-use. By doing this the next round of shot blasting can be carried out in the most efficient way with premium shot blasting grit.
Automatic material handling
One push of the button is all it takes to get your production done. After importing industry standard DSTV or DSTV+ (pre-nested) files into the processing list of our VACAM Software, your operator can fully focus on loading and unloading the system. No manual intervention is needed in order to keep up with the production speed of the machines.
VACAM Machine
Every machine is equipped with our in-house developed VACAM control software. All machines share the same "look-and-feel" which significantly reduces your learning curve. Within VACAM's open platform, production data can easily be exchanged with third party ERP and MRP software, providing up-to-date insight in the progress of your projects. VACAM provides a real-time graphical representation of your workflows and processes and analyses imported products instantly. The software automatically suggests the best solution for any foreseeable problems. This way, your production is not interrupted resulting in increased efficiency and runtime of the system.
VACAM in the office
The VACAM software also comes with an Office Edition. VACAM Office Edition runs in a similar way as VACAM Control and Operating software and is dedicated to preparing your products into producible items. The user interface is focused on the preparation activities and also provides real-time insights in the material load on the system enabling you to monitor your production process. With VACAM Office, production information is available throughout the entire company.
VACAD Editor
The integrated VACAD Editor enables your operators to improve output by creating products or quickly improve and correct the product. The interface is easy to understand with straight-forward functionality. Operators will be able to take full advantage of the VACAD Editor and VACAM after a few days with the Voortman trainers.
Easy operation
To enable constant and efficient production, VACAM offers your operators a comprehensive and easy-to-use interface. One of VACAM's key features is the clear separation between work preparation, production and manual machine operation activities. For each mode of use, the required functions and data are available at your fingertips, enabling you to perform tasks in the right environment. VACAM Control software is known in the industry for its consolidated graphical representation of your production process. With VACAM, you have a clear overview of the process, production status and instant access to online assistance if required.
INTEGRATION IN YOUR WORKSHOP



Voortman offers a complete surface treatment line that prepares your products for storage and/or further processing. The VP Primer and VSB Shot blaster can be placed back-to-back to save time, costs and handling space requirements in your production facility. The surface treatment line can be placed at the beginning or end of a Voortman processing line depending on the line's purpose and goal, workshop layout and steel conditions.
If necessary, a pre-heater and drying tunnel can be added to the surface treatment line. Depending on your output requirements and the size of the profiles, a surface treatment line can be chosen to match. The line is completely autonomous with automatic infeed and outfeed, allowing your operators to focus on feeding and unloading the system.

Reduce labor costs and increase efficiency
MSI, also referred to as Multi System Integration, opens the door to fully automate your production by connecting machines with cross transports, roller conveyors, product buffers, and material sensors. Production data only needs to be imported once and then MSI automatically distributes the data to all machines integrated in your production system.
Vacam decides optimal material route
Based on the production on hand, customer preferences and the available machinery in the MSI-line, VACAM automatically decides the optimal route to reach the highest efficiency. MSI designates the end of transporting raw profiles and semi-finished products from machine to machine. MSI stands for one integrated production system. You can track and monitor every profile, product and future planning in real time by using VACAM, Voortman's proprietary CNC control software installed on every machine.
Designing your optimal layout
Together with you, the Voortman team designs the entire layout based on your current or expected production characteristics, such as type of profiles, product length, number of processes, hours in your work week and budget.
Voortman VSB Range
VSB1500-4/15
VSB1500-6/15
VSB2500-6/15
Entrance dimensions
feet
5-1/4 x 2
5-1/4 x 2
8-1/2 x 2
Plate width
inch
59
59
98-1/2
Profiles
inch
40 x 12
40 x 12
40 x 12
Turbines
4
6
6
Turbine diameter
inch
15
15
15
Power per turbine
Hp
20
20
20
Blasting speed
f/min
4-1/4 - 6
6 - 9-1/2
4-1/4 - 6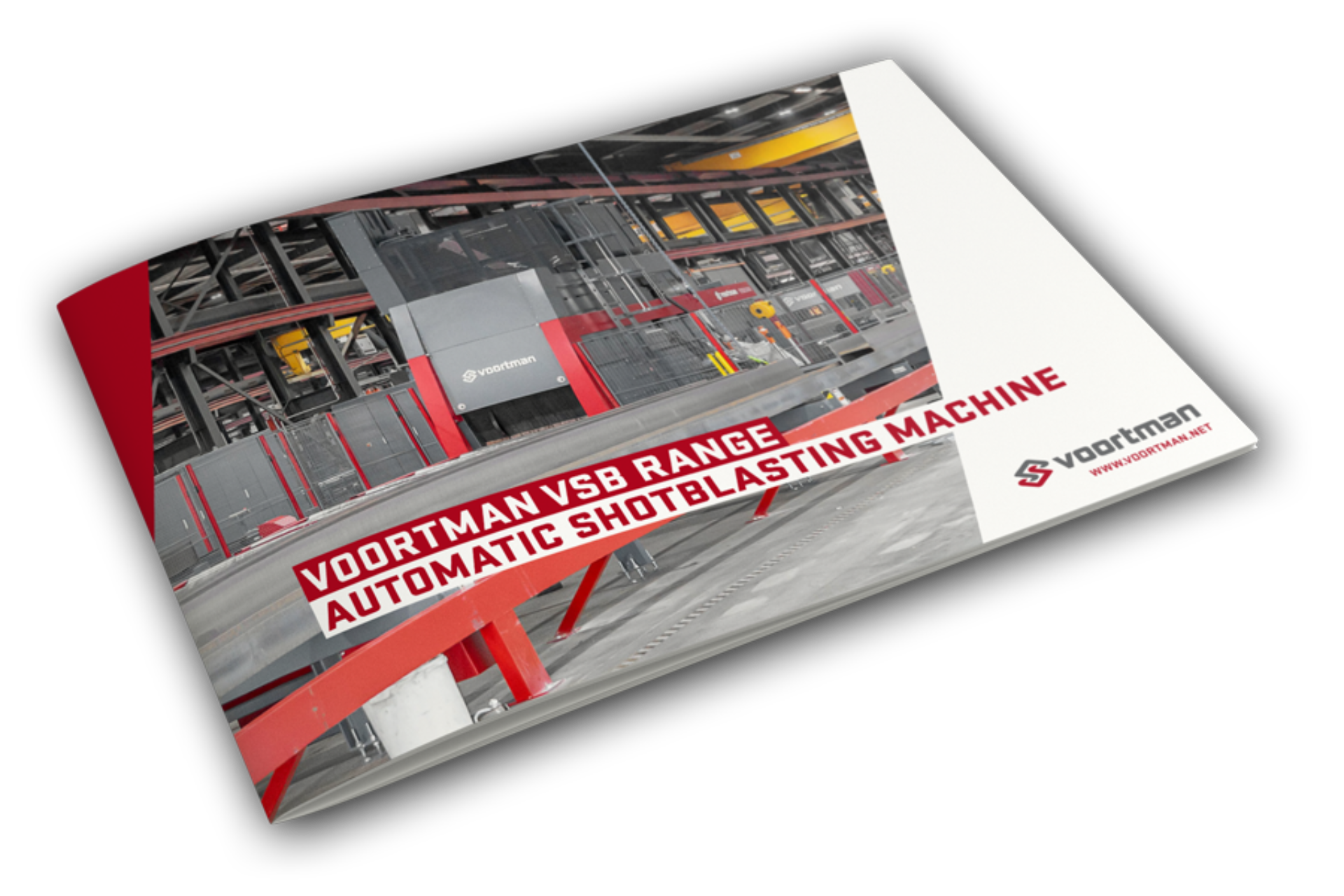 VSB RANGE | PRODUCT BROCHURE



Interested in getting a quick overview of what the VSB Range is all about? Make sure to check out the VSB Range product brochure!

Hear it from


our customers