Part 3 of 3
THERE'S MORE THAN AUTOMATING MACHINE OPERATIONS
Optimize your entire ecosystem
We're dedicated to making machines smarter. We also go above and beyond when it comes to optimizing the entire ecosystem. It's important to facilitate automated machine operations with efficiently organized and automated production work. A streamlined operation from work preparation to your final products provides great throughput while saving you time and money.

Speaking of efficiency, our V807 robotic coper and V310 plate processor are complementary in many ways, including how easy they are to integrate into your current production workflow. From raw material to finished product, the process is guaranteed to be highly efficient. Let's see how it's done!
CONNECT WITH ANY MRP
AND JUST NEST!
It all starts with works preparation. To make sure you buy the right amount of raw material, just start nesting your products. Import the created nestings into our VACAM software, which has a direct connection with your MRP system. There's no need for any paper work moving back and forth. VACAM knows exactly which nests need to be produced.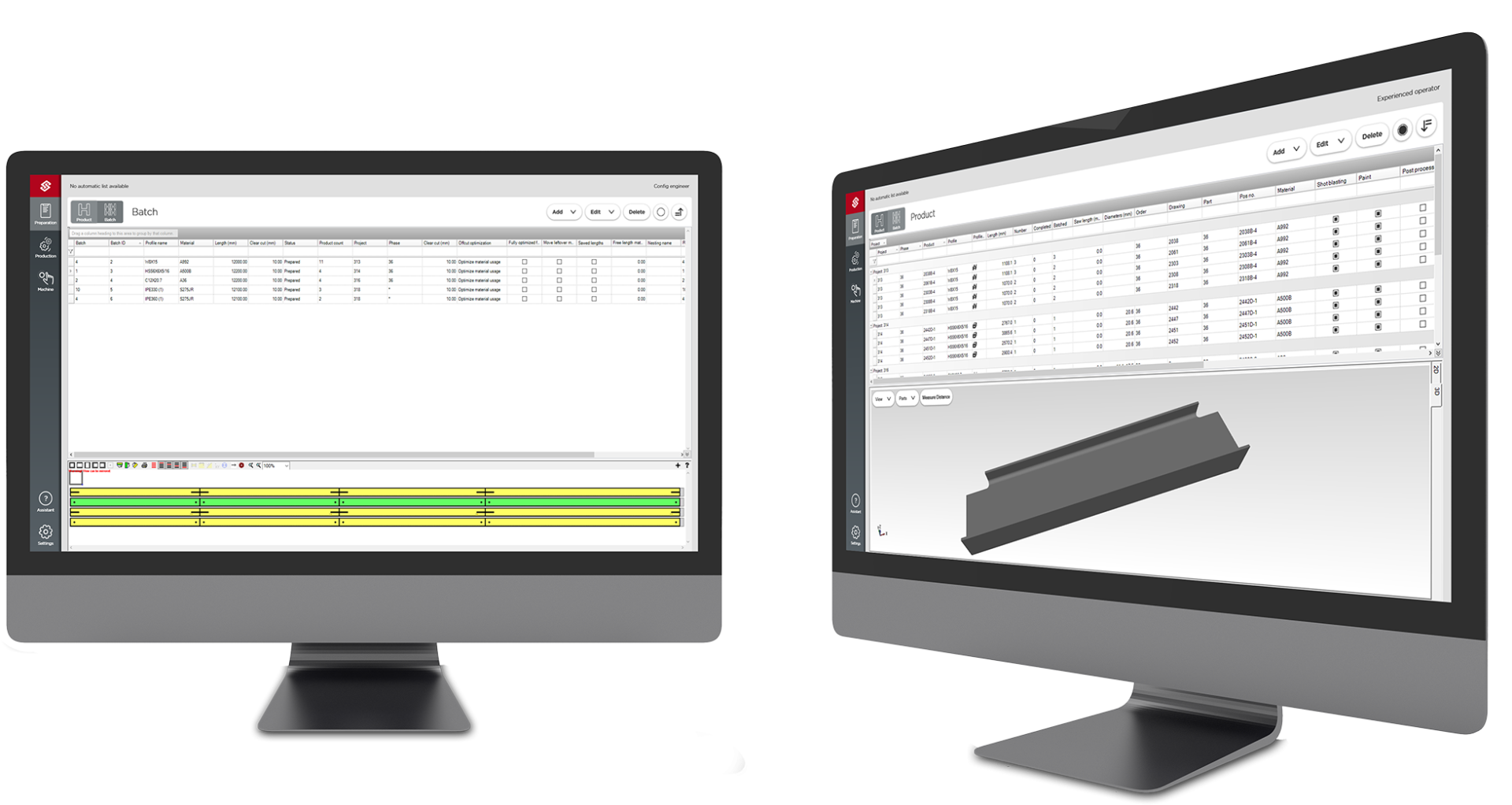 VOORTMAN V310
PROCESSING WITHOUT LIMITS

Auto-calculated milling paths
Automatically mill all kinds of shapes with a variety in size and depth with auto-calculated milling paths. Our proprietary Automatic Tool Path Calculation eliminates the need for extensive preparation or process knowledge. Automatically calculated ramping cycles, required tooling and tool paths enable complete freedom in the creation of the most complex products.
Xtensive Bevel Technology
The V310 eliminates complicated and time-consuming bevel corrections, whereby high-quality, complex bevel cuts are instantly created.
Our VACAM control software knows all complete bevel geometries and corresponding corrections, based on nose/land size, bevel angles and asymmetry. Just choose your preferred bevel geometry from our live database and press start to make the perfect cut.
Automated tapping sequence
VACAM distinguishes between fully drilled holes and blind holes. The right tool for the job is automatically selected in a complete nesting. Preventing manual errors and downtime and allowing operators to focus on other activities around the machine or in the workshop, increasing efficiency.





VOORTMAN V807
EASE WITH BUILT-IN INTELLIGENCE

No programming required
Easily import DSTV and DSTV+ files, produce and batch products without any programming knowledge on the V807. Edit imports or create new products from scratch with VACAM and VACAD Editor. With the fully visual interface, no programming is required here either. Handy creation wizards help create advanced cuts such as Rat Holes, Flange Removals and Dog Bones. Even review your product in real-time 3D to avoid unforeseen errors.
Calculated amperage proposals
VACAM analyzes which amperage provides the highest cutting quality for all types of cuts in the product. While calculating an average amperage, the number of 'True-Holes' is leading for the final proposal.
The perfect cutting path
With the Clearance Pocket feature enabled, the robot looks ahead in the cutting process to optimize the cutting path and clear blockages. Especially with web cuts in H or I profiles the torch can be blocked by the flanges. With the Clearance Pocket function, the robot cuts away parts in remnant material that could potentially cause collision and paves the way for a perfect cut. Additionally, you can turn on the AutoPilot feature, which checks if cut-outs have been completely cut off. It prevents the blocking of subsequent operations and reduces the need for operators to enter the machine for manual checks.
Short and heavy profiles stitched together
Where you would expect a lot of downtime by going into the machine several times to remove heavy products, the stitching feature ensures that all end products automatically get outfeeded as a whole. Your operator unloads a single profile and separates the end-products from each other at a preferred location, minimizing logistic operations.
LET'S CLOSE THE LOOP
All insights at your fingertips with a continuous data link
All kinds of data is at your disposal. A real-time connection between VACAM, ERP and MRP makes it easy to anticipate business operations.

Works preparation can check material consumed and order new raw material for just-in-time delivery. You see which beams and plates have been processed by the V807 and V310. This allows for just-in-time production, and it results in the right beams and plates being delivered at the right time to the assembly hall.

Welders don't need to wait on deliveries in order to get more work done and assemble finished products. With all this intelligence and connections and the freedom to connect with any independent MRP- or nesting supplier, you're in control, now and in the future.