Sigmanest
The most economical plate nesting software
An excellent nesting program is as important as the machine itself. That is why all Voortman plate cutting machines are equipped with one of the most advanced nesting software programs available: SigmaNEST. Together with SigmaNEST, Voortman offers a wide range of modular and customizable functions to get the most out of your production processes. Let's dive somewhat deeper into the specific SigmaNEST features and the benefits you gain from it.

Scroll
PROCESS OPTIMIZATION THROUGH SIGMANEST & VOORTMAN MACHINES
To increase your material optimization and cutting efficiency, all Voortman plate cutting machines come equipped with SigmaNEST. Using SigmaNEST advanced nesting solution in combination with Voortman machines, it will be possible to optimize your whole fabrication process from work preparation to end product thus improving your business profitability.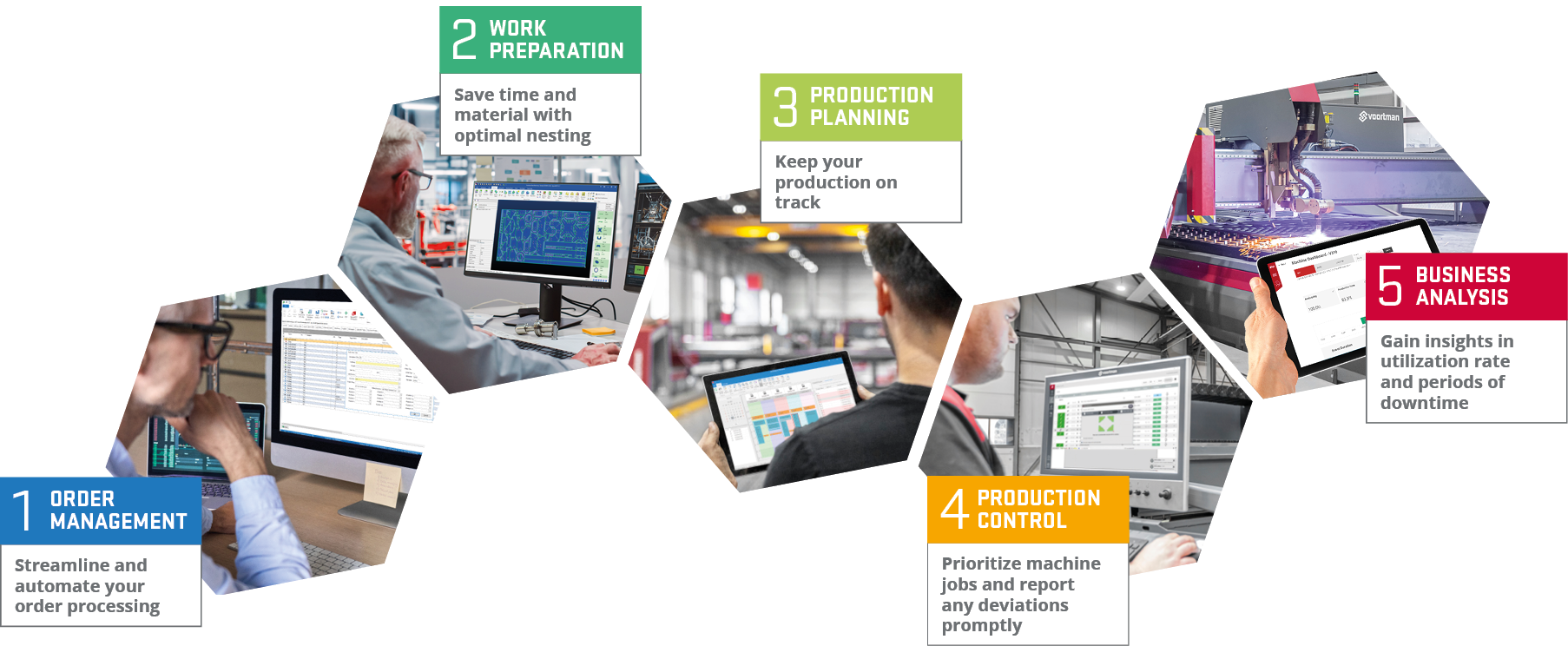 Hi there, plate processor!
VOORTMAN IS YOUR ONE-STOP-SHOP TO TRANSFORM YOUR VALUE CHAIN WITH AUTOMATION AND DIGITIZATION

Take the journey from order management to end product with us, and trust in our reliable solutions designed to support you every step of the way. Benefit from real-time cross company data that's connected, so you can make powerful decisions leading your business forward with confidence. Explore what we have on offer by checking out our brand new brochure today:

IMPORT MOST COMMON 2D OR 3D FILE FORMATS
Unmatched customization and designed for integration
The software offers the possibility to import the most common file formats in the metal industry such as .STEP, .CDL, .DXF, .DWG and .DSTV. But nowadays companies are increasingly working with native formats. Whether you have a cutting company or you are a steel fabricator or a manufacturer, it's crucial that you effectively integrate your nesting solution with CAD programs you have already invested in. The CAD import module can be added and used to directly import native formats such as SolidWorks, Solid Edge, Creo, Inventor, Siemens NX or Catia. As a result, all information is maintained and duplicate work is eliminated.

Due to the use of 3D models, it is possible to apply filters that recognize processes or features allowing you to separate the parts you want to import. From material grade and thickness to bend tolerances and processes, this module connects the systems that are integral to your core operations. SigmaNEST generates specific CNC-outputs for the machine, which will be converted to all required operations via Voortman's VACAM software. Streamline your production process and get ready-made parts out of your machine with this nesting software!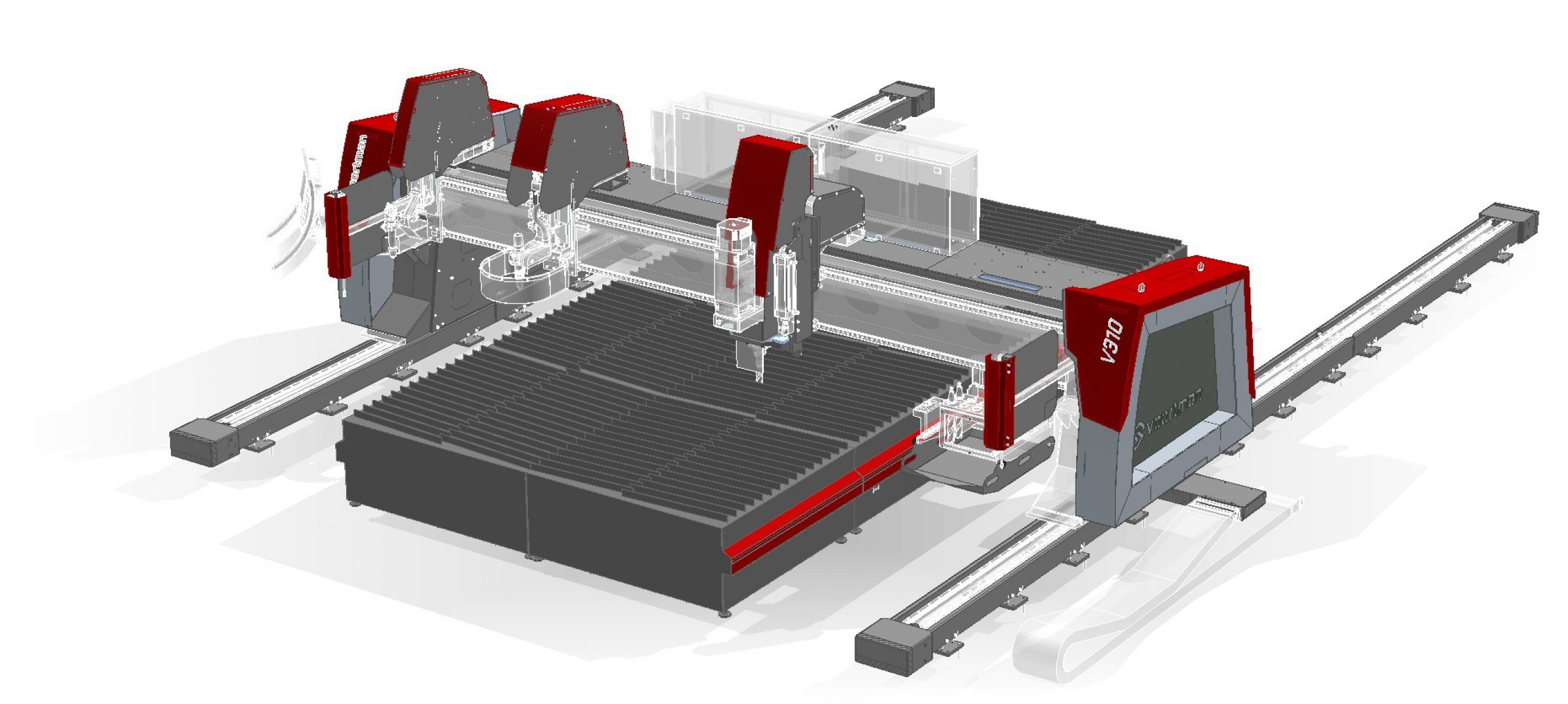 GENERATE QUOTES MORE EFFECTIVELY, FASTER AND MORE ACCURATELY
Fully customizable quotes and reports
Companies in the manufacturing industry as well as in steel fabrication benefit from quick and accurate quotations. The Quoting module gives you as a company an indication of how much work you expect to have in the future, but also which materials you need to have in stock, who your regular customers are and how many orders you may receive.
Quote converting with the click of a button
Voortman offers a simple quotation module whereby you can convert a quote to a work order without any effort, which ensures a short time to production. This module offers advanced functionalities with which quotations can be generated more effectively, faster and more accurately and outstanding quotations per customer can be followed up on.
This module makes it possible to build customer specific quotations, including profit margins, transport costs and discounts. SigmaNEST, with Voortman machine processing information, automatically calculates processing times and allows for customizable costing calculations for any part or secondary process. Based on the imported files, the actual cutting and/or drilling times and the required material are automatically calculated which ensures accurate and consistent cost prices. This allows you to draw up an accurate customer-specific quotation based on your exact cost price calculation!
Detailed insights into cost calculations
It is important for every company to gain insight into the costs per product or the costs per project, in order to arrive at a correct pricing. This module offers you the opportunity to gain insight into all relevant costs assigned to the relevant product. The tool automatically generates the primary costs such as drilling and cutting, but other additional (manual) operations such as deburring, bending, welding, coating or varnishing can also be applied. In this way, the Quoting module can be set up completely according to your own machining processes.
NEST MORE EFFICIENTLY, MAXIMIZE PRODUCTION & SAVE TIME AND MATERIAL
Designed for task management and planning of cutting machines
The Load Manager module, is the solution for proactive machine planning and load analysis, giving you complete control of complex schedules, where you can see the workload at a glance. This module is very suitable for companies that have multiple machines in their workshop and work assignments that consist of multiple operations.
All machines and associated machining programs can be read in a graphically displayed calendar timeline and managed from this central dashboard. Machine capabilities can be programmed into SigmaNest. Processes like drilling, thread-tapping, marking and laser-, plasma- or oxy-fuel cutting can be associated with specific machines. Based on these values, part cutting/processing can be assigned to the correct machine automatically and loads can be balanced between machines with the same functionality. The software also prevents parts from being manually sent to the wrong machine by accident. This planning tool enables optimum productivity through proactive machine scheduling and load analysis tools!

Combined with Color Offload
When Load Manager is used in conjunction with the Color Offload module, schedules are updated in real time to accurately reflect shop floor status and the operator can see what the next job is. Workflow optimization is guaranteed!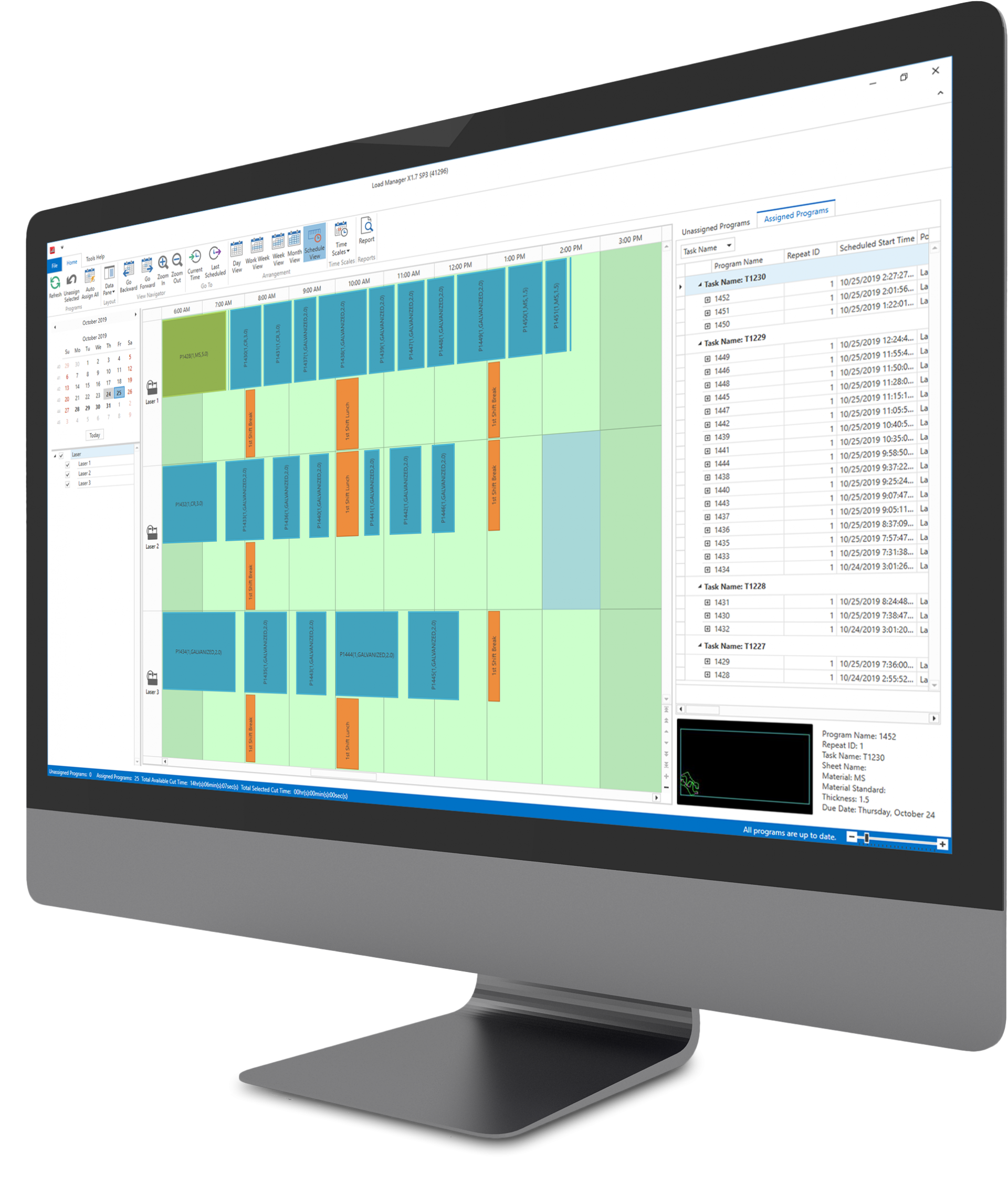 TRACK PROGRESS AND MEET DEADLINES
Real-time planning during processing
Once the planning has been made, programs are sorted in the planning queue by program number, material type or thickness, machine and estimated run time and then production is started by the operator. When the program has started, the machine gives the operator instructions for correctly assembling the tools and consumables.

The estimated machining time is displayed and the planning is updated when the module is running, allowing you to make a forecast of production per day, week or month. It becomes directly visible when a certain program starts or stops and the next one begins, what the capacity of your production is, whether certain programs still need to be split, whether deadlines can be met and whether outsourcing is the best option. Thus making it possible to anticipate any delays during production and if this risks the delivery times of future work orders.
Integrated VACAM software
A powerful automatic nesting algorithm minimizes material scrap. SigmaNEST generates specific CNC-outputs for the machine, which will be converted to all required operations via Voortman's VACAM software. Technologies such as cutting parameters, drilling and milling parameters are fully integrated into our proprietary VACAM software and are automatically applied based on the information in the program. Therefore, the operator can focus on the manual operations around the machine.
REAL-TIME TRACKING AND EASY UNLOADING TO OPTIMIZE YOUR SHOP FLOOR
In the planning phase, several work orders have been co-mingled which saves time and material since nesting is done more efficiently. Plates are fully nested, including the use of existing remnant plates so fewer actions are required. However, it is also important that these various, mixed orders are able to be easily separated during unloading.

Improve sorting efficiency
The Color Offload module is an automatic real-time tracking and offloading solution designed to assist your operator by enabling easier part sorting after cutting, when nests contain co-mingled orders. Nested orders are displayed in colors that can be assigned by customer, work order or factory routing whereby identification and sorting of parts will be simplified.
Provide information to operators for quality checking

In addition, information is provided to the operator, such as part details or dimensions, so the operator is able to do a direct quality check before parts move on to the next work station. When a part has been cut wrong because, for instance, consumables fail, the operator can select and reject parts in the nesting software program. This information can be fed into Color Offload and the part automatically reappears in the work order list in the nesting program, enabling it to be remade.
Improve and automate information back to works preparation and planning
This module allows the operator to indicate whether the program has been started, paused or stopped. This provides insight into the status of the work order and provides an accurate time indication. When a nest has been produced, cutting times are automatically sent back to other shop floor software modules such as the nesting program, MRP/ERP or a separate planning tool such as Load Manager. We are happy to help you optimize the back-end of your organization so that your company can benefit from higher material yields and process efficiency!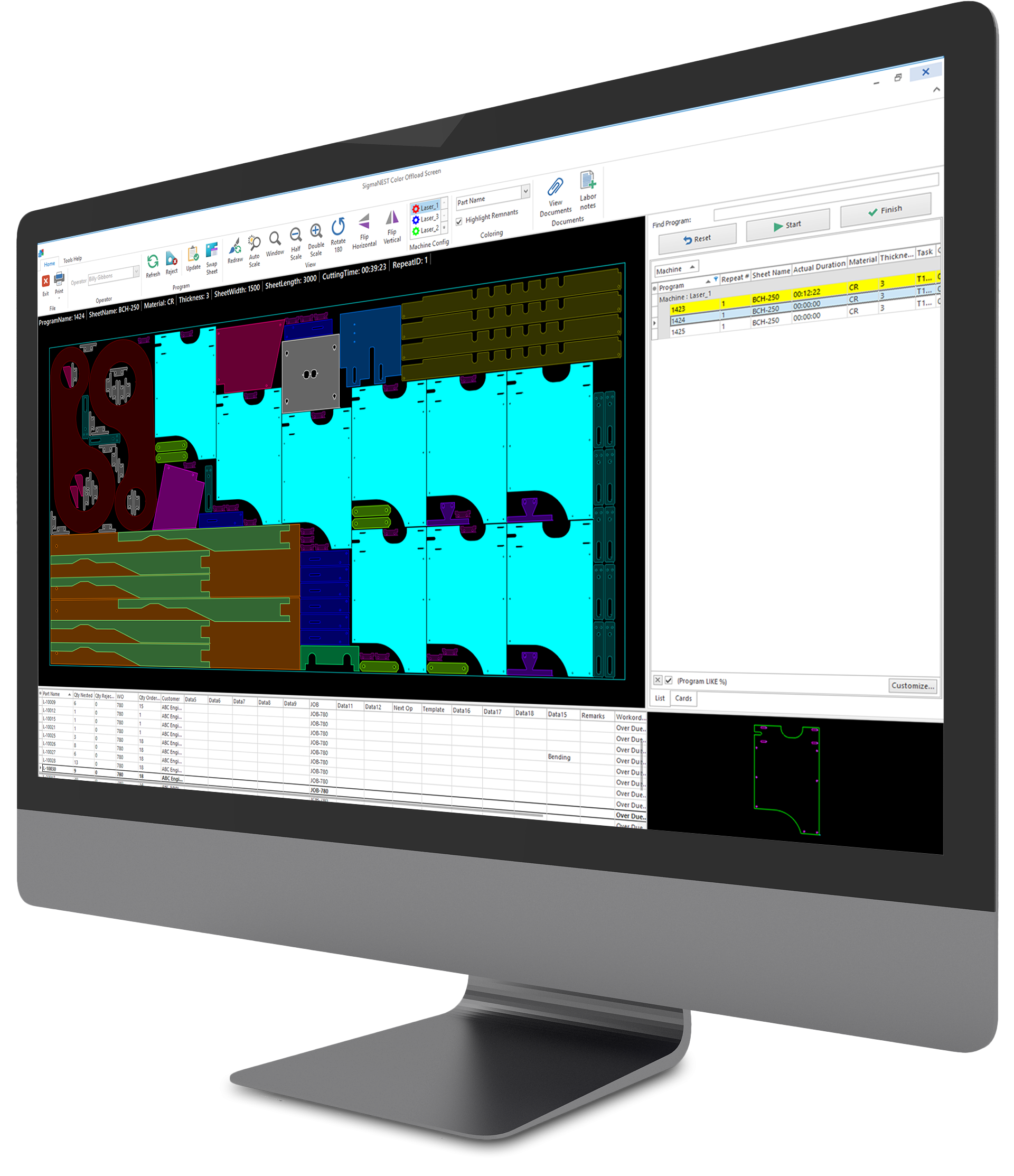 SHARE DATA WITH CONTINUOUS AND REAL TIME COMMUNICATION
Create a continuous data link between sales, inventory, engineering, scheduling, production and MRP- or ERP system
SimTrans is an online transaction manager that bridges the gap between different software systems from CAD/CAM nesting to shop floor automation to other business systems (MRP- or ERP-system).
SimTrans enables you to obtain the right information from different software systems at different moments in the process by means of a continuous mutual data flow. All data generated in SigmaNEST can be send back to MRP/ERP packages. Data such as estimated processing times, estimated processing costs, plates used, waste rates and status updates about programs. This automation allows constant work order tracking through real-time updates and feedback. But also vice versa, if changes in work orders, stocks, delivery times or customer information are made in the MRP system, these data are automatically updated in SigmaNEST.
Universal fit
The software on the machine keeps track of which nesting is ready, how many operations have been performed and what the actual machine times have been. This information is saved in an SQL database that can be accessed from an MRP software system.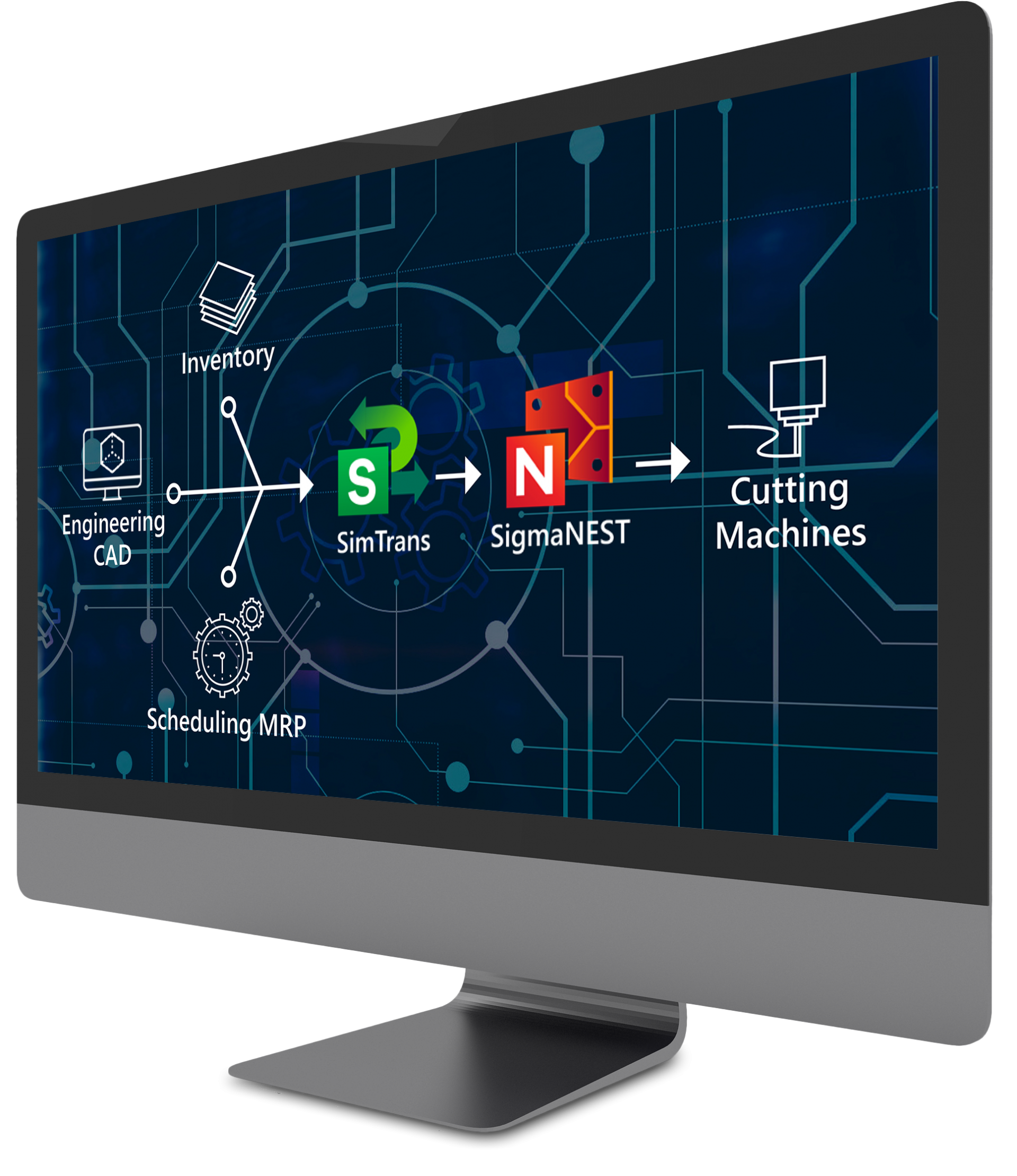 Automatic nesting software SigmaNEST
Get the most out of your production processes!
Let's start finding ways to reach your goals! Contact us today for a consultation with one of our experts! With decades of experience, proven solutions and our responsive worldwide service, you can Accelerate Your Performance and make a difference with Voortman and lead the way in your market!
Machinery


suitable for SigmaNEST