Wind tower construction
High-end solutions and machines
Voortman offers high-end machines and solutions for different types of wind tower production. We distinguish two types of production methods. One type of production is based on bolted connections and the other on welded, rolled shells.

See below which challenges we can solve for the bolted connection production method. This production method focuses on creating holes in large plates and creating long markings. These plates are then bent on a bending machine and connected by bolted connections in a Hexagon shape.
Read more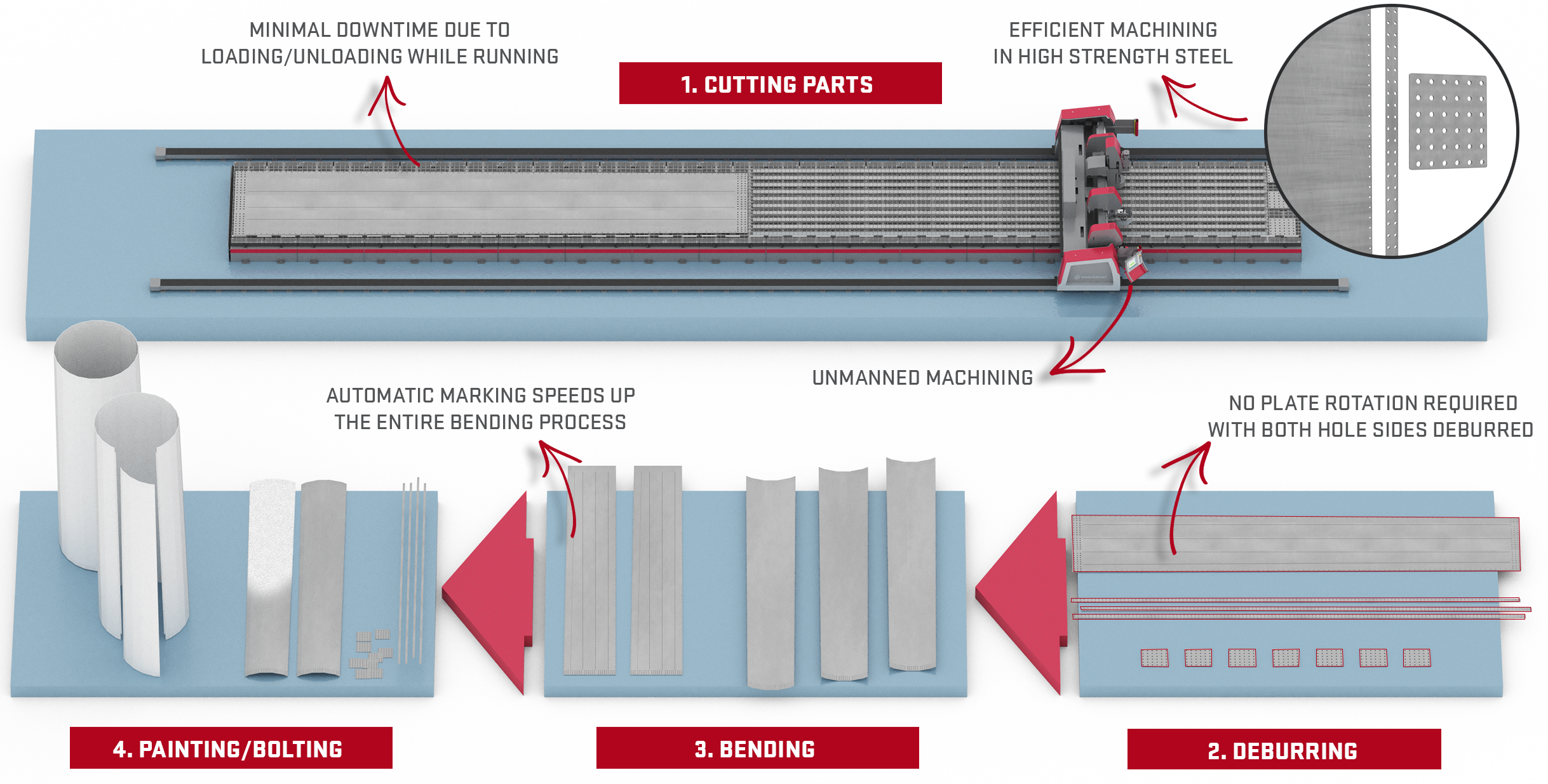 Efficient machining in high-strength steel



For this type of production, a stable, reliable drilling process is important for efficient machining, even in high-strength steel. A machine like the V310 for example, has a specially designed heavy duty steel bridge that allows a high drilling feed rate, which results in minimal vibrations during machining. This contributes to a high quality of your parts, a longer tool life and therefore cost savings. Additionally, multiple processes such as bevel cutting, drilling, marking, tapping and countersinking are all possible on this powerful plate drilling and cutting machine, providing you a lot of flexibility in your production process.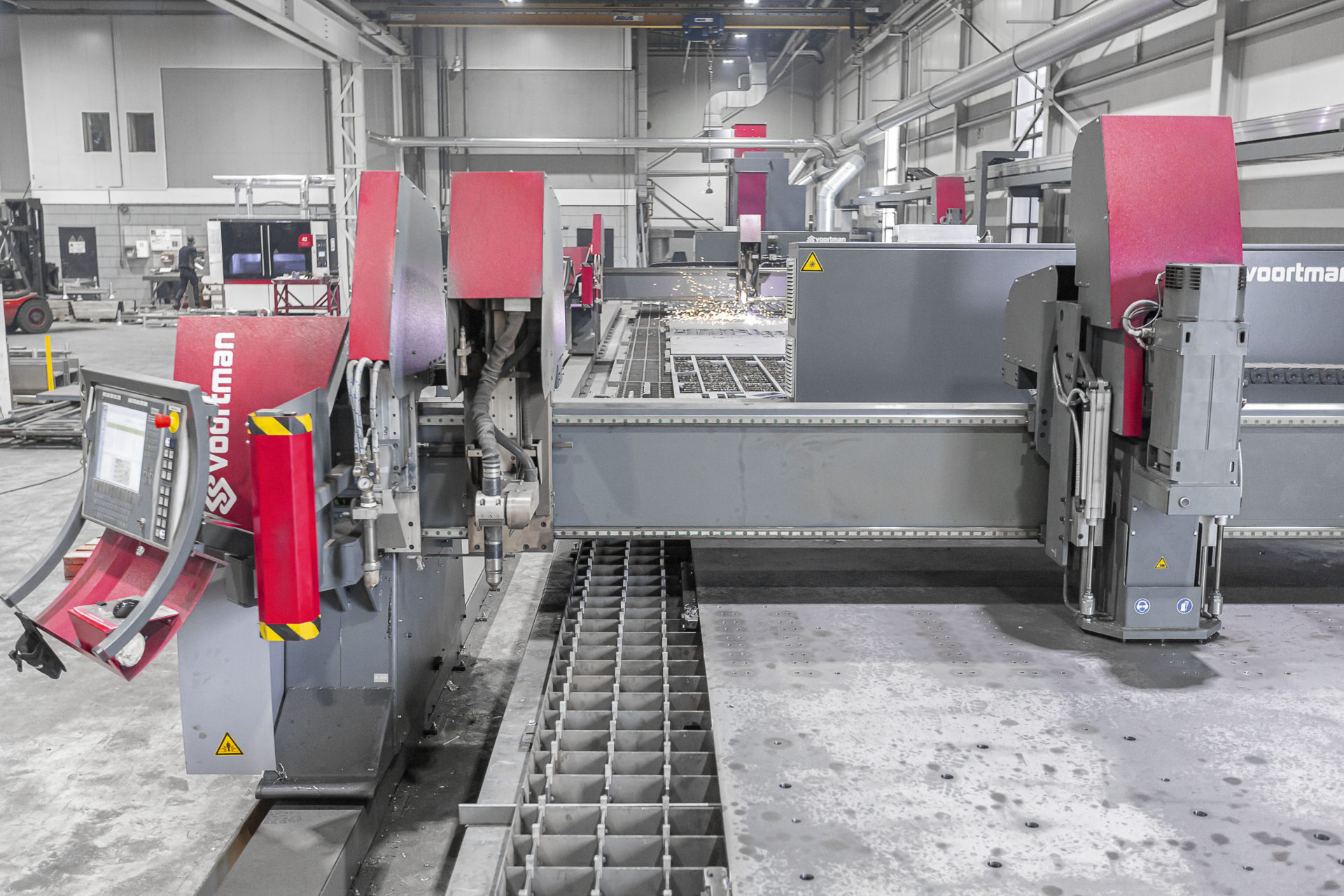 Unmanned machining
Due to the advanced technology and automation in machining operations, it is also not necessary for your operators to be constantly, physically present at the machine. For example, it is possible to let the machine perform these drilling operations during an unmanned shift at night. Performing these operations unmanned offers you great advantages and savings and has a cost-saving effect on your regular (cutting) operations that take place during the day.
Save costs by automatic deburring
Automatic deburring of the top and bottom of the material makes the often time-consuming manual process of turning and deburring plates a thing of the past. For example, the Voortman V325 plate drilling and cutting machine is equipped with an automatic deburring unit, which can reduce the total costs per part up to 30% compared to manually performing deburring and edge finishing operations. The deburring unit also helps extend drill lifetime, since you don't need to replace drill consumables with the first signs of burr from worn down drills. Products are ready for immediate handling without risk of injury from burrs.

Minimal downtime and plate changes due to long table
The large plates which you are processing, can complicate loading and unloading the machine and leave your machine stationary if not thought through. Flatbed machines such as the V310 with, for example, a 24 meter table deck, offers a solution and provides more flexibility for loading and unloading during processing. Ultimately it increases your efficiency and output.
Automatic marking speeds up the entire bending process
Additional marking information can be created on the plate to assist your operators in the bending process. The markings required for bending these plates generally consists of long lines and can be made in a fraction of a second by automatic inkjet marking on a Voortman plate processing machine. Although marking as a standalone process is not in principle a process that adds value, it can reduce the overall operating costs of your entire production chain due to the time-saving factor of automatic inkjet marking and the accelerated bending process. Example: If, for instance, two or three marking lines need to be marked from front to back on your 12 meter plate, these lines will be marked in less than 2 minutes with inkjet on a cutting machine. This results in significant time savings and therefore cost savings later on in the process and throughout in the production chain.