THREE-AXIS PROFILE DRILLING AND MILLING
The Voortman V630 drill offers high productivity with its three independently operating drill heads. The proven long-standing track record of this machine speaks for itself.
It is one of the most economical choices to support drilling, milling and marking operations.
It can drill both web and flanges at the same time, reducing labor and operating costs.
Each drill head features an automatic tool changer with six tool positions for various tasks such as drilling, milling, tapping, countersinking, layout marking and centerpoint marking.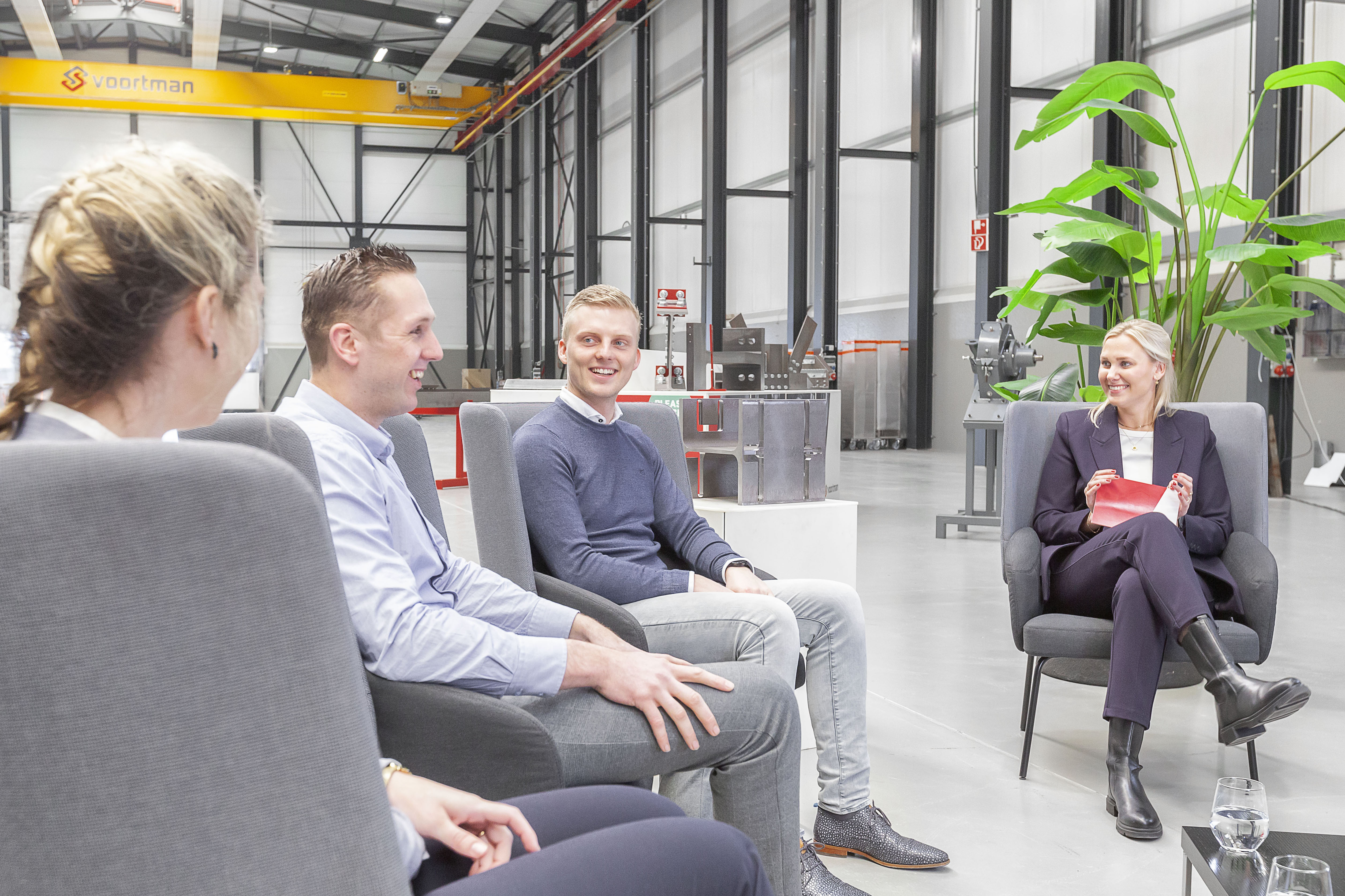 AVAILABLE NOW!
WEBINAR | ALL YOU NEED TO KNOW ABOUT MILLING
Watch this unique Voortman & Kennametal webinar.
Discover the benefits of milling and learn how easily it can be done on a Voortman machine.
This and more awaits you in this not-to-be-missed webinar!
MAXIMIZE YOUR OUTPUT
ON A SMALL FOOTPRINT
With its three independent drilling heads, each with an automatic tool changer, the Voortman V630 provides a high level of flexibility and output.
Drilling, milling, marking, tapping, countersinking, 4-sided layout marking and center point marking, the machine does it all, with a high level of automation.
Its versatility ensures that it can handle almost any production task, making it an excellent investment as it will hardly be idle.
Fast carbide drilling, tapping and countersinking
The drilling unit on the Voortman V630 is designed for fast carbide drilling. It moves to the material in an optimized path with minimal tolerances at high speed. To create bolted connections and to remove sharp edges of a drilled hole, thread-tapping and countersinking can be performed in one single process cycle. With automatic tool changing of carbide (tipped) drills, solid carbide drills, HSS drills, thread-taps, countersink and marking tools, manual labor is reduced, and further processing simplified.
Anyone can mill quickly and accurately
The Voortman V630 can mill inner contours. People often think that the milling process is complex. However, Voortman makes the process very accessible. Milling paths are automatically calculated by the VACAM Software, eliminating the need for process knowledge or programming. Any operator can create inner contours with just the push of a button. Fully in line with Voortman's one-button-automation philosophy.
Save time with automatic lay-out marking
Manual layout marking is time-consuming, labor intensive and error prone. This machine automates the marking process and prevents human errors during further processing. The machine utilizes marking by milling to create high-quality, accurate marks that remain visible even after shot blasting, painting, or galvanizing. The milling depth can be adjusted using the Voortman marking tool.
Simultaneous web and flange processing for high productivity
The Voortman V630, with its 3 independent drill heads, is the perfect solution to increase productivity in your workshop. It is capable of processing both flanges and the web simultaneously, which reduces labor hours and operating costs. Each of the drill heads has an automatic tool changer with space for up to 6 tools, allowing for increased automatic processing capabilities. Additionally, the VACAM Operating software optimizes tool changing and sorting sequences, further increasing output efficiency.
Fully automatic profile transportation
Fully automatic profile transportation is provided in order to integrate the machine to a fully automatic MSI beam line. The VACAM software controls the sensored drag-dogs or liftables, transporting profiles onto the infeed roller conveyor and from the outfeed roller conveyor. Selected products will automatically be produced out of the trading lengths. The cross-transports are able to handle multiple profiles, allowing the machine to operate autonomously for a considerable amount of time.
Automatic numbering for product traceability
Numbering automates the process of assigning numbers and codes to products, saving time and money, while relieving your operators. Numbering is the process of assigning numbers or codes to a product for further processing. This improves traceability and reduces errors in the production process. The codes created using a hydraulic numbering unit remain visible even after blasting and painting.
Fast and easy centerpoint marking
Centerpoint marking is the easiest and fastest way for marking products. They can also be used to mark positions that will follow in a later production process, for example, out-of-range saw cuts or welding positions.
Process all 3D shapes
The V630 can process a wide range of profiles such as I-Beams, H-Beams, Channels, Flat bar, Angle iron, T-bar, Square tubes and Rectangle tubes. The VACAM Software allows you to log all nests or products in these profiles without manual programming, saving you valuable time. Additionally, it has features for handling small profiles and performing more operations automatically, which ultimately reduces labor costs and lead times for your projects.
UNMATCHED ACCURACY AND QUALITY
YOU'LL BE AMAZED
This machine is designed to produce high-quality output consistently, with features such as precise measuring systems and a robust construction that aid in achieving this objective.
Save time and costs by 4-side lay-out marking
The Voortman V630 can be equipped with a bottom side marking unit, saving time and money in the assembly area of your workshop. The marking unit enables marking on the underside of profiles, allowing you to create part numbers or layout markings on four sides. This accelerates assembly and reduces errors compared to manual marking. The unit can create both visible and invisible markings, and the markings remain visible even after blasting or painting. It requires minimal maintenance, and the carbide tips can be easily replaced.
Robust design
The V630 is constructed using premium, high-quality components that enhance its stability and precision. This results in reduced tolerance on size deviations, improving product quality. The components used are sourced from reputable and well-established brands like Rexroth, Siemens and Festo. The components used have a long lifetime and spare parts are readily available at Voortman's strategically located global warehouses.
EASE YOUR OPERATOR
MAKE MULTI-TASKING EASY
The built-in process knowledge and automation capabilities of this machine eliminates the need for specialized operator knowledge.
Automated features and user-friendly controls allow operators to attend to other tasks in the workshop while the machine runs independently.
A 24" touch panel displays relevant information and provides suggestions to facilitate a smooth production process.
Largest panel in the industry
The large 24" touch screen panel provides a wealth of information and enhanced interactivity. The blend of touch screen and physical buttons maintains control and monitoring of the machine and facilitates optimal adjustment of the process. Operating the machine is made easy and intuitive!
Automatic tool changes
The V630 has a 6-position tool changer for each drill head, for a total of 18 tools. This enables automatic changeover between tools. Having a variety of tools in your tool changer gives your operator the freedom to work on other jobs in your workshop.
Watch the process up close
The machine is equipped with a built-in camera that allows for real-time monitoring of production. This benefits the service department, enabling them to serve you faster and more accurately when a machine issue arises.
Easy operation
VACAM Control Software provides operators with a comprehensive and user-friendly interface for efficient and consistent production. The software separates work preparation, production, and manual machine operation activities, making it easy to access the necessary functions and data for each mode. VACAM gives you a clear overview of the process, production status and access to online assistance. One push of a button is all you need to produce. After importing standard DSTV or DSTV+ files into the processing list, operators can focus on loading and unloading the machine.
Fast and accurate measuring
We use two kinds of measuring systems. A roller feed system, which is known for being the fastest and most accurate on a minimal footprint. And a gripper system, which recently received a full update. Compared to the roller feed measuring system, the new gripper design allows for early infeed. An additional axis in the gripper system allows it to move between two new positions, one over and one under the datum line. Using a short clamp at the production start, the gripper takes over with a longer clamp during production. This new technique has a big impact on reducing the system footprint. With a rotating head for automatic horizontal and vertical clamp positioning, the only remaining question is which system best suits your production.
INTEGRATION IN YOUR WORKSHOP




The fastest measuring and transportation system for profiles in the market
The Voortman roller feed measuring system uses two feeder rolls to the move material. Two measurement wheels are installed to accurately track the profile's position.
Feeder rolls are often used because of the required space and the flexibility when integrated into a larger system.
With a measuring roll system, it is also possible to load a new profile once the first profile has passed the edge of the cross transports.
Since a feeder roll does not have a rail, it is possible to feed into the machine from two sides.
With Voortman, you have a choice in measurement systems, making it possible to tailor the system to the characteristics of your production database.

A strong and robust servo driven gripper truck for processing many small products
Voortman also offers a strong and robust servo driven gripper truck. This truck is the fastest truck available, adapting its velocity dynamically to the profile's total weight.
This makes the truck more agile and safe for the operator. The feeder truck holds the material with a wide clamp, which is rotated automatically when the geometry of the profile demands.
This measuring system is capable of moving even the heaviest profiles without losing its stability.
The gripper truck can be combined with the VB beam sawing machine - often with an automatic Short Product Removal System (SPRS) where the gripper clamps all products up to 1.400 mm (4-1/2') during cutting, and then short products are transported sideways.
With the SPRS and the gripper truck, the drill and saw become fully autonomous with clean cuts automatically dropped into a separate bin.
Just start your latest production run before you close the factory for the night and arrive in the morning with all products processed and sorted on the outfeed cross transports.

Reduce labor costs and increase efficiency
MSI, also referred to as Multi System Integration, opens the door to fully automate your production by connecting machines with cross transports, roller conveyors, product buffers, and material sensors.
Production data only needs to be imported once and then MSI automatically distributes the data to all machines integrated in your production system.
VACAM decides optimal material route
Based on the production on hand, customer preferences and the available machinery in the MSI-line, VACAM automatically decides the optimal route to reach the highest efficiency.
MSI designates the end of transporting raw profiles and semi-finished products from machine to machine. MSI stands for one integrated production system.
You can track and monitor every profile, product and future planning in real time by using VACAM, Voortman's proprietary CNC control software installed on every machine.
Designing your optimal layout
Together with you, the Voortman team designs the entire layout based on your current or expected production characteristics, such as type of profiles, product length, number of processes, hours in your work week and budget.


DIFFERENT SPECS FOR DIFFERENT NEEDS



Find which suits you best!
At Voortman, we offer a versatile range of machines in our beam drilling portfolio, each with unique specifications to cater to different production needs.
Take the time to explore your options and find a machine that perfectly suits your goals.
Contact us to learn more and let our team of experts assist you every step of the way.
GET IN TOUCH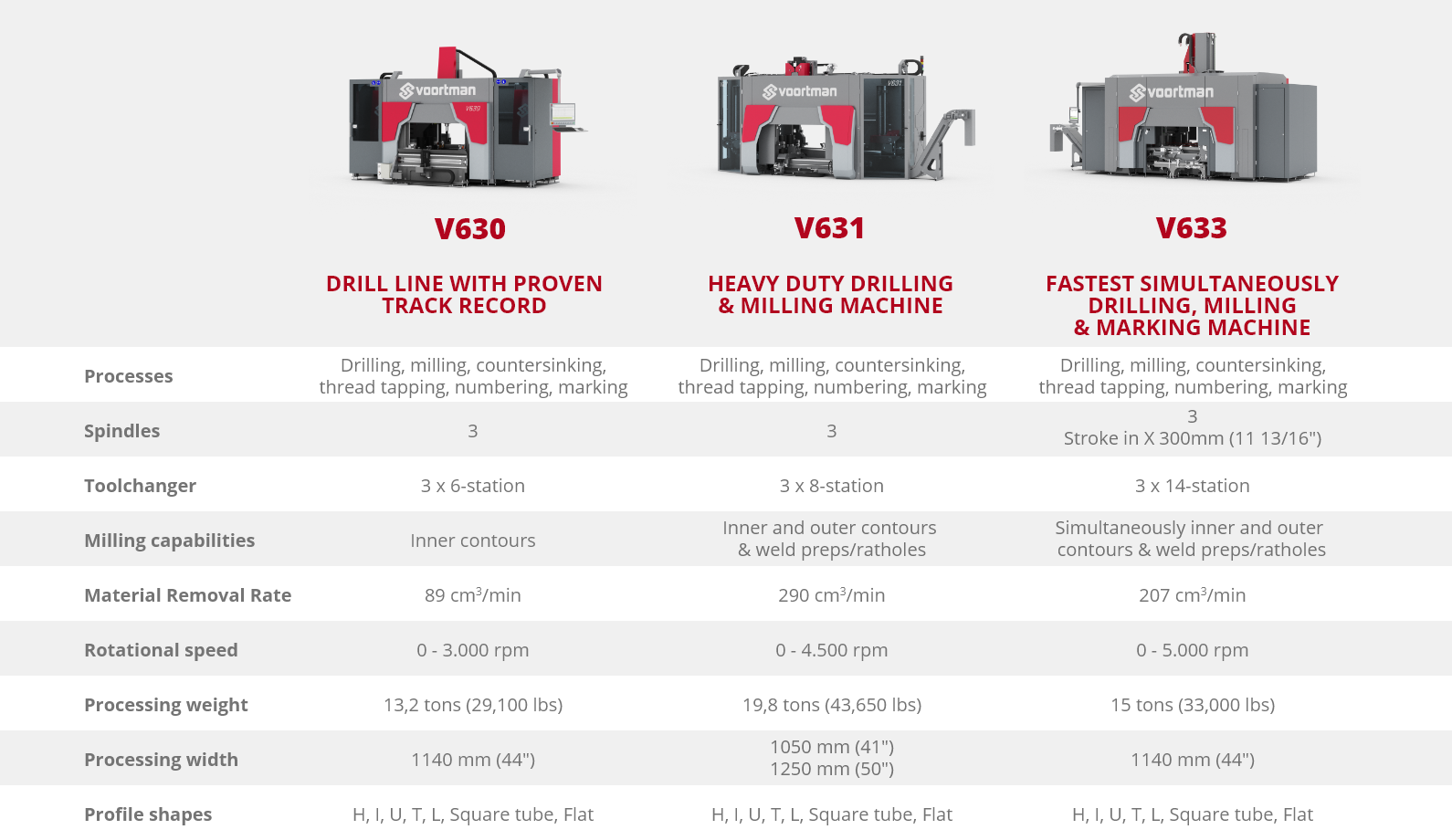 Voortman V630
Voortman V630
Operating range
inch
25/64 x 2 1/3 – 17 3/4 x 44
Positioning weight
lbs
29,100
Drilling and positioning
Servo motors
Positioning speed X
f/min
138
Positioning speed Y
f/min
98
Positioning speed Z
f/min
98
Drilling units
3
Nominal power
Hp
40
Speed
rpm (stepless)
0 - 3.000
Tool changer
3 x 6
Drill holder
SK40
Drill diameter
inch
13/64 - 1-9/16
Thread tapping
M6 - M30
Machine weight
lbs
24,250