Join us as we go through our five steps and learn where we are today.

Watch our complete 5-step roadmap video or scroll through the page below.

TOM VAN DER VLUGT - VOORTMAN EXPERT
Follow this step-by-step guide to strengthen your competitive position and increase market value
1. PROVIDE MULTIPLE PROCESSES
Imagine yourself: You arrive at the office, you grab a cup of coffee, and you notice an incoming request from a company that you really want as a customer. However, the parts contain a lot of weld preparations and countersunk holes. Your limitation of processes may be a reason for your customer to search onwards for a cutting company that offers a total package. That leads to your ultimate goal; to provide your customers with complete and ready products.
If you want to be a trusted one-stop shop for your customers, you need to consider adding additional processes to your current production process.This is where our high-end multi-processing plate machines come in. Cutting (bevel), drilling, tapping, marking and countersinking is all possible on one machine such as the V310 or V320, without compromising accuracy. Plate cutting machines, such as our V303 and V304, also offer more than enough flexibility to your workflow with plasma, oxy-fuel and bevel cuts. Ultimately, you will be able to create parts which are as complete as possible with shorter lead times.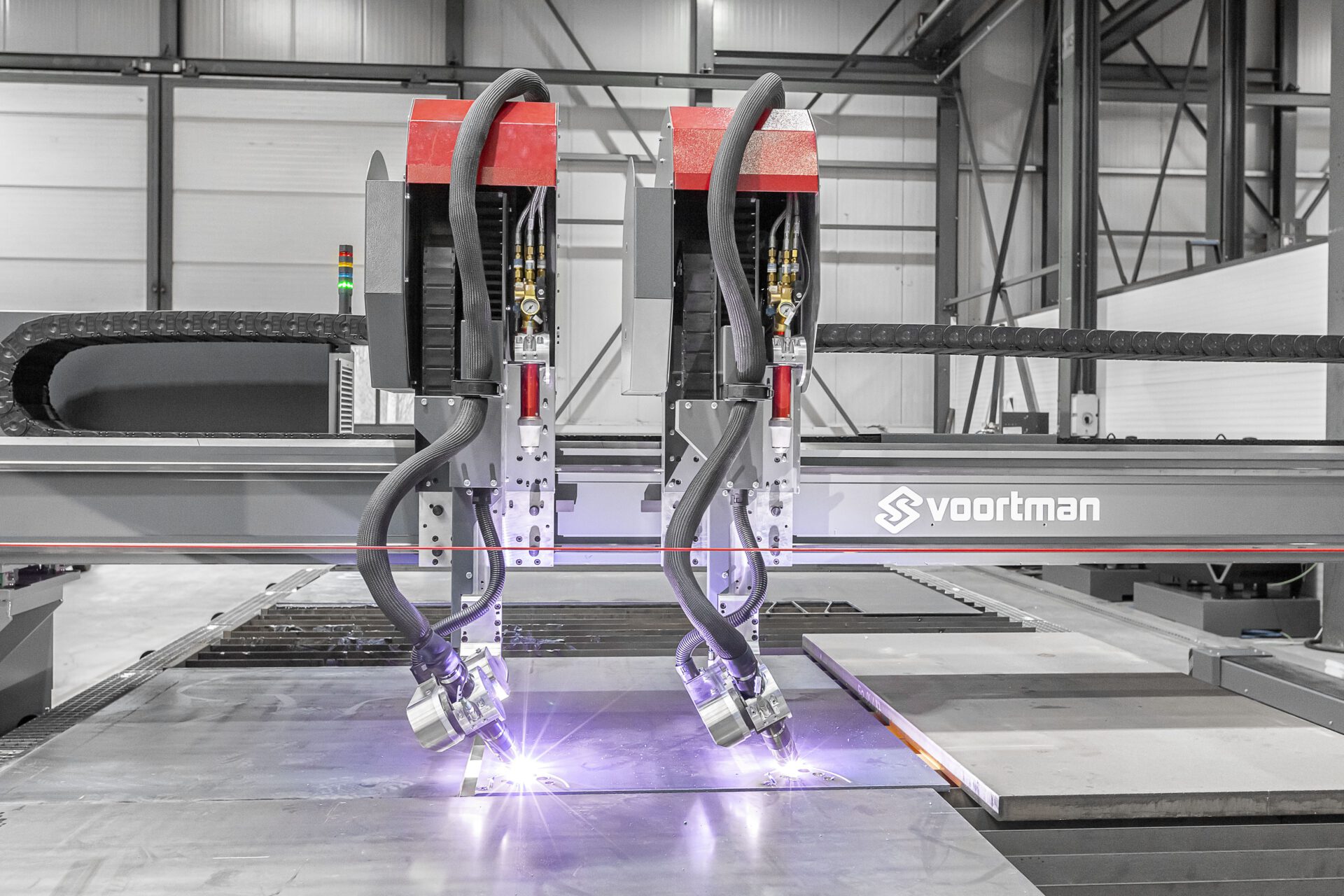 MACHINES THAT ARE UP TO THE TASK
2. REDUCE MANUAL HANDLING AND LOGISTICS
Multi-processing on one single station
Speaking about shorter lead times: intermediate stock, routing and bottlenecks should be kept to a minimum. You don't want inefficiency but want every action in your production process to add value. Since multiple processes can be performed on a single station with Voortman's multi-processing plate machines, you can realize a simplified production process. Why? There's no need for moving or dividing material across different work stations anymore, resulting in less transport and intermediate stock in your workshop. Also, some smart features in our VACAM control software equipped on these plate machines, contribute to maximum efficiency and shorter lead times as well. For example, with our Plate buffer feature you can load and schedule multiple plates into a buffer list to run multiple jobs in a row. You can cut plate after plate as far as possible without any operator intervention. Add our VACAM Job Scheduler to that, to easily schedule and cluster the sequence of jobs. Just look at the user-friendly large control panel at the machine, showing you all production times, amperages, material thicknesses and tools per nesting, to determine the job sequence for maximum efficiency!
Benefiting from double gantry processing
Scheduling and buffering jobs are even made easier with a large plate system where 2 moving-gantry machines are combined on the same rail. It's all possible due to the modular construction of our plate machines. You might wonder: What's the benefit? First, you can perfectly balance and divide jobs between the two machines. The long cutting bed provides you multiple sections and overlapping working areas, so plates can be loaded and unloaded at one section and being processed at another section at the same time. You can perfectly buffer workload for a period of automatic running. And do you need to process long products for your customers? No problem with such a long cutting bed. Several Voortman customers have already benefiting from such a large moving-gantry plate system. It's no surprise that double gantry processing provides you maximum capacity!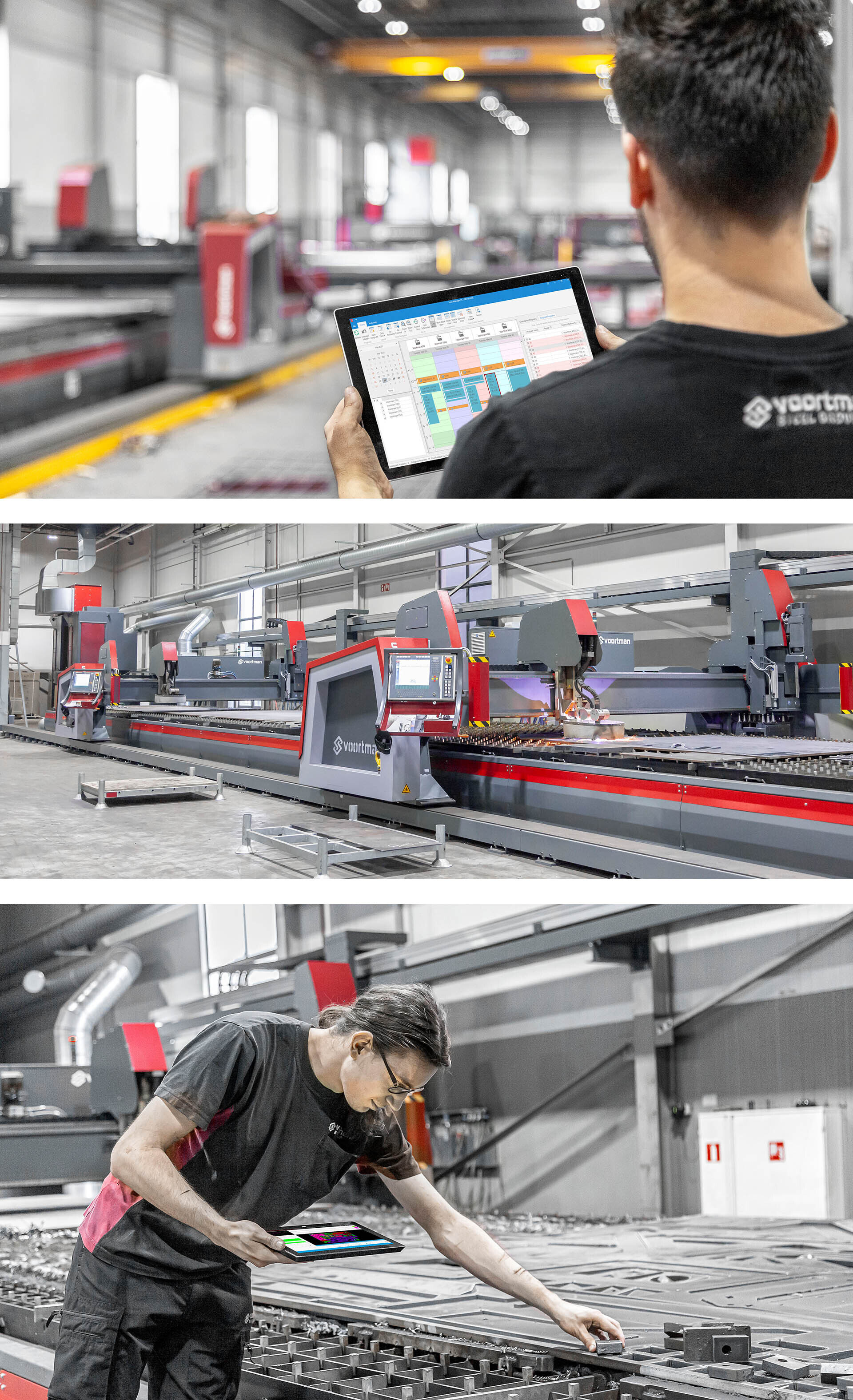 Efficient planning



When your customers trust your delivery times they will also start working according to the 'just-in-time' method, where they receive the products at the right time in their production process. If you know all the upcoming deadlines, you can start planning them efficiently and cluster by thickness, project or routing. With this method of distribution, there is always room for high-priority tasks, thus ensuring your flexibility.
Scheduling and buffering
Based on the displayed production times, amperage, material thicknesses and tools per nesting, an operator can easily estimate whether nests can be planned and clustered more efficiently in terms of sequence. VACAM allows you to load and schedule multiple plates into the buffer list to run multiple jobs in a row without intervention. Processing autonomous overnight and you'll save time in the morning. More flexibility in scheduling and production = increasing workflow efficiency!
Shift operator focus
During production, our dashboard provides valuable information about upcoming processes, times and most important, how long the machine can process autonomously in his absence. Providing your operators with more time in the field for other important tasks.
4. GAIN INSIGHTS IN YOUR PROCESSES
Perhaps you already have MRP or ERP software with which you keep inventory control, working hours and further information up-to-date. Process information such as the number of operations, task statuses and process times is already tracked in our VACAM software. The only thing left to do is to compile this information. With a continuous data link we ensure that all data can be retrieved in a single place, namely your own (perhaps already existing) MRP or ERP package. Consumable management can also be done at your desk, eliminating dead stock and ensuring that your operators always have the right tools at their disposal.
Thanks to this overall collection of data, you will be able to gain insights into your entire workflow from start to finish. Beneficial for your own optimizations and beneficial for proper feedback to your customers.
5. ADD TRANSPARENCY TO YOUR CUSTOMERS
Why is transparency so important?
Of course, as part of a chain, the process doesn't stop once your orders go out the door. Therefore, make sure that your customers have insight into your delivery times and create trust by complying with them as closely as possible. When you have all the data from the previous step at your disposal, implementation and integration into your own workflow becomes easier.
This allows quotes to be generated quickly and accurately. Import your customer's 3d model, create the nesting and get insights into available processes, process times and job scheduling. The right data enables you to respond quickly to inquiries and send competitive offers. You can schedule the approved quotations according to priority, giving the customer feedback on the various statuses in your process. You enable your customer to anticipate and integrate your processes into their own workflow, with which yourself will act as an extension of your customers.

Our machine is your workhorse but never sleeps
With Voortman, you benefit from our reputation for well-known customer service. Our machines are built to run for the long term, with only periodic maintenance to act preventively. Benefits include less downtime, smoother running machines, and improved reliability. We work exclusively with partners who place a high value on quality. Yet sometimes something can happen and when unplanned downtime occurs, just give us a call! We're able to solve 90% of the issues remotely or we make sure you get an on-site technician within 24 hours. Nothing can keep you down when you have a business that can be up and running within 24 hours.