Hi there, plate processor!
Transform your value chain with Voortman's automation and digitization
Explore the brochure today
In today's rapidly changing and competitive manufacturing landscape, having a 360° understanding of your production processes and operations is essential. Digitization offers powerful tools for accessing cross-company data, empowering you to make well-informed decisions to optimize operations. Voortman integrates machines and systems to offer real-time insights that keep you ahead of the competition and drive long-term success. Discover how we support every step of the chain and let's stay ahead together! Keep scrolling for more or read the full brochure right away!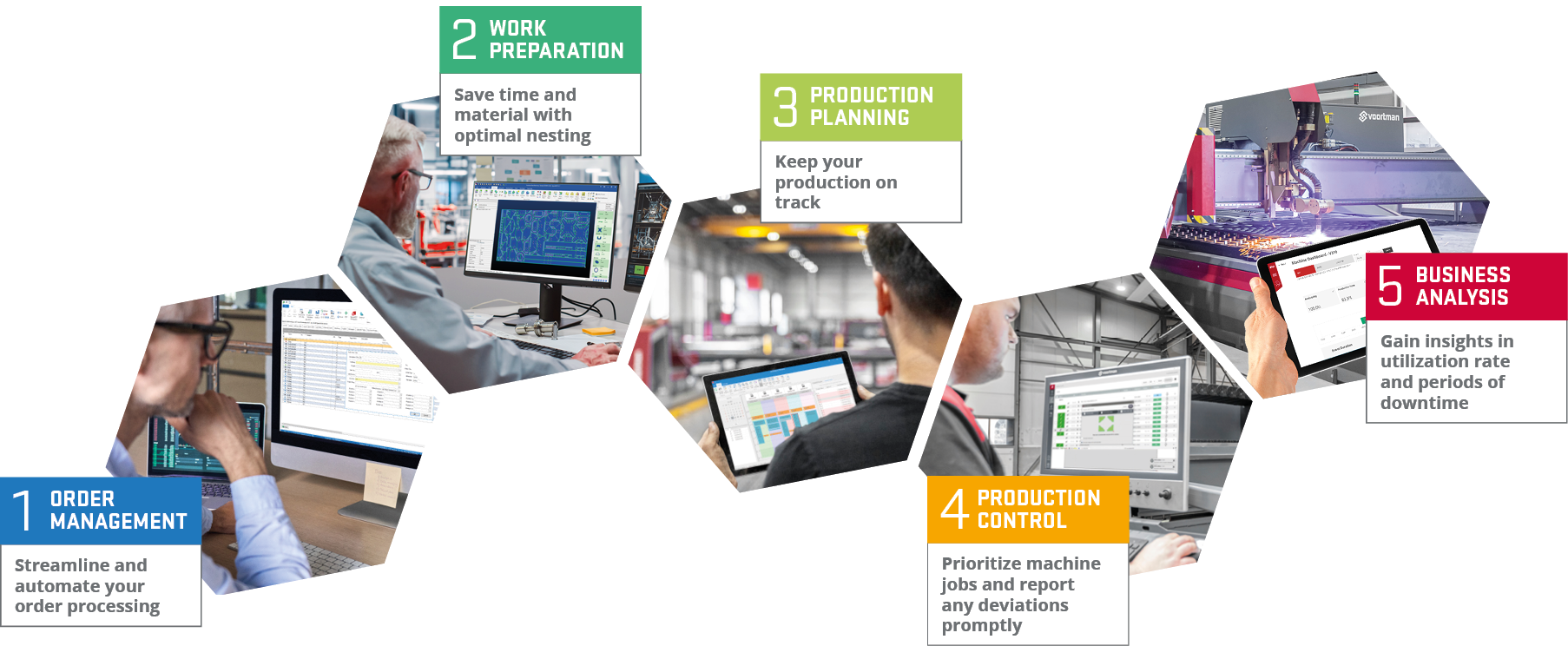 HOW WE SUPPORT YOU
IN EVERY STEP OF THE CHAIN

With perfectly aligned digital solutions from Voortman and SigmaNEST, we are committed to supporting you in this journey, providing the tools and resources you need to gather, connect, and analyze data effectively. Gain insights into your processes in real time - giving you access to valuable data to make knowledgeable choices with confidence.

Why wait? Unlocking advanced manufacturing capabilities is within reach.
In below's overview we summarized how you can benefit from our solutions in every step in the value chain, from order management to final product. For all details, download the complete brochure right away.
Order management
Streamline and automate your order processing
"How can I automate and streamline my order processing?"

SimTrans brings harmony by connecting your machines, ERP and SigmaNEST.
A mutual data loop ensures synchronized, real-time information on orders, customers, delivery times, stocks, and more.
Generate quotes quickly and precisely with the Quoting module.
Calculate all costs, including non-nesting operations.
Seamlessly turn quotes into active work orders with a simple mouse click.
Work preparation
Save time and material with optimal nesting
"What is the best way to prepare my jobs to save time and material?"
Increase factory productivity with an easy automated, paperless work preparation process.
Create the optimal nesting in SigmaNEST and automatically assign work orders to the best-suited machines.
Create your own default settings and automatically use them for future job orders.
Ensure predictable time calculations by using Voortman's tested parameters.
Reap the benefits of Voortman machine's ability to make autonomous decisions through its built-in geometries,
Production planning
Keep your production on track
"How can I ensure smooth and problem-free production processes?"
Easily balance machine workloads, reassign jobs and resolve issues with Load Manager.
Easily allocate and reallocate programs to machines in seconds.
Get paperless real-time updates to and from the shop floor for better visibility and control.
Confidently fit all jobs within scheduled time with VACAM Scheduling Overview.
Production control
Prioritize machine jobs and report any deviations promptly
"How can I make sure to run the jobs as scheduled and report deviations promptly?"
Access real-time and predictive machine data on a large 24" interactive Operator Dashboard.
See when your operator needs to be at the machine.
Easily sort parts by using Color Offload which simplifies part identification and sorting by assigning unique groups.
Automatically return rejected part data to the order system for rescheduling.
Business analysis
Gain insights in utilization rate and periods of downtime
"What is the current utilization rate of my machines and what contributes to any downtime?"
Get insights into your production output and productivity with EVI Software.
Easily determine why there was any downtime.
Increase uptime of your machines.
INTERESTED IN ALL DETAILS?
DOWNLOAD THE FULL BROCHURE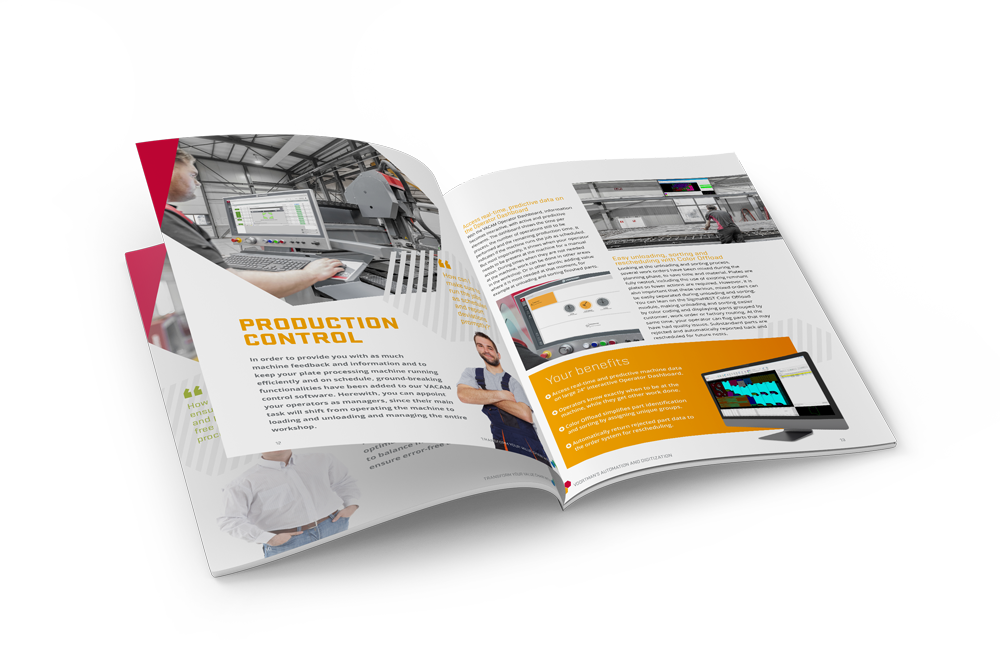 DOWNLOAD RIGHT AWAY!
IN-DEPTH BROCHURE
Gain comprehensive insights into how our digital solutions can boost your productivity throughout the entire process.
Access the complete brochure and see how Voortman supports you throughout your entire value chain. Download it now!

Some of our plate processing


machines