News
- 07 October, 2019
The new V807 - One pass do it all steel processing
---
FOOTPRINT REDUCED OVER 50%
FULLY AUTOMATED PROCESSING FROM LOADING TO UNLOADING
EASY REPLACEMENT OF YOUR EXISTING OXY-FUEL ROLLER FEED CUTTING SYSTEM
UNRIVALED POSITIONAL SPEED AND ACCURACY
RAPID CHANGE TORCH LEAD SET; SWAP PLASMA FOR OXY-FUEL QUICKLY
HOLES, SLOTS, COPES, RAT HOLES, BLOCK OUTS, WELD PREP, SEISMIC CONNECTIONS, LAYOUT MARKING & MORE!
STOCK SYSTEMS AVAILABLE FOR IMMEDIATE DELIVERY & INSTALLATION IN NORTH AMERICA
Global launch November 11-14 @ FABTECH, Chicago, IL, USA
Voortman Steel Machinery is proud to announce the new Voortman V807 robotic thermal profile processing machine - capable of plasma and oxy-fuel cutting with more throughput than other robotic profile processing machines in the market!
After the widely successful V808 profile processor, the V807 is the result of years of experience, research and development to drastically reduce the machine's footprint and enhance the already superior capability and performance.
Small footprint - Quick ROI - Rapid installation & delivery
Copes, bolt holes, slots, notches, bevels, weld preparations and layout markings - The V807 can process it all in one pass with the ability to reach all four sides of the material with unrivaled positional speed and accuracy! This will finally result in more finished parts in a normal day's production compared to other robotic steel profile cutting machines.
The V807 provides a quicker return on investment with cost savings over separate solutions for drilling, milling, sawing, punching, shearing and marking. All processes can be handled easily in one pass with the V807, and its revolutionary rotational axis ensures maximum reachability and versatility for minimal manual intervention - load raw profiles and unload finished products!
Installation now takes a few days with the new modular design reducing on site time and the ROI is realized in less time.
Seamlessly integrated in a fully-automated processing system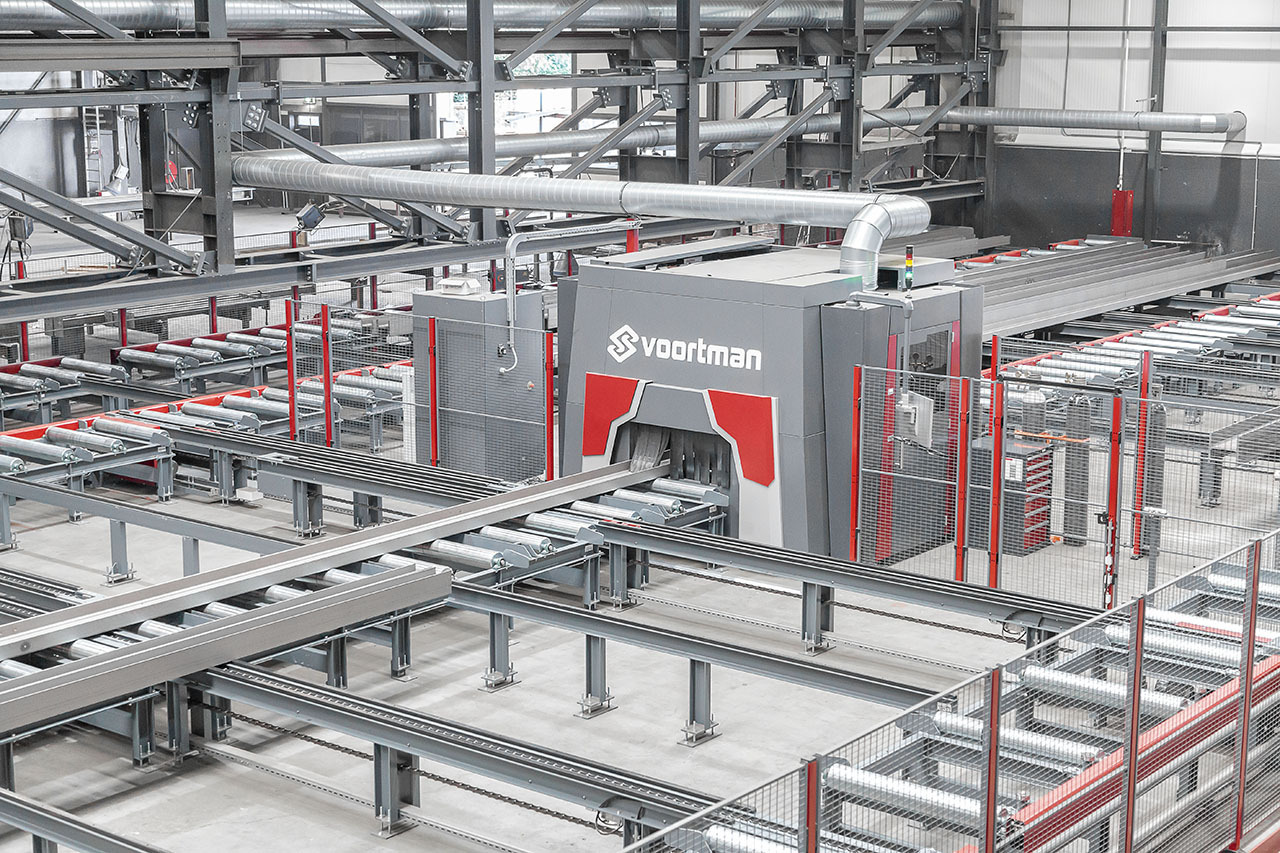 The V807 can "do it all" as a standalone machine but can also be included in a larger fully-automated processing line, connecting to other Voortman machines to improve production, capacity and throughput even more. Voortman robotic structural steel processing machines offer the most production and throughput, especially with fully-automatic material handling at the in- and outfeed of the machine. Automated cross-transports and roller conveyors can get the next profiles ready for processing while the current piece is being cut.

Replacement of your existing oxy-fuel machine
The new Voortman V807 can also easily replace existing old oxy-fuel roller feed cutting systems. Add new technology to your old dated processing systems in days with this easily integrated robotic cutting system. Maintain your edge with the Voortman V807!