Voortman V304
Plasma cutting machine (moving gantry)
The Voortman V304 CNC plasma cutting machine brings multi-torch processing to the next level for fast and efficient plate processing. Part production times and costs shrink with breakthrough features like Instant Cut Technology, I-cut correction, dross inhibitor, and a lowered X-rail for easy loading and unloading. All of this plus Voortman's fastest height control in the market will improve your production performance and prepare you for even more capacity.
Scroll
Optimized machine movement between cuts & rapid height control
INSTANT CUT TECHNOLOGY
The V304 is equipped with Voortman's breakthrough Instant Cut Technology. It was developed to reduce cut-to-cut idle movements by ensuring optimized motion paths each time the torch moves from one operation to another, doubling production capabilities. Time savings exponentially increases when production consists of small product with holes, as each time the torch moves position between cuts you'll save valuable seconds that will add up to meaningful increases in production in a short amount of time. Instant Cut Technology is built in to VACAM control software, which creates the optimal production mix between speed and quality automatically.

RAPID HEIGHT CONTROL
Voortman developed Voortman Height Control (VHC) to reduce positioning time. Optimized cut-to-cut paths reduce positioning time to a minimum on the V304, providing the fastest height control on the market. VHC is used for both oxy-fuel and plasma cutting with speeds up to 365 mm/s and unmatched acceleration speeds of 2000 mm/s2.
Operating length (longer lengths available on request)
Less obstacles loading and unloading
LOWERED X-RAIL
The height of the V304 rail is relatively low, eliminating some obstacles when loading or unloading plates. A lower rail to step over means your operators will have an easier and safer time loading and unloading material on the V304.

VACAM OFFICE FOR PREPARING NESTS AND MONITORING PRODUCTION
The V304 runs on VACAM control software, and VACAM Office is also available for preparing product batches and nestings at your desk. Check in on production insights and easily make changes from VACAM Office, preventing any communication errors between your operator and the prepared work from the office. The user interface is simplified and only shows the required functionalities and primary real-time production monitoring module.
Operating length (longer lengths available on request)
I-CUT CORRECTION
Angular deviation or taper on the cutting surface is a typical issue attributed to plasma cutting. Voortman introduced I-cut Correction to counteract the taper caused by plasma cutting with a bevel correction, increasing the quality produced.

DROSS INHIBITOR
Slag formation during piercing is a common problem with plasma cutting. Piercing creates a volcanic effect that blows molten metal out of the pierce hole and over the material, which needs to be removed manually. Dross in a cutting path diminishes cut quality. The V304 is equipped to reduce issues caused by slag build-up with a dross inhibitor that sprays oil at the piercing area just before piercing, preventing slag formation and significantly increasing cutting quality.
Operating length (longer lengths available on request)
SEE WHAT UNMANNED RUNNING

CAN DO FOR YOU!


Increase flexibility by adding our Voortman Pipe Cutting Unit
Cut like no one can with our NEW Voortman Pipe Cutting Unit. Easy to integrate and add to your existing or new V303, V310 or V304 plate processing machine. The unit fits into the working environment of the plate processing machine. From your familiar operator panel, you operate the pipe cutting machine. The Voortman Pipe Cutting Unit is the only one in the industry that allows you to cut pipes with the same quality you are used to from our plate cutting machines. Our True Volt technology is combined with a predictive model, based on the complete cut. This makes it the best cutting quality currently available and reduces your costs and consumables at the same time! It's a small investment for less welding and grinding.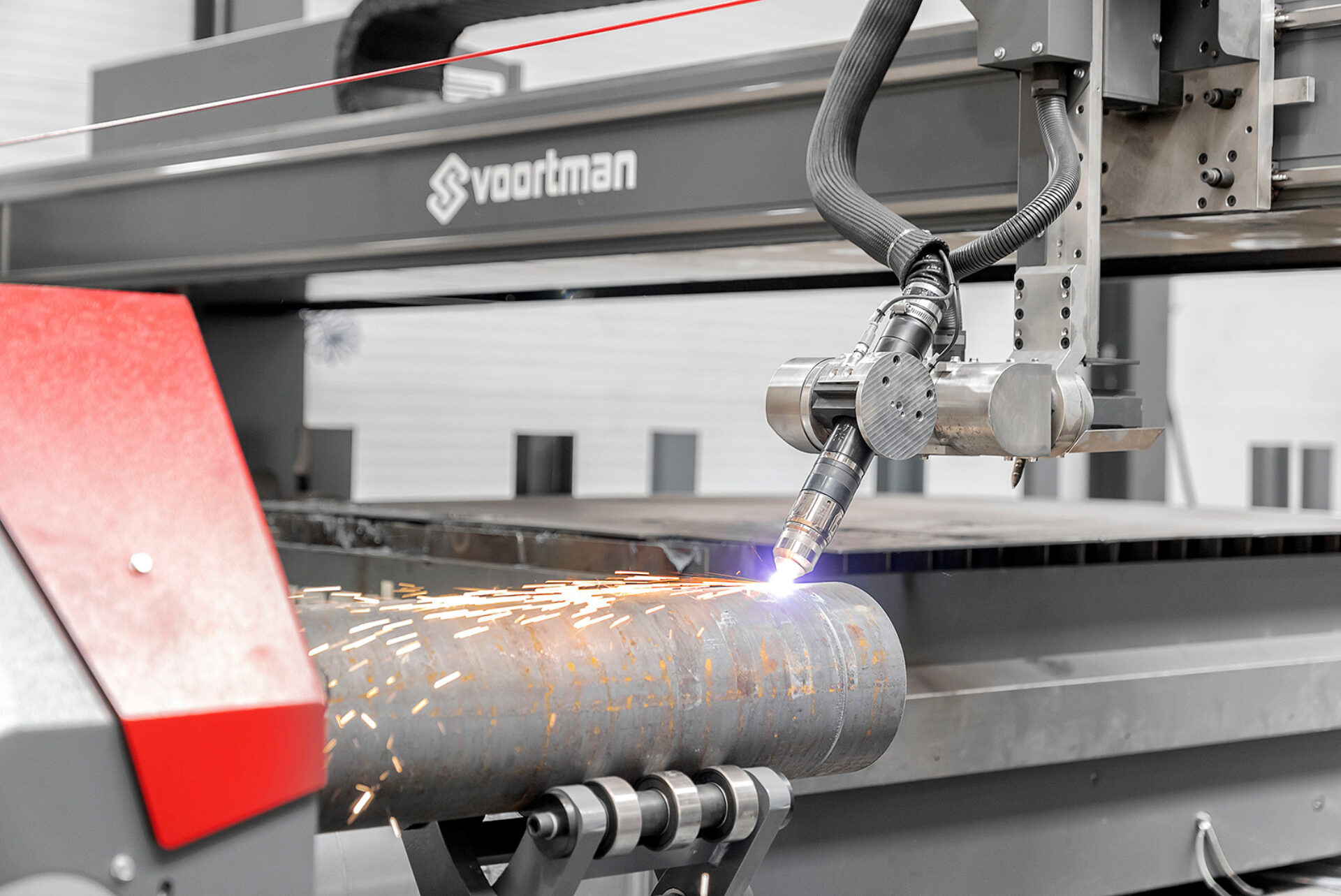 Advanced nesting software
To increase your material optimization and cutting efficiency, all Voortman plate cutting machines come equipped with the advanced nesting engine SigmaNEST. Advanced nesting algorithms ensure improved part yield and minimal scrap while optimizing your cutting cycle times. Voortman includes SigmaNEST in all plate cutting machines because, as you know, an excellent nesting program is as important as the machine itself.
Plasma cutting
Plasma cutting is much faster than oxy-fuel cutting in the lower mild steel thickness range (3mm up to 25 mm). Capital expenditures for the same size plasma machine are 75% lower than high-powered fiber lasers while maintaining or outpacing cutting speeds at a medium thickness (12 mm) and up. For medium-to-thick stainless steels where oxy-fuel is not an option, plasma is by far the preferred cutting technology.
Plasma 3D Bevel cutting
It is expected that more than 30% of your parts require a beveled edge for further weld preparation purposes. Nowadays, with the shortage of labor and increased productivity demands, this work needs to be shifted towards the cutting machine where a weld preparation is created by Voortman's sophisticated and accurate plasma 3D bevel unit, eliminating manual handling and routing through your factory. With this 3D bevel unit you are able to process a variety of high quality bevel cuts and weld preparations (A, V, X, Y and K). Your processed parts are immediately ready for assembly and welding without further manual operations, eliminating human handling and errors.
Oxy-fuel bevel cutting
The revolutionary oxy-fuel torch equipped on this machine can manually be positioned at a certain angle to perform oxy-fuel bevel cutting in relatively thick plates. This increases your versatility and flexibility in processing your parts.
Inkjet marking
The machine can be equipped with an inkjet marking unit. Especially when a lot of marking per part is required and not merely part identification but also bending lines, an inkjet marker can save you an enormous amount of time. The markings made with an inkjet marker are not visible after painting which is perfect when markings are only used for the adding of information required for internal production steps and not for external identification in the field.
Marking by plasma
Marking by plasma has the advantage of creating a high quality and accurate mark with the same plasma unit that is used for plasma cutting on this machine. The depth of the marking can be adjusted with our VACAM software. This machine automates the marking process while manual layout marking is a time-consuming, labor intensive and error-prone process.
Truevolt technology
Voortman's Truevolt technology is responsible for ensuring constant cutting quality and maximum consumable life as part of Instant Cut Technology. Maximum consumable life means less manual interaction and therefore less machine downtime. Truevolt corrects the exact arc voltage. By measuring the arc voltage, it can determine and maintain the optimal cutting height during processing of your product.
Oxy-fuel cutting
The main advantages of oxy-fuel cutting are the low operational costs and the low associated capital expenditure. Due to an easy switch between plasma and the oxy-fuel torch you can process a wide range of thicknesses. Together with the revolutionary oxy-fuel torch with its built-in features and the automatic height control, a fast cutting cycle with minimum downtime is ensured.
Oxy-fuel strip cutting
Strip cutting of a complete plate can be a time consuming process. By using multiple oxy-fuel torches, you are able to cut multiple strips simultaneously, which significantly increases productivity.
Oxy-fuel strip cutting with attachment
Strip cutting of a complete plate can be a time consuming process. By putting an attachment of two nozzles to the revolutionary oxy-fuel torch you are able to cut multiple small strips in a very productive way. When you equip the machine with multiple oxy-fuel torches, you are even able to cut more strips simultaneously.
Automatic small part, chip and slag removal
The machine can optionally be equipped with a shuffle conveyor below the table bins for automatic cleaning of the table. This eliminates the amount of time required for cleaning the table bins and ensures that smaller parts are automatically conveyed to the front of the table when dropped into the bin. This again eliminates the risk that these small parts are all covered by slag from successive operations, increasing the quality of your parts.
Accurate X & Y movement
To meet your cutting quality requirements, it is important that the X & Y movement runs in a stable and smooth way with minimal vibrations. Therefore, Voortman took the next step with transmission systems with almost no play ensuring a smooth cutting surface. The X-rails are equipped with a helical rack and pinion transmission with reduced backlash, ensuring increased cutting accuracy and more dynamic movement compared to a straight rack and pinion. The dynamics are fully optimized, accelerations/decelerations are levelled and vibrations are minimized creating a low roughness cutting surface and an accurate product.
Flexible and easy plate measurement
To easily measure and define the zero position of a plate, our VACAM software automatically calculates how te plate is positioned on the cutting table by determining the angles of the plate. Specific points of the plate must be manually indicated whereafter VACAM automatically performs the calculation for the zero position of the plate, even for more complex scrap shape plates.
Easy restart in case of arc-loss
When the arc is lost or a cut is interrupted, the torch can be easily moved back to the point of failure without the flame burning by use of the VACAM software. Exactly from the point of failure the torch can ignite and continue the interrupted cut. Another possibility is to move the torch slightly outside the interrupted cut, start in the waste material and automatically move towards the contour and then continue your cutting process. 
VACAM in the office
The VACAM software also comes with an Office Edition. VACAM Office Edition runs in a similar way as VACAM Control and Operating software and is dedicated to preparing your products into producible items. The user interface is focused on the preparation activities and also provides real-time insights in the material load on the system enabling you to monitor your production process. With VACAM Office, production information is available throughout the entire company.
VACAM Machine
Every machine is equipped with our in-house developed VACAM control software. All machines share the same "look-and-feel" which significantly reduces your learning curve. Within VACAM's open platform, production data can easily be exchanged with third party ERP and MRP software, providing up-to-date insight in the progress of your projects. VACAM provides a real-time graphical representation of your workflows and processes and analyses imported products instantly. The software automatically suggests the best solution for any foreseeable problems. This way, your production is not interrupted resulting in increased efficiency and runtime of the system.
Easy operation
To enable constant and efficient production, VACAM offers your operators a comprehensive and easy-to-use interface. One of VACAM's key features is the clear separation between work preparation, production and manual machine operation activities. For each mode of use, the required functions and data are available at your fingertips, enabling you to perform tasks in the right environment. VACAM Control software is known in the industry for its consolidated graphical representation of your production process. With VACAM, you have a clear overview of the process, production status and instant access to online assistance if required.
INTEGRATION IN YOUR WORKSHOP







Generate quotes more effectively, faster and more accurately
Companies in the manufacturing industry as well as in steel fabrication benefit from quick and accurate quotations. The Quoting module gives you as a company an indication of how much work you expect to have in the future, but also which materials you need to have in stock, who your regular customers are and how many orders you may receive.
Voortman offers a simple quotation module whereby you can convert a quote to a work order without any effort. This module offers advanced functionalities with which quotations can be generated more effectively, faster and more accurately. Additionally, a CRM database is available where outstanding quotations can be followed up per customer. SigmaNEST, with Voortman machine processing information, automatically calculates processing times and allows for customizable costing calculations for any part or secondary process. This allows you to draw up an accurate customer-specific quotation based on your quick and exact cost price calculation!

One nesting solution that supports all your machines
An excellent nesting program is almost as important as the machine itself. That is why all Voortman plate cutting machines are equipped with one of the most advanced nesting software programs available: SigmaNEST. Together with Voortman, SigmaNEST offers a wide range of modular and customizable functions to get the most out of your production processes. This automatic nesting software is installed on an office computer after which it is used to import files and nest them automatically into standard sized or remnant plates.
The software offers the possibility to import the most common file formats in the metal industry. The CAD import module can be added and used to directly import native formats to ensure all the information is maintained and duplicate work will be eliminated. SigmaNEST generates specific CNC-outputs for the machine, which will be converted to all required operations via VACAM software. Streamline your production process and get ready-made parts out of your machine with this nesting software!

Nest more efficiently & save time and material
All machines and associated machining programs can be read in a graphically displayed calendar timeline and managed from this central dashboard. This makes it possible to assign work orders to a specific machine automatically or manually based on type of operation, such as drilling and/or cutting or based on capacity. This planning tool enables optimum productivity through proactive machine scheduling and load analysis tools!
When Load Manager is used in conjunction with the Color Offload module, schedules are updated in real time to accurately reflect shop floor status and the operator can see what the next job is. Workflow optimization is guaranteed!

Track progress and meet deadlines
Once the planning has been made, programs are sorted in the planning queue by program number, material type or thickness, machine and estimated run time and then production is started by the operator. When the program has started, the machine gives the operator instructions for correctly assembling the tools and consumables. Technologies such as cutting parameters, drilling parameters and milling parameters are fully integrated into our proprietary VACAM software and are automatically applied based on the information in the program. Therefore, the operator can focus on the manual operations around the machine.
The estimated machining time is displayed and the planning is updated when the module is running, allowing you to make a forecast of production per day, week or month. It becomes directly visible when a certain program starts or stops and the next one begins, what the capacity of your production is, whether certain programs still need to be split, whether deadlines can be met and whether outsourcing is the best option.

Easy unloading and real-time tracking
In the planning phase, several work orders have been co-mingled which saves time and material since nesting is done more efficiently. Plates are fully nested, including the use of existing remnant plates so fewer actions are required. However, it is also important that these various, mixed orders are able to be easily separated during unloading. The Color Offload module is an intelligent tracking and offloading solution that eliminates operator confusion by displaying nested parts in colors that can be assigned by customer, work order or factory routing.
In addition, information is provided to the operator such as part details or dimensions so the operator is able to do a direct quality check before parts move on to the next work station. When a part has been cut wrong because, for instance, consumables fail, the operator can select and reject parts in the nesting software program. This information can be fed into Color Offload and the part automatically reappears in the work order list in the nesting program, enabling it to be remade.

Create full integration with MRP/ERP systems and other software packages
SimTrans is an online transaction manager that bridges the gap between different software systems from CAD/CAM nesting to shop floor automation to other business systems (MRP or ERP). SimTrans makes it possible for you to work with industry standard database formats (SQL), interfaces or CSV/TXT file interfaces and makes the set-up with an MRP/ERP system fairly simple and standardized.
SimTrans enables you to obtain the right information from different software systems at different moments in the process by means of a continuous mutual data flow. All data generated in SigmaNEST can be send back to MRP/ERP packages. Data such as estimated processing times, estimated processing costs, plates used, waste rates and status updates about programs. This automation allows constant work order tracking through real-time updates and feedback. But also vice versa, if changes in work orders, stocks, delivery times or customer information are made in the MRP system, these data are automatically updated in SigmaNEST.
Voortman V304
Voortman V304
Working width
meter (Depending on the number of torches)
5 - 20 pies
Working length
meter (Longer lengths possible on request)
10 - 80 pies
Cutting speed
f/min
0 - 23
Rapid traverse speed
f/min
>65
Cutting thickness with one oxy torch
inch
8
Cutting thickness with three oxy torches
inch
4
Maximum number of torches
7
Maximum number of plasma torches
2
Maximum number of oxy-fuel torches
6
Other optional units
inkjet marking